The human body is a beautiful thing, and that beauty comes in all shapes and sizes, all shades and ages and genders.
A range of those bodies — not just from the Inland Northwest, but all over the world — will be front and center at
Kaniksu Ranch
, 40 miles north of Spokane, for the original,
33rd annual Bare Buns Fun Run
(and the ranch's 78th anniversary).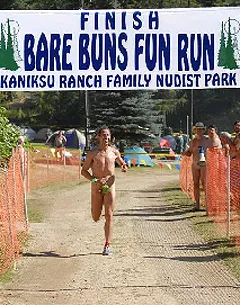 A 5K, clothing-optional run/walk always held on the final Sunday of July, the BBFR features 14 competitive age groups, ranging from 5 and under to 70-plus, with medals awarded to the top three overall male and female finishers, and the top three male and female finishers in each age group after the overall top three.
The ranch, a hilly, forested 260-acre nudist resort northwest of Deer Lake, was founded in 1939 and prides itself as a family-friendly environment, with members and visitors ranging from babies to great-grandparents.
Visitors are welcome on race day, but must leave their cameras — as well as their cellphones — in their vehicles.
The specifics:

Bare Buns Fun Run
•
Sun, July 30 at 9:30 am
•
$30 individual registration
•
Kaniksu Ranch Family Nudist Resort, 4295 N. Deer Lake Rd., Loon Lake, Wash.
•
kaniksuranch.com
•
327-6833