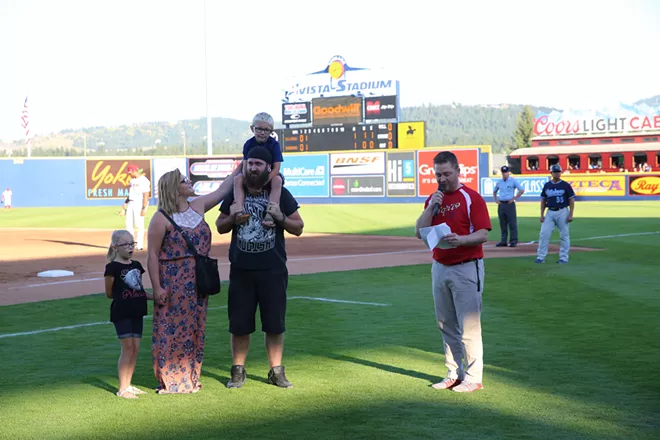 A Spokane-based program that helps homeless veterans and their families find housing needs more landlords who would be willing to rent to their clients.
Since October 2013, the Supportive Services for Veteran Families (or SSVF) program, run through Goodwill Industries of the Inland Northwest, has helped more than 1,200 veteran families access services and find housing.
In 2016 alone, the program served 734 men, women, and children, and helped 252 veteran families into housing, says Heather Alexander, director of marketing and communications for the regional Goodwill.
But at the same time as people across the board are having a harder time finding housing in an increasingly competitive rental market (
as reported on extensively in last week's Inlander
), service agencies are also having a hard time helping people find a place to live.
"One thing we run into for veterans we're trying to house is just the lack of availability of affordable housing, as well as people who are hesitant to rent to somebody who's been homeless," Alexander says. "There's a lot of issues there that prove to be barriers."
Affordability is one major problem.
"We have had vets waiting
30, 60, 90 days," Alexander says. "They may even have a voucher
with a timeline on it and they're waiting to find that right place, and finding places that are affordable is
a challenge in our area."


Some people may not have much of a rental history, or have credit issues or a criminal record that makes them look less favorable to landlords, she says.
It's understandable that landlords want to protect their investments, she says, but that's where the program can help.
Staff with SSVF, which is funded through Veterans Affairs grants, help both veterans and landlords navigate their new relationship, and continue to do so even after they are housed.
"They've served our country, and we really want to see them make that step into being in homes of their own," Alexander says. "The case managers are there to continue that follow up, and make sure they're staying stably housed."
For some of the veterans who may not have rented before, or for a long time, part of that might involve learning the ins and outs of being a renter, Alexander says.
"Maybe there's something that's broken and needs to be repaired, but they're not sure how to ask," Alexander says. "Maybe I've got a neighbor who's being super loud: how do I deal with that?"
The case managers work with landlords on questions they may have, too.
Veterans who are served through the program may get help paying for first and last month's rent, cleaning and security deposits, utility deposits, and getting set up with basic necessities for their new home, including bedding and a bed, pots and pans, and cleaning supplies, Alexander says.
"And then it's looking at what other things do they need," she says. "It's a housing-first model: Get them stable first, so that major concern is not weighing on them."
After they have that basic need taken care of, case managers may work with veterans on accessing benefits for medical and mental health care, social security, disability and more. For some, assistance may include help finding a job.
SSVF initially helped veterans in Spokane County and part of Kootenai County, Alexander says, and has now grown to serve seven counties in the area.
If you're a landlord and want to learn more about helping, you can find more information at DiscoverGoodwill.org/rent-to-a-veteran.

If you're a veteran who needs help, or think you know someone who does, you can call the local hotline at 509-828-2449.


Below is a video made by Goodwill Industries of the Inland Northwest to show some of the folks involved, including a case manager, landlord, and veteran who received assistance: