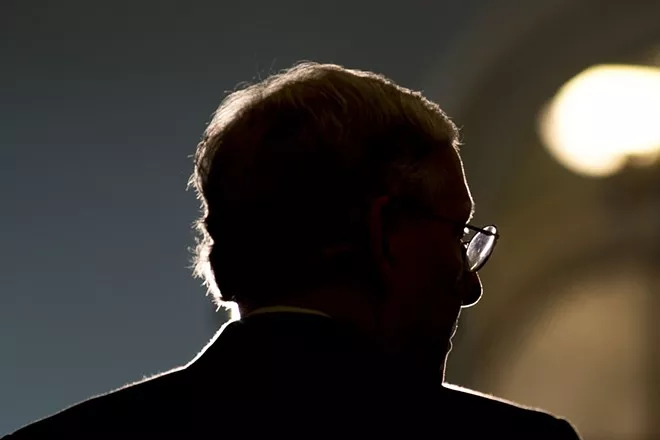 ON INLANDER.COM
NEWS:
The relationship between President Trump and Kentucky Sen. Mitch McConnell, the Senate Majority Leader, has deteriorated to a point — the two are no longer on speaking terms — where McConnell is privately
questioning whether Trump can save his seven-month-old presidency
. (via
New York Times
)
HEALTH:
More younger Americans — in their 20s and 30s — are
dying of colon cancer
, and no one really knows why. (via
New York Times
)
MUSIC:
Over the course of a career stretching back 34 years, Scottish shoegaze legends the Jesus and Mary Chain have never played Spokane. That changes on Oct. 26, when their U.S. tour
brings them to the Bing
.

IN OTHER NEWS
Threatener-in-Chief
In a
ranting, rambling, campaign-rally-style speech
before a raucous crowd of thousands of supporters last night in Phoenix, President Trump angrily
attacked the media
, Arizona's two Republican senators (though not by name) and those who criticized his contradictory, inconsistent response to the tragedy in Charlottesville, Virginia 11 days ago, and
threatened to shut down the federal government
unless Congress comes up with funding for his proposed border wall with Mexico. (
Washington Post, New York Times
)
• Undeterred by 105-degree heat, Trump's appearance in Phoenix
drew thousands of protesters
, who eventually were tear-gassed and pepper-sprayed by police. (
New York Times
)
•
Fact-checking
Trump's 77-minute speech. (
Politifact
)
Doubling down on paranoia
Bryan Zollinger, a Republican who represents Idaho Falls in the state House, is
doubling down on his belief in a far-right conspiracy theory
that Democratic Party officials — including former President Barack Obama — staged the tragic events in Charlottesville earlier this month in an effort to smear Trump. Zollinger, a member of the Idaho Freedom Caucus, is now using the backlash against his remarks as a way to collect campaign contributions from his supporters. (
Newsweek
)
• After Charlottesville,
black Republicans face a moral dilemma
over Trump. (
New York Times
)

Shipping out
Vice Admiral Joseph Aucoin, commander of the U.S. Navy's 7th Fleet,
has been dismissed
, due to a "loss of confidence in his ability to command." At least 10 U.S. sailors were killed Monday when the guided-missile destroyer
USS John S. McCain
struck an oil tanker off the coast of Singapore, the second time in three months that a 7th Fleet ship was involved in a deadly collision at sea and the fourth major naval accident in the Pacific this year. (NPR)
Felony charges in postal threats
A 62-year-old Spokane man
has been charged with felony harassment
after nearly a year of violent threats against postal workers that resulted in a two-month mail stoppage for residents on three blocks of West Wabash Avenue. (
Spokesman-Review
)