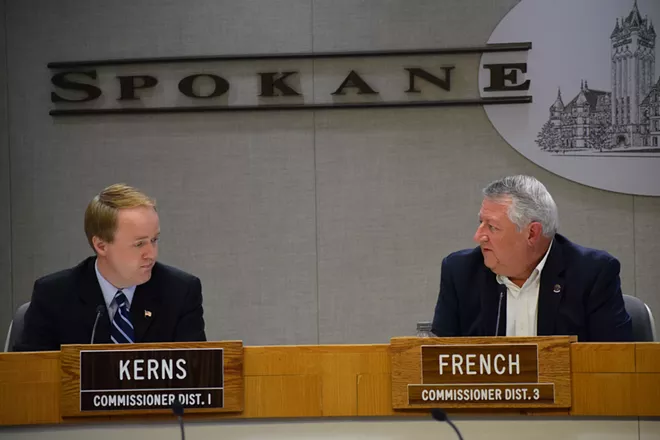 Faced with choosing from three candidates to be the next Spokane County commissioner, current Commissioners Al French and Josh Kerns opted for a fourth option: send the choice to Gov. Jay Inslee.
French and Kerns, both Republicans, announced Tuesday that they were unable to agree on an appointment for the open seat on the Spokane County Board of Commissioners before their deadline, Sept. 15. That means Inslee will have 30 days to choose from the three candidates recommended by the Spokane County GOP.
Those candidates are Spokane County Treasurer Rob Chase, county Deputy Auditor Mary Kuney, and Spokane Valley marketing firm executive John Guarisco.
"It is apparent that Commissioner French and I are looking for different qualifications in the person whom we would appoint to fill this vacant position," Kerns said during the meeting.
Both Kerns and French declined to discuss their differing views on commissioner qualifications with the
Inlander
, saying that those conversations occurred in executive sessions that are not open to the public.
But their preferences seem to be no secret to local members of the Republican Party. Sheriff Ozzie Knezovich has openly stated that Kerns prefers Chase, while French prefers Kuney.
Chase said as much in an interview with the
Inlander.


"I am pretty sure of Josh [Kerns'] support," Chase says. "But I know Al French favors Mary Kuney."
Chase was the top choice of the Spokane County Republican Precinct Committee Officers, followed by Kuney and Guarisco. French has previously stated that he weighs the order of the candidates into his decision for appointing a county commissioner.
But French says he heard threats by Libertarians in the Republican Party that if he didn't choose Chase, an ally of Spokane Valley Rep. Matt Shea, then someone will run against French next year.
Last week, a radio ad the aired from a group called the Washington Liberty PAC, claiming French was "on record stating publicly he would always select the Republican PCOs' favorite candidate." It attacked him for potentially not following the same criteria for this selection.
French said Tuesday that it was an example of people who "read what they want to read, and not what I said." He read the rules of the Washington State Constitution, stating that commissioners are to choose out of the three candidates, and he pointed out that it does not require commissioners to choose the top candidate.
French says the Washington Liberty PAC resorted to fear, intimidation and threats of political retaliation in an attempt to get him to bend to their will.
"My job is to represent the interest of all the voters, not just the PCOs," French says.
Stephanie Cates, chairwoman of the Spokane County GOP, said she would have preferred that commissioners made a decision rather than sending it to Gov. Inslee, but she agreed with French that the rankings of the three candidates by PCOs shouldn't be the only factor.
"I would have liked to see them come to an agreement," Cates says. "But we trust in the process and I think the PCOs selected three good quality candidates."
Knezovich has endorsed Guarisco for the open commissioner seat, but says Kuney is also a good candidate for the job. However, he doesn't support Chase, accusing him of "radicalized hate towards law enforcement." Knezovich recently called on Chase to denounce an anti-law-enforcement post made online by one of Chase's employees.
"I don't think he's qualified in any manner," says Knezovich, who criticizes Chase and "his camp," including Shea and Rep. Bob McCaslin Jr., for threatening French's job.
"The Republican Party should be chastising Rob [Chase] and Matt Shea and McCaslin for this kind of heavy-handed bullying," he says.
Cates, the county GOP chairwoman, says she "doesn't like to see" those tactics, but she declined to say if the party was doing anything to prevent it from happening.
"That's probably more family business that we need to deal with internally," Cates says.
French and Kerns said they weren't concerned about sending the decision to Inslee.
"I think all three will do great," Kerns says. "I don't think there's any issue with who we're going to end up with."
French says the commissioners were simply following the constitution.
"That's what's provided for in the constitution, and so why would I feel bad about following the constitution?" he says. "I mean, it's designed specifically to address these kinds of situations."
While he was hoping that a selection would be made Tuesday, Sheriff Knezovich says he's hopeful that Inslee will choose someone other than Chase.
"I believe the governor would not saddle the citizens of Spokane County with somebody that radical," Knezovich says. "He'll choose the right person."