ON INLANDER.COM

Who watches the professor watchlist?
Right-wing websites like Campus Reform report left-wing politics on campus — and
expose professors to harassment
.
Something Rotten in Spokane

Something Rotten!
is
certified fresh
— but its five-day run here ends on Saturday night.
Driving while stabbed

InHealth
: It's often better to drive to the hospital when
seriously injured
, instead of waiting for an ambulance.
Blackbird and brews

Celebrate the taste of some special beers at the
Blackbird Invitational
.


IN OTHER NEWS

Bowe bends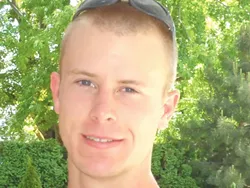 Idaho's most famous prisoner of war, Bowe Bergdahl, is expected to plead "guilty to desertion and misbehavior before the enemy"
to avoid a trial
. (
Spokesman-Review
)

No butts about it
City Council President Ben Stuckart is going to try to kick his
smoking habit
, depriving weekly newspaper reporters reporters of crucial
scene details
. (
Spokesman-Review. The Stranger
)

Putting the innocent to death

Spokesman-Review
columnist Shawn Vestal takes on the
death penalty
.

Elusive motive
We still have no idea why the
Las Vegas shooter did it
. (
New York Times
)