Rafael Devers
, the 20-year-old Red Sox rookie third baseman who
belted a two-run homer Sunday
as Boston (temporarily) stayed alive in Game 3 of the American League Division Series against Houston, then hit an inside-the-park solo homer in the ninth inning of today's series-clinching Game 4, is the third-youngest Red Sox player to appear in the postseason.
The youngest?
Ken Brett
, the second of the four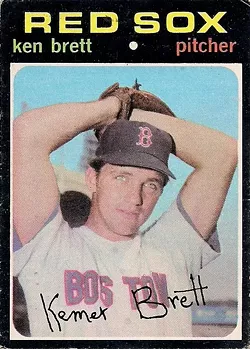 baseball-playing Brett brothers —
John
, Ken, Bobby and George — who pitched for the Red Sox in the 1967 World Series, tossing 1⅓ innings of scoreless relief against the St. Louis Cardinals, and at age 19 became the youngest player to pitch in a World Series game.
George
, the youngest Brett brother, is a first-ballot Hall of Fame third baseman who spent his entire 21-year career with the Kansas City Royals. You might be more familiar with
Bobby
as a longtime Spokane resident and owner of the Spokane Indians and Spokane Chiefs.
Ken, a first-round pick out of El Segundo (California) High School in 1966, less than 10 months before making his major-league debut in the middle of a
torrid, four-team American League pennant race
, pitched in relief in Games 4 and 7 of the World Series vs. St. Louis.
Known as "Kemer," Brett was far from a flash in the pan, pitching three more seasons in Boston and playing for the Brewers, Phillies, Pirates, Yankees, White Sox, Angels, Twins, Dodgers and Royals over the course of a 14-year major league career; he was George's teammate in Kansas City for the final two seasons.
Though he never made it back to the World Series, he made the playoffs twice more with Pittsburgh, was the winning pitcher in the 1974 All-Star Game as a Pirate, and took a perfect game and a no-hitter into the ninth inning for the Pirates and White Sox respectively, falling just short both times.
He moved to Spokane in 1999 and was a co-owner of the Indians and Chiefs and a baseball equipment company with his brothers, as well as a TV broadcaster for the Angels and Seattle Mariners. He also was a pitching coach at Whitworth and received an honorary bachelor of arts degree from the university. Ken Brett died in 2003 — a dozen years after playing his final major league game — far too young at 55 after a prolonged battle against brain cancer.
The second-youngest player to appear in a postseason game for the Red Sox?
George Herman Ruth
— better known as Babe, who was 20 when he pinch-hit in Game 1 of the 1915 World Series against the Phillies.