Today, Nov. 15, is the start of Spokane's snow season and the beginning of the city's
glorious new snow plan
.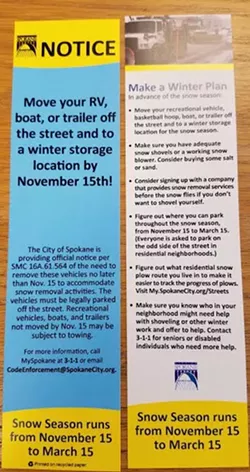 So what does that mean for you? Your boat trailers and RVs need to be off the street entirely.
"They're going to have to find a storage location," says city spokeswoman Marlene Feist. "If that's on Grandpa's 10 acres outside of town, great. If it's in a covered facility or a facility that allows vehicle storage outside in or if there's room in your garage, great."
The city has been hinting at this for a while, dropping off little friendly reminder "bookmarks" on trailers and RVs parked on the street for the last few weeks. Some neighborhood councils have also been spreading the word.
So are you going to get pounced on right away if you're lazy and forget to move them? Probably not.
Feist says that RV scofflaws will likely not be punished immediately. The city's Code Enforcement department will follow up with additional notices.
But eventually?
"We have the option to tow if people don't comply," Feist says.
And for the rest of you, remember: You're only supposed to park on the
odd
side of the street. Don't know if you're on the odd or even side? Walk outside, and look at the numbers in front of your house. If it ends in a 1, 3, 5, 7, or 9,
then you're in luck
.
Feist stresses that Code Enforcement isn't planning on cracking down with an iron fist or anything.
"We've asked them to make it a habit to park on the odd side of the street," Feist says. "Use common sense where it makes sense to do so. It's most critical when it's a snow day."