ON INLANDER.COM
NEWS:
Border Patrol shows no sign of easing off in Spokane
. A new office is slated to go up, and bring with it about 30 agents. This new development has complicated the city's plans for a new social services center.
FOR FUN!:
"A cow wandered into a pot field. The steaks have never been so high." If you like puns, then you might be interested in Spokane's Punderground.
This weekend, the group's founder, Annica Eagle, "flies" to Texas
to defend her title as third most-punniest person in the world.
IN OTHER NEWS
"Got a no-no going…"
Seattle Mariners James Paxton
threw the sixth no-hitter in the team's history
last night against the Toronto Blue Jays. The kicker? Paxton is Canadian. (
Seattle Times
)
Guns, eh?
Speaking of Canadians… A Canadian man was arrested by the Canadian Border Services near Blaine, Washington, when
he was discovered to have a large cache of handguns and high-capacity magazines
hidden in his vehicle. He faces 27 weapons and smuggling charges. (
Bellingham Herald
)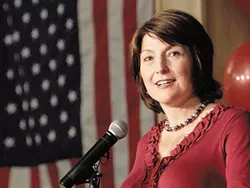 Tis the season
Republican
Rep. Cathy McMorris Rodgers' ad campaign is expected to begin today
.
Expect a lot more of this soon. "We're going to be working to tell her story, her values and her deep roots to Eastern Washington," her spokesman says. "Her mission is to restore trust and confidence in the government. She feels like trust has been broken, especially on a national level." (
Spokesman-Review
)
Undetained
Three American detainees were released from North Korea today.
The news is considered a victory for President Trump and potentially a gesture of "sincerity"
by the North Korean leader. (
New York Times
)
I just ran, I-ran so far away
New York Times
chief White House correspondent suggests that Trump's withdrawal from the Iran deal could be the beginning of
a new era of American foreign policy that lasts for years
, with an emboldened commander in chief at the helm. (
New York Times
)