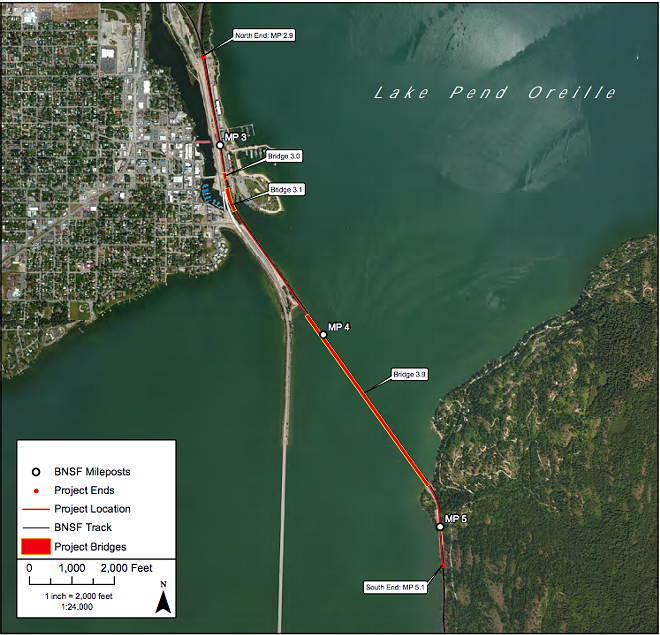 For years, BNSF Railway has had its sights set on a second rail bridge over Lake Pend Oreille to parallel the existing track and ease rail congestion. The company says timing and finances for the roughly $100 million project are lining up, and it has started the permitting process, which the public is being asked to weigh in on.
The
second line
, which would stretch nearly a mile across the lake, and over a creek and street, would prevent some of the backlog that exists now as three lines narrow to one, according to BNSF. For now, the single bridge exists to get traffic across in either direction.
"For us now, we believe the timing's right," says Courtney Wallace, a BNSF spokeswoman. "We really want to make sure our current lines are moving efficiently and that we have additional capacity for potential future growth."
Some environmental groups, including the
Idaho Conservation League
, have raised concerns about that potential additional traffic and worry about pollution and negative effects of any derailment that might happen over the lake. The ICL points to multiple derailments that happened in the panhandle in 2017, and questions whether safety has been addressed.
Trains hauling everything from crude oil, to passengers, to other chemicals and commodities currently travel across the bridge that exists.
BNSF has safety plans on file with regional responders, and the company spends a vast amount of time making sure first responders and equipment are in place in case of incidents, Wallace says.
The railway also insists that building the second track won't automatically mean more traffic, but instead more efficient traffic that can prevent trains from idling on tracks from Eastern Washington to Western Montana as they wait their turn to cross the single track stretch.
"The second bridge won't mean new traffic will magically appear," Wallace says. "If you add another lane on I-90, it helps make sure the traffic is flowing better."
Some people have questioned the need for the second bridge now that large coal and oil terminals proposed on the Washington coast have either been terminated or significantly delayed. But most of the new traffic will be driven by consumer needs for food and goods as the population continues to grow, Wallace says.
"We're seeing record growth in our ag division, whether that's soy beans or grain, we're seeing those numbers continue to grow," she says. "Some of the projects that have been proposed, from coal terminals to oil terminals, haven't panned out, but we still need this bridge."
Wallace joined Bonner County Commissioner Glen Bailey and Washington Farm Bureau CEO John Stuhlmiller in a call with regional media Monday morning, hosted by advocacy agency Keep Washington Competitive.
Bailey and Stuhlmiller voiced their support for the new bridge, citing better efficiency for getting agricultural products to market, and the potential to reduce the number of blocked train crossings in other parts of the system, including in nearby towns.
"The way I see it, a second bridge is first and foremost a free commerce issue," Bailey said on the call. "This will provide a second mainline track across the lake, and it will improve what has become a vital link between the communities stretching from the Pacific Northwest to the Midwest."
With Washington being the most trade-dependent state in the country, Stuhlmiller said that any improvements to freight shipping options are crucial.
"We are constantly championing improvements," Stuhlmiller said. "This is just one more means of moving traffic in a little bit of a faster method to ports."
There will be two public hearings on the proposal hosted by the Idaho Department of Lands on Wednesday, May 23:
First session: 8:00 AM Pacific - Ponderay Events Center, 401 Bonner Mall Way, Suite E, Ponderay ID

Second session: 6:00 PM Pacific - Sandpoint Middle School Gymnasium, 310 S. Division, Sandpoint ID

More information on the proposal can be found at the
Idaho Department of Lands website
, and comments can also be submitted by May 23 to comments@idl.idaho.gov.