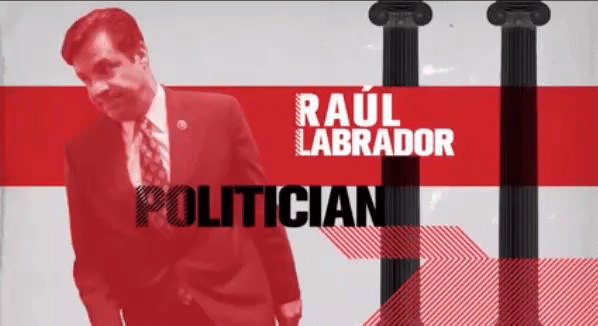 Lt. Gov. Brad Little wants you to believe that his opponent in the governor's race, Raúl Labrador, is a "
liberal on immigration
."
It's a claim that's absurd on its face for anyone who has been paying the slightest bit of attention to the immigration debate in the last five years. And it's a tactic that has been used, unsuccessfully, against Labrador before.
Nevertheless, Little — generally considered far more moderate than the far-right Labrador — has leveraged multiple ads dedicated to arguing that Labrador is soft on illegal immigration.
The ads are ubiquitous enough to be appearing on the TV in a coffee shop in Spokane.
Sure, there have been a
lot of suspect
ads in this race. There have been ads, like the one from Tommy Ahlquist saying that Labrador sponsored "
zero bills that have become law
," that are wrong on the specifics but get at a reasonable underlying critique. (During his eight years in Congress, Labrador only had three bills he sole-sponsored become law in some form — and he ultimately ended up voting against the final version of two of them.)
But these Little ads may be worse: They're an example of cherrypicking a few statements or votes — some over a decade old — in order to try to make the case that Labrador supports welfare and amnesty for unauthorized immigrants, despite Labrador dedicating much of his Congressional tenure to opposing those two things.
Little also makes similar accusations about his other opponent, Tommy Ahlquist. Now, it's easier to get away with making claims about a relatively unknown politician without a record. But Labrador has actually served nearly eight years in Congress. We can actually look at what he's done. And it sure as hell ain't liberal. Let's just take the last two years as an example.
Labrador introduced the
Davis-Oliver Act
. It's named after Michael Davis Jr. and Danny Oliver, law enforcement officers who were killed by a criminal who'd been twice deported. It was a broad bill that sought to punish so-called "sanctuary cities," give Immigration and Customs Enforcement (ICE) agents the ability to carry firearms, called to hire 12,500 ICE officers, increase legal screening of the visa system and handed the states and localities the power to enforce federal immigration law on their own.
Here's the headline op-ed take from the Hill: "
Davis-Oliver Act would make Trump's immigration agenda law of the land
."
"Let's call it what it is: This is President Trump's mass deportation act," moderate Republican Rep. David Cicilline, said
according to the Spokesman-Review
. "And it is based on a notion that immigrants endanger our lives."
"This bill not only makes our communities less safe, but it really does change and will change the very character of our country," he said. "We are better than this."
He introduced the Criminal Alien Gang Member Removal Act, a spin-off from the original Davis-Oliver Act, which would allow the deportation of members of criminal gangs, like MS-13,
even before they commit deportable offenses
.
Finally, he's been a sponsor of the Rep. Bob Goodlatte's Securing America's Future Act, an immigration deal that's endorsed by far-right groups like Numbers USA — the group that brags it "has been at the forefront of
mobilizing grassroots opposition
to every amnesty proposal since 1996 — and the
Center for Immigration Studies
. It's a deal that would not only crack down on sanctuary cities, it would attack the practice of "
chain migration
" and actually reduce the amount of
legal
immigration.
The far-right like the plan. But the left? The pro-immigrant National Immigration Forum
panned the bill
.
Democrat Rep. Michelle Lujan Grisham called the bill the "Mass Deportation Act," referring to it as a "hyper-partisan" bill full of "nativist policies" that "would rip apart communities through mass deportations."
More moderate Republicans haven't
liked Goodlatte's bill
. But Labrador does. Because, right now, he's not a liberal on immigration. He's not even really a moderate. He's a conservative.
S
o with the bulk of the recent evidence suggesting that Labrador is an immigration hardliner, how does Little make the case to that he's a liberal? He reaches back years — often over a decade.
Little's case rests on four cherry-picked claims.
1)
That Labrador, as an immigration attorney, defended illegal immigrants accused of committing crimes. Set aside the fact that defending people being accused of crimes is literally in the job description for many lawyers, the most recent case cited was 15 years ago — and tells us nothing about how he actually legislated.
2)
That Labrador said that Mitt Romney encouraging unauthorized immigrants to "self-deport" was a
mistake
. Indeed he did.
But you know who else objected to the term "self-deportation," in much more harsh terms than Labrador?
Donald Trump
. And these days, Labrador praises Trump's harsh rhetoric on immigration.
"Some of his rhetoric was strong because people were missing the point about what's important with immigration reform," Labrador told the
Inlander
last year
.
3)
That Labrador supported amnesty for 11 million illegals. In 2013, Labrador was part of the "House Gang of Eight," a group dedicated to striking an immigration deal.
Back then you could still make the case that Labrador was more moderate than many of his fellow Republicans on immigration. He
said as much
in a
Washington Post
interview.
But even back then, Labrador was opposed to anything he considered straight-up "amnesty." He's repeatedly cited the example of Ronald Reagan's amnesty as one of the Republican president's
biggest mistakes
.
And he also came out firmly against a
special path to citizenship
for those who violated the law knowingly. In fact, Labrador dropped out of the House Gang of Eight, effectively tanking an immigration deal. Since then, Labrador has been a staunch opponent of more moderate Republican proposals on
immigration reform
.
"The mistake that the Democrats make, and especially the mistakes that our Republican leadership made, is thinking that all the American people care about is giving some pathway to the 12 million people," Labrador told
Frontline
last
year
. "No, our party doesn't worry about the 12 million people. They worry about feeling less secure in their homes, less secure in the economy."
4) That Labrador "voted for welfare for illegals."
Yes, way back in 2007, Labrador argued passionately against an Idaho bill that specifically banned unauthorized immigrants from receiving welfare benefits. But Labrador has maintained that was because the federal government
already
restricted illegal immigrants from receiving welfare.
But since the implementation of the Affordable Care Act, Labrador has become much more concerned about that issue. In fact, the entire reason Labrador left the House Gang of Eight was he was so starkly opposed to unauthorized immigrants receiving
government assistance for health care
.
In other words: Not only does Labrador not support "welfare for illegals," he destroyed a potential immigration compromise because he's so opposed to that.
L
ast year, the
Inlander
did a deep dive into Labrador's history on immigration. In particular, we were interested in how he
had changed in the decade
since his comments at a City Club of Boise discussion in 2007.
Back then, he cited the DREAM Act — a bill intended to give the children of certain illegal immigrants as one of two reforms that Congress could do that would help "millions and millions and millions of people."
Indeed, when Labrador first ran for Congress, back in 2010, you could make a case that Labrador was a moderate on immigration. (
Here's
Dan Popkey — back when he was a reporter instead of Labrador's press secretary — asking a very pointed question based on that premise, accusing Labrador of "pandering" on immigration.)
Labrador's opponent, Democrat Walt Minnick, even tried to hit Labrador from the right on the issue, running ads an
Atlantic
writer called
"ugly" and "racially tinged."


Now, Little, with the reputation of being more of a moderate than Labrador on many issues, seems to be trying to use a similar playbook. But the record of the last five years shows just how weak that argument is.
Today, Labrador says he'd never support a version of the DREAM Act, even in exchange for more border security.
"I'll never trade any kind of amnesty for anything," he told the
Inlander
.
Labrador has strenuously objected to the suggestion that
he
might have changed his views. Instead, he argues that the political landscape changed. That a bill that may have made sense during the Bush administration became unworkable after Barack Obama and the Democrats' behavior made a compromise — in his mind — unworkable. Labrador says his principles and framework was always the same. And Minnick's former campaign manager, John Foster, agrees.
And if Labrador actually
has
changed his views on immigration, it's been in one direction:
to the right
.
Brian Tanner, a Twin Falls immigration attorney who'd worked with Labrador occasionally when the congressman was still practicing law, told the
Inlander
that he saw Labrador become much more conservative on immigration.
"At the beginning, he made that choice: 'I wanted to help immigrants.' This isn't something you step into because you want to make gallons of money," Tanner said. "He's way more hard-line now than he was. No question... He's now lockstep with Trump."
And Tanner offered one reason why that change could be:
"Attacking immigrants is politically popular," Tanner says. "It has been from the beginning of time."
In their endorsement of Brad Little, the
Idaho Statesman
and the
Idaho Press-Tribune
both endorse the lieutenant governor, noting that's he's more moderate than Labrador, a trait popular with newspaper editorial boards but not necessarily Idaho GOP voters. So, yes, it's understandable that Little wants to find a way to muddy the waters on who's more conservative.
Both newspapers also praised Little for being "
honest
" and "
genuine
." But when it comes to being honest and genuine about Labrador's immigration record?
Not so much.