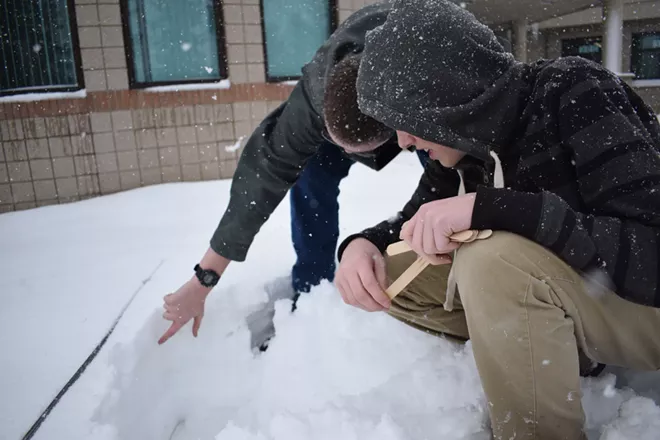 In an ongoing effort to further improve climate science education in North Idaho, the Kootenai Environmental Alliance has awarded four North Idaho Schools money for field trips and supplies.
The four grants will provide teachers the resources they need to teach kids about their environment through firsthand experience, the Kootenai Environmental Alliance says.
"Schools don't have the funds to do field trips and buy equipment," says Sharon Bosley, with Kootenai Environmental Alliance.
Spread between four different schools, KEA awarded a total of $2,500. Lake City High School's Outdoor Studies program, which has been
featured in the Washington Post
, will take $1,000 to use on a field trip to the Coeur d'Alene River where students will test the water quality. Timberlake High School, which the
Inlander
wrote about in March
, was awarded $500 for new kits to test water quality in Spirit Lake and Brickel Creek. Greensferry Elementary got $500 for science kits to study ecosystems and New Visions High School got another $500 for probes for the school's greenhouse.
It may sound like a modest amount of money, but for teachers that can be a huge difference, Bosley says. Timberlake High School, for instance, had students test water last year but didn't have enough kits for all the kids who wanted to participate.
Lake City and Timberlake High Schools both participate in "
The Confluence Project
," an educational model focusing on water-science education that University of Idaho graduates developed years ago. The KEA helps fund the project. It ends in a "Youth Water Summit" in Coeur d'Alene. That summit, where students present their research at a conference-style event, is on Tuesday.
The projects that students will present at the summit all have to do with the local watershed, which can include snowpack levels, water quality or other watershed issues.
"The kids will get to have a real scientific conference," Bosley says.
Through the year-long project, kids are connected with scientists and professionals from the University of Idaho, the Coeur d'Alene Tribe, Idaho Department of Environmental Quality and others.
So far, students from seven local schools participate in the project.
"Connecting high school youth to local experts is incredibly powerful, and through this process, we are able to enhance science education and critical thinking skills in participating classrooms," says Laura Laumatia, Coeur d'Alene Tribe Lake Management Plan Coordinator.