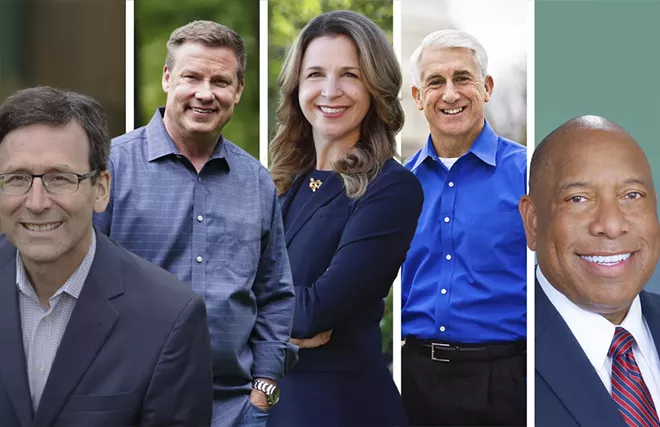 As summer fades, many of us are focused on one more camping trip, settling kids back in school, washing the dog, anything other than next year's governor's race. But like it or not, that race is on, and what the candidates are and aren't focused on could affect Spokane.
Eight Republicans, eight Democrats, two Constitution Party members and four others have legally declared their interest in running for governor in 2024. Only five have raised over $100,000.
Ranked by the amount they've raised in campaign contributions, those five are: Democrats Bob Ferguson, a lawyer, former King County Council member and current attorney general; Mark Mullet, a former banker, former Issaquah City Council member, business owner and current state senator; and Hilary Franz, a lawyer, former Bainbridge City Council member, former director of Futurewise and current commissioner of public lands; and Republicans Dave Reichert, a former Air Force reservist, former King County sheriff and former U.S. congressman; and Semi Bird, a leadership consultant and former Richland School Board member (recalled).
These five, if they are to be successful, need to connect with voters on local as well as statewide issues. That's why I wanted to know if what's important to Spokane is also important to them. But first I needed to confirm Spokane's priorities. For that, who better to ask than those running for mayor? Current Mayor Nadine Woodward's campaign told me crime, public safety, homelessness and housing were the issues on top of Spokane voters' minds. Challenger Lisa Brown said when she doorbells, people mostly "talk to me about our response to homelessness." So Spokane's three priorities appear to be homelessness, crime/public safety and housing.
These are not just Spokane's priorities. Voters across Washington share these concerns. But do the five candidates for governor? I asked each, What are the two most important issues confronting our state?
Dave Reichert, citing two Spokane's three priorities, responded that "public safety, including homelessness and domestic violence," were among the most critical issues. Semi Bird listed restoring safety to our streets and the economy/tax relief. He also mentioned his plan for addressing homelessness.
The two Democrats mentioned housing among other priorities. Hilary Franz's listed affordable housing and climate change. As Washington's land and fire chief, she has been on the frontlines fighting climate-related wildfires and floods.
Bob Ferguson's priorities include the economy and health care. Adding, "We must address the affordable housing crisis, lower the cost of living and create good-paying jobs" and ensure reproductive freedom.
The Mullet campaign did not respond.
Fourteen months before the election, it's enough to know what each candidate will focus on, but by the time 2024's snow is melting and the campaign gets more attention, these candidates need to follow up their priorities with plans.
It will be interesting to learn what Reichert and Bird mean by public safety. Reichert could leverage his experience by offering voters a thoughtful plan for reducing crime. Franz has earned bipartisan accolades for her work improving forest resilience in an age of climate change. What more would she do as governor? People will want to know how Ferguson believes a governor can create jobs and lower prices. And, if he is intent on making abortion rights a major part of his agenda, he should explain what more he would do in an already granite-hard, pro-choice state.
For now, just knowing the candidates' priorities is useful, because a candidate's priorities often reveal what motivates them to run. Alternatively, a lack of direction can betray a desire to be governor that supersedes any agenda. I have no patience for those who just want to be governor, who want to land on the next stepping stone. The candidates who interest me are those who want to do something and need to be governor to do it. What I wanted to know was whether such a candidate was running. So, I asked, If you could make one big change in your first term, what would that be?
Only Hilary Franz presented a clear vision of what her first year would be like, saying she wants to tackle our statewide housing crisis "with the same sense of urgency, determination, critical investments and focus... I brought to building and implementing our state's wildfire responses." She believes affordable housing is critical to responding to homelessness, to meeting educational goals since unstably housed kids struggle to succeed in school, and is critical to providing economic opportunity since people need to live near "good-paying jobs without endless commutes."
Ferguson replied, "If you want a governor who will only make one big change, look elsewhere. I will transform state government." He did not outline what he would transform.
Personally, I want to know what it is about the Inslee administration Ferguson finds so dysfunctional that it needs transforming. Would Ferguson transform Washington's approach to drugs and crime? Would he transform our state's approach to homelessness? Education is the state's paramount responsibility, yet public school enrollment is falling. Would he provide more school choice or squeeze Spokane's five charter schools? Transforming state government is bold — and bold can be good — but without specifics, boldness risks being confused with bluster.
Ferguson was not alone in being vague. Reichert's first term big change is bringing "our state together and stop pitting regions against regions, families against families, and generations against generations." How he'd foster harmony is unknown. I wonder whether civility and the common good are weighty enough to draw people into his campaign.
If you were hoping for a more concrete vision from Bird, sorry. His big change would be restoring "trust in the leadership... by implementing policies that prioritize the well-being of the people over political interests."
I find most of these responses disappointing. The most transformative governors are not those who want to do everything, but are those who understand how to leverage their influence to accomplish one or two big things that only a governor can do. Doing those one or two big things is what drives them to be governor. With the exception of Franz, the responses suggest most of the candidates want to be governor more than they are driven to accomplish one big thing.
But it's early. Campaigns are refiners' fires, and as these five walk through the flames, let's hope why they are doing it will become clearer both to themselves and us. ♦
Bill Bryant, who served on the Seattle Port Commission from 2008-16, ran against Jay Inslee as the Republican nominee in the 2016 governor's race. He is chairman emeritus of the company BCI, is a founding board member of the Nisqually River Foundation and was appointed by Gov. Chris Gregoire to serve on the Puget Sound Partnership's Eco-Systems Board. He lives in Winthrop, Washington.