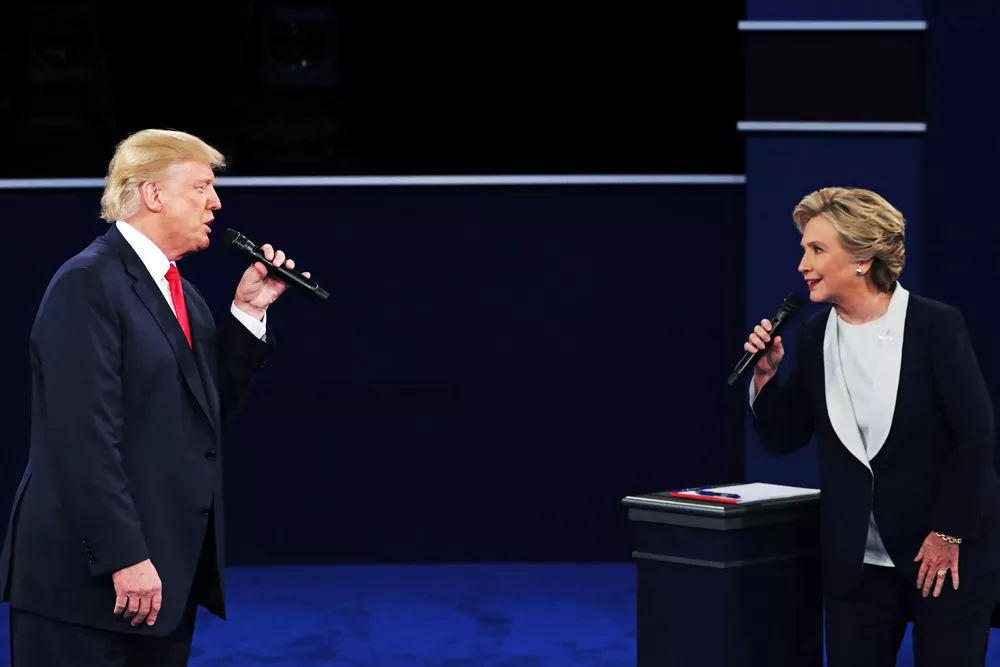 THE AUDACITY OF GROPE
The release last Friday of the 2005 behind-the-scenes Access Hollywood tape of DONALD TRUMP bragging that his fame gave him the power to sexually assault women — Google it for the vulgar details — left voters with two ugly, ugly possibilities. One: The Republican presidential nominee did, in fact, make a habit of sexually assaulting women. In prior instances, he has been accused of groping women and kissing them without their consent. Two: The Republican presidential nominee was so desperate to impress Access Hollywood host Billy Bush that Trump, despite his reputation for "telling like it is" and "being himself," decided to lie in order to make it seem like he had a habit of sexually assaulting women.
During Sunday's presidential debate, Trump — after dodging the question several times by dismissing the video as "locker room talk" — claimed that he hadn't actually sexually assaulted anybody. But his campaign, already ailing, had likely been dealt a fatal blow: A slew of prominent Republican politicians, including Idaho Rep. Mike Simpson, Idaho Sen. Mike Crapo, and former Republican presidential nominee Sen. John McCain "unendorsed" Trump or explicitly told voters they wouldn't be voting for him.
Spokane's U.S. Rep. Cathy McMorris Rodgers joined the chorus condemning Trump's remarks, but, like Speaker of the House Paul Ryan, refused to pull her initially tepid endorsement. (DANIEL WALTERS)
BODY LANGUAGE
If you watched the second presidential debate Sunday evening, or scrolled through social media in the following hours and days, you may have noticed the chatter about DONALD TRUMP'S stalkerish strategy. It happened over and over. HILLARY CLINTON moved around the debate stage as she spoke, and there was Trump, looming right behind her.
The Washington Post reached out to two body language experts and asked them to analyze the candidates during the second debate. One expert, David Givens, is the director for the Center for Nonverbal Studies research center in Spokane. Here are a few highlights:
Givens commented on Trump's snorts and pointing at Clinton as he fired accusations her way. Both are signs of aggression, he says, like a "bull in attack mode." Both body language experts agreed that Clinton looked weak compared to Trump. She sat while he talked. She smiled more, and she "addressed listeners sympathetically, with positive feelings and positive regard."
And the stalking? "Trump's constant pacing and restless movements around the stage attracted attention [away] from Hillary's words, and visually disrespected her physical presence on the stage, as in 'I'm big, you are small,'" Givens tells the Post. (MITCH RYALS)