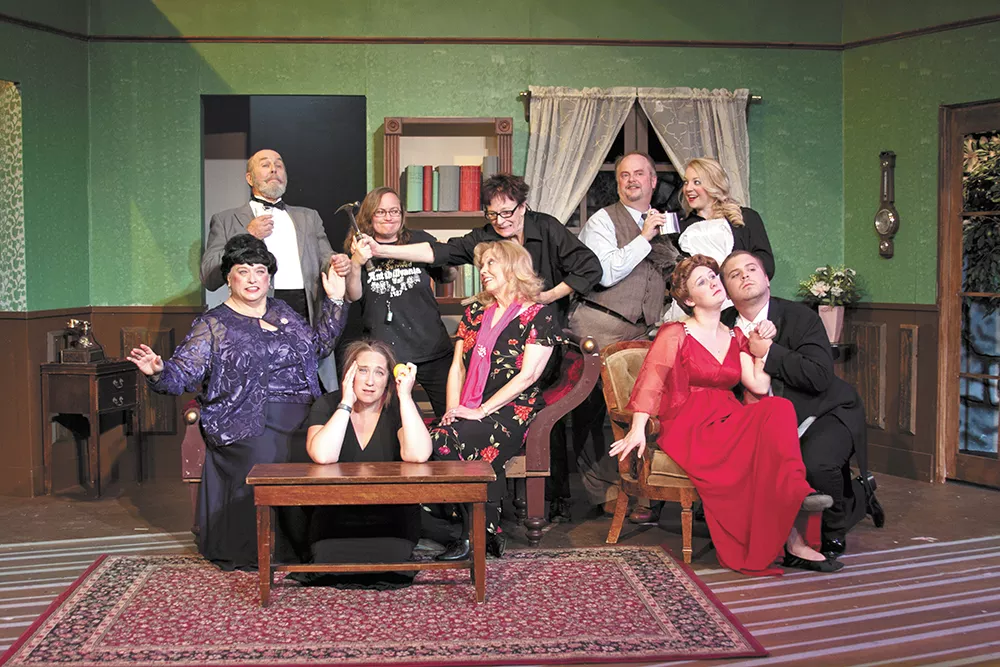 Play On!, the over-the-top comedic opener to Ignite!'s 11th season, treads some dangerous ground for a community theater. This 10-actor ensemble piece by Rick Abbot (one of several pen names for Jack Sharkey, a playwright who was remarkably prolific, with rather unremarkable scripts) is a play about a community theater troupe unsuccessfully — nay, disastrously — trying to stage a play.
The play within the play is Murder Most Foul, titled in ignorance of the famous Miss Marple film by Phyllis Montague (Gail Cory-Betz), Sharkey's wry self-caricature of his own profession. We don't meet Phyllis until late in act one, but we've certainly heard all about her unwanted meddling from director Geraldine Dunbar (Brighid Rau), stage manager Aggie (Moira Moore) and diva-like Polly Benish (Kim Roberts), who, it turns out, has been pressing Phyllis for rewrites in the hopes of nabbing more lines for herself. Castmates Harry Benish (Jerry Uppinghouse), "Smitty" (Phletha Wynn-Hynes), Saul (Troy Heppner), Billy (Jordan Fugitt) and Violet (Tanya Morton-Brownlee) have been unhappily coping with these rewrites as well as all the plot holes and inconsistencies in Phyllis' script, but as opening night rapidly approaches, not all of them are showing the same grasp of the material.
The personalities exacerbate the circumstances. Wisecracking tippler Saul can't resist making digs at Polly. Harry, her husband, simply caves when she's being unreasonable. Smitty's overly anxious about the exam she's meant to be studying for. Billy and Violet are not-so-secretly in love. Louise (Lisa Johnson) is finding that there's no way to hammer discreetly. And each rehearsal full of script revisions and missed cues leaves everyone less prepared for opening night.
What makes all this so precarious is that there's an inherent risk of the actual production devolving into the very thing it's sending up. Although there are some minor and not uncommon problems here with actors striking the right balance between casualness and theatricality, idle blocking among such a large ensemble (Violet, for example, kills an awful lot of time doing yoga poses), or finding gradations of hysteria rather than shifting between two extremes, they're never severe enough to cross the line into self-parody.
Directed by Adam Sharp, the Ignite! cast clears the biggest potential pitfall to deliver a warm-hearted, no-frills production of Sharkey's comedy that never becomes more chaotic than the script calls for and abounds in slapstick yucks in all the right places. ♦
Play On! • Through Oct. 4; Fri and Sat at 7:30 pm, Sun at 2 pm • $13-$15 • Ignite! Community Theatre • 10814 E. Broadway, Spokane Valley • igniteonbroadway.org • 795-0004