POSTERS
The last thing any revolution needs is branding, but Occupy has nevertheless featured plenty of it, so you might as well indulge in the artistic results. At occupytogether.org, you can get free downloads of high-resolution posters donated to the cause by graphic artists from around the world. Yeah, some might say the Occupy movement is dying down, but the spirit of the global phenomenon can live forever on your wall.
MAGAZINE

If you want to feed a village, teach a man to fish. If you want to start an insurrection, teach him how to live.
Adbusters
is better than ever and is no longer just for those kids who want to piss off their parents. The brains behind this Canadian magazine were the ones behind the Occupy movement, and they are rumored to have a few more tricks up their sleeves. Every issue has a distinct social theme and agenda, all striving toward the goal of original thinking and bucking the system. This is the meat for any revolutionary...
BOOK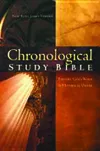 This new look at one of the oldest books in history,
The Chronological Study Bible
, provides all of the normal escapades but puts it in a worldly context with other events that influenced cultures. This somewhat controversial take on the Bible shuffles all of the books out of canonical order (which has been called sacrilegious) and makes one long, flowing story out of it. All the side notes and interesting socio-cultural facts make this more of an Indiana Jones-like telling of the most popular book of all time.