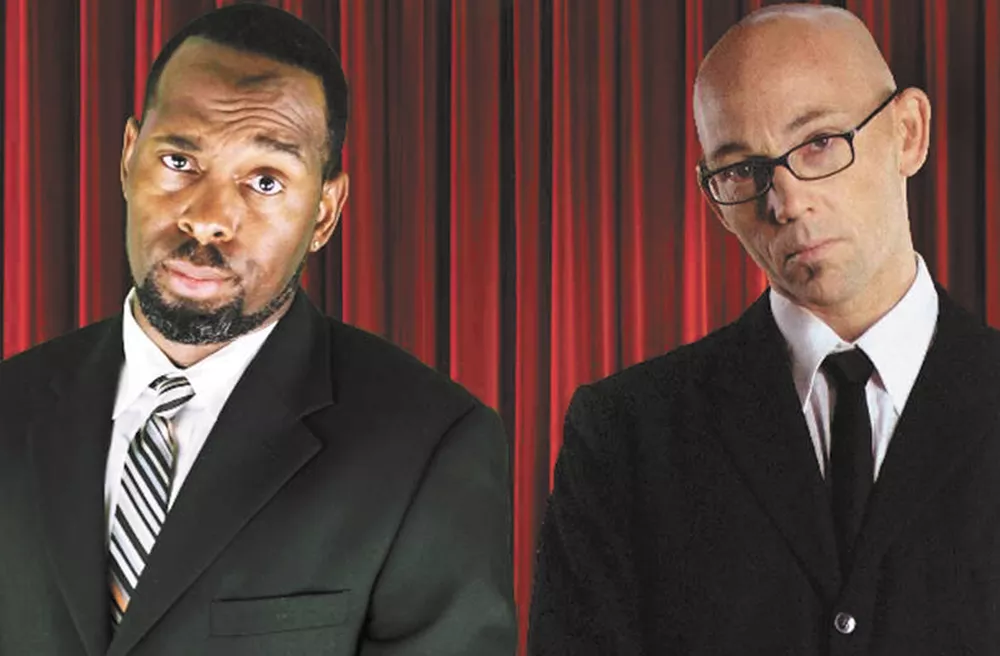 After spending decades making the rounds of the comedy club circuit, the world of strip-mall venues, shady club owners and sparse crowds far from home can lose a bit of its glamour.
That leaves most mid-career comedians with some serious decisions to make. Should they stay on the road? Should they focus instead on a related line of work, like acting or writing for other people? Should they give up comedy altogether and get a "real job?"
Comics Ty Barnett and Ian Harris have both faced those questions as they've pursued their dreams across the country's clubs, in comedy contests and in writers' rooms in L.A. While both have found sidelines they like — Barnett in acting and writing, Harris as a filmmaker and editor, as well as an MMA trainer — neither comic is ready to stop performing for live audiences.
Hence, their "Divided" comedy tour, so titled because while the longtime friends have a lot in common, there are definite differences beyond simply race — Harris is white, Barnett black — that make for some great fodder for jokes.
"We're not diametrically opposed," Harris says. "It's not like he's a Tea Party guy and I'm a Ralph Nader guy. But we have different backgrounds."
Barnett concurs, noting that his comedy is fairly broad, while Harris' is pointed and aggressive.
"Ian is an atheist, and I believe in a higher power," Barnett says. "You can believe in Buddha, Allah, whatever you want to believe in, but I believe in a higher power. Ian is more of a scientist-type person."
That dichotomy is a natural jumping-off point for both men to address everything from parenthood to politics. And while their philosophical differences are what gives the "Divided" tour its unique flavor, both comedians say the ultimate goal is something bigger than just a lot of laughs — although those are certainly part of the plan.
"It's called 'Divided' because we're divided in some thought processes, but we're together in how we present it to people," says Barnett, the 2006 runner-up on Last Comic Standing. "You can be an atheist and come out laughing, and you can be a Christian and come out laughing.
"It's a metaphor for how the world should be. You can have your viewpoint, believe what you want to believe. But at the end of the day, we're all human beings."
One of the highlights of the tour stops so far is when both comics take the stage at the end of the evening to interact with the other human beings in the venue. Barnett started doing Q&A sessions at the end of his shows on college campuses years ago, as a means of engaging kids with short attention spans. Harris thought doing it at the "Divided" shows would add an interesting element, and so far it's turned out just that way.
"You always get somebody who thinks they're funny, with a free forum to heckle, like, 'What happened to your hair, dude?'" Harris says. "But you can also get, 'What's your take on Ferguson?' and we have to decide, do we give them the serious, political answer, or do we answer with a joke?"
Either way, Barnett and Harris believe people will walk away from the show appreciating some new perspective along with the material from both comics.
"Our original thought was, how do we unite these audiences and get across some thought-provoking content and still make people laugh?" Harris says. "At the end, they'll come together and see where we agree and disagree. And see us try to make people think and laugh together at the same time." ♦
Ty Barnett and Ian Harris: Divided • Sat, March 28, at 8 pm • $20-$35 • 18+ • Knitting Factory • 919 W. Sprague • sp.knittingfactory.com • 244-3279