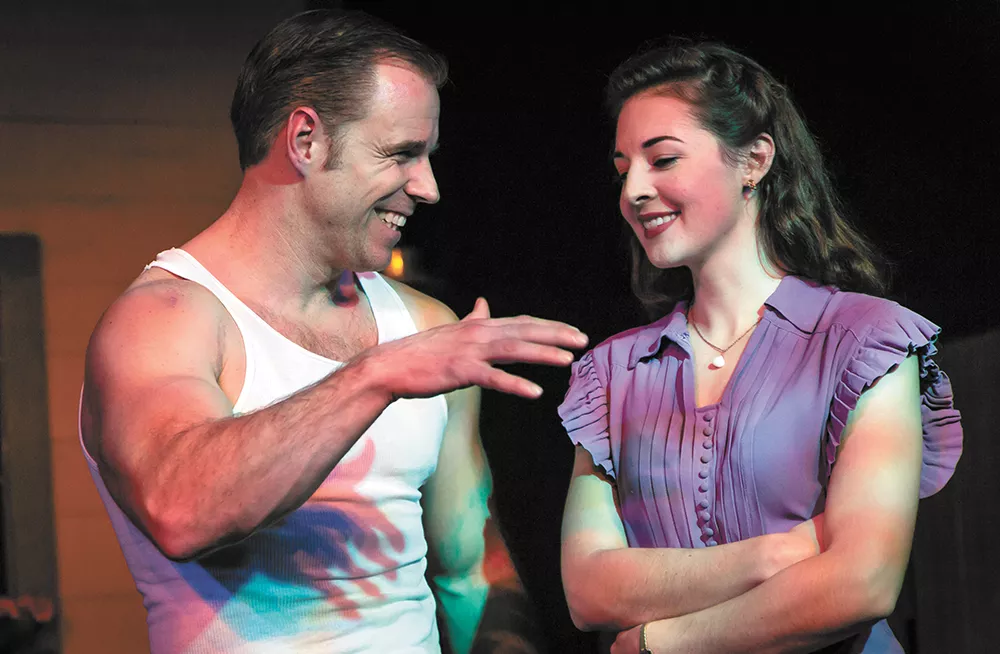 Like many dramatic works that have been elevated to the classic repertoire, All My Sons covers more ground than it paces. Though its action never moves beyond a single backyard and its plot is a fraught breadcrumb trail toward revelation over the course of just one day, Arthur Miller's 1947 play has an expansive poetry that encompasses themes like blind devotion to family, the eternal struggle of practicality versus idealism, and the elusiveness of the American Dream.
At its heart, however, All My Sons is concerned with the act of forgetting. You can hear that quite explicitly in the final, resonant line, delivered by Kate Keller to her stunned and grieving son: "Forget now. Live." You can also hear it in subtler contexts, such as when young Ann briefly gets swept up in reverie and — quoting James Joyce's Ulysses (another 24-hour tale with an expansive poetry of its own), itself quoting a Victorian parlor song — laments "those dear dead days beyond recall." Nearly every character who crosses the Kellers' yard lives a present that is encumbered in some way by a past event. Those who don't are either children or, well, not especially bright. Yet isn't the bliss of ignorance its own kind of punishment? And so, in the end, whether we choose to remember or choose to forget, if indeed we have any choice in the matter at all, it's invariably a lose–lose proposition.
The current production of All My Sons at the Modern's Coeur d'Alene location is as effective as any in driving home this tragic futility. It's a very straight-ahead rendering — no bold flights of fancy on the part of director Jadd Davis, no radical reinterpretations of the core characters. And unless there's airtight reasoning behind any of those departures, that's pretty much how it ought to be. Miller's drama doesn't need gimmickry to make it relevant.
The set by Jeremy Whittington and George Green, albeit serviceable, seems half-realized and could do with some AstroTurf and other faux greenery to complete the effect; the dappled green of the stage is barely visible. The lighting is middle-of-the-road, too, and doesn't always evoke the right time of day. The stage direction suffers from a slightly different lack of naturalism. All too often, the characters peripheral to the central dialogue stand at a statuesque remove, as if they're waiting to be tagged back into the ring.
Where this staging excels is in the quality of its principals. Kim Berg's Joe is relaxed and agreeable rather than domineering or argumentative, as some have played the character. That soft exterior has the effect of compounding his son Chris' (Billy Hulquist) sense of betrayal. Hultquist is hindered most by the "frozen onlooker" stage direction but otherwise gives an excellent performance, particularly when paired with the near-infallible Aubrey Shimek Davis (Ann). As Kate, perhaps the play's most emotionally complex role, Tamara Schupman is by turns wistful, comforting, resentful and broken. Among the supporting actors, Dave Rideout's philosophical Jim stands out for the right reasons, whereas Brooke Wood's Sue sounds oddly unhinged. ♦
All My Sons • Through Feb. 7: Thu-Sat, 7:30 pm; Sun, 2 pm • $20-$24 • The Modern Theater Coeur d'Alene • 1320 E. Garden Ave., Coeur d'Alene • (208) 676-7529 • themoderntheater.org
---
MODERN THEATER EXPANDING
As part of its 2016-17 season launch party on Jan. 23, the Modern Theater also announced that it would immediately begin construction of an additional stage at its downtown Spokane location, giving the regional theater franchise a total of three.
Funded by donations from Bob and Pat Mielbrecht, the new Raymond E. Mielbrecht Theater will be situated on the first floor of the building, in the area where the VIP lounge is currently located. The space will seat fewer than 100 people and will be used as a venue for productions of niche, up-and-coming and experimental shows. Already scheduled productions include Stop Kiss, a dramatic comedy by Diana Son (running Nov. 4-13), and Alan Ball's comedy Five Women Wearing the Same Dress (Feb. 3-12, 2017).
"The more theater, the better," says Executive Artistic Director George Green. "There's not a lot of new work or experimental theater being done, and this fills that need from a professional standpoint." (EI)