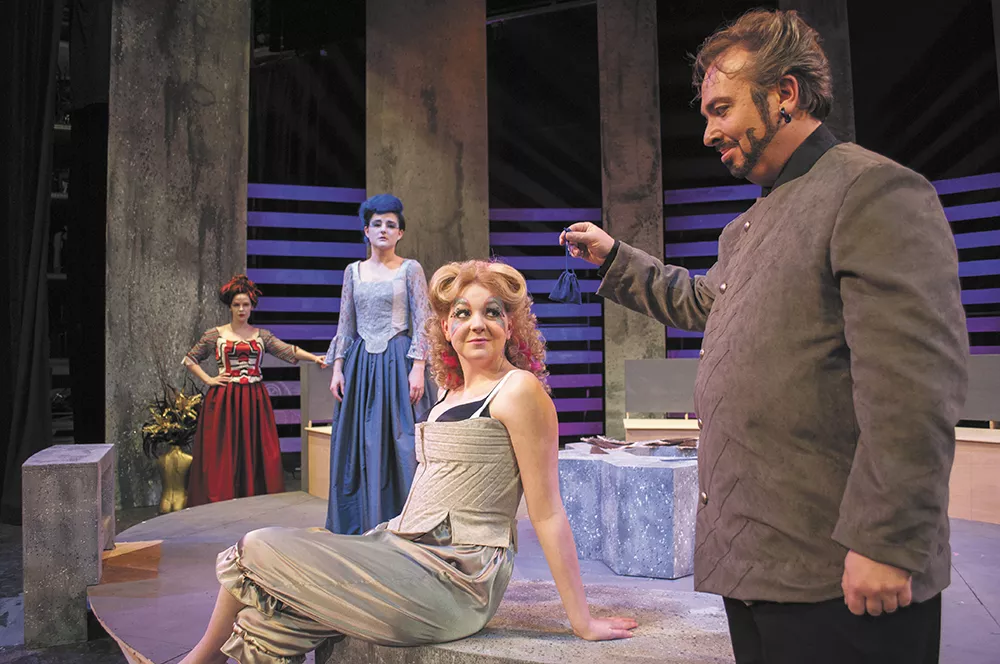 There's a well-known monologue in Les liaisons dangereuses, Christopher Hampton's 1985 stage adaptation of the 1782 epistolary novel by Pierre Choderlos de Laclos, in which the scheming Marquise de Merteuil divulges her modus operandi according to "one wonderfully simple principle, win or die."
What lies behind the Marquise's all-or-nothing ruthlessness? Avarice? Malice? No, neither of those — not directly, at any rate. It's something far more intrinsic and intricate: gender. As she explains to her ex-lover and rival, the equally manipulative Vicomte de Valmont, "I always knew I was born to dominate your sex and avenge my own."
She's not exactly the Betty Friedan of the Ancien Régime, says Josephine Keefe, who is playing the Marquise in the Spokane Civic Theatre's new production of Les liaisons dangereuses. Yet the Marquise's determination to transcend her societal niche makes her one of the few "strong leading female roles" in pre-modern drama that "any actress feels very blessed to play."
"A parallel character to her might be Lady M[acbeth] or Hedda Gabler in terms of that antihero-type character," Keefe says. "I don't want to say that there's a feminist piece to her, but the way I was able to connect to her is that she's a woman who is not only surviving in a man's world, she's on top of it. And you've got to love that."
Her opposite number can be found in the pious and trusting Madame de Tourvel. She becomes an unwitting pawn in the private conspiracy between the Marquise and the Vicomte (played by Ben Dyck in this production), who sets out to seduce her for sport and cement his reputation among the aristocracy as a cad. Madame de Tourvel ultimately yields to his advances and even falls desperately in love. But does that necessarily mean she's a weak character, especially in relation to the unflinching Marquise?
"I thought a lot about this when I first started diving into the character," says Nichole Dumoulin, an actress who, as it happens, earned plaudits for her portrayal of "Lady M" in a 2014 EWU production of Macbeth. "I thought she was weak, and I was playing her as a goody-goody, frail, very religious person. Once I stopped thinking about her that way, it became a lot easier. Out of all those girls [Valmont is] always chasing, she's the only one to say no to him. And she says no for a long time. I think that shows strength. And when she finally does break down, it's more devastating if she is a strong person."
Dumoulin and Keefe point out that strength, sexuality and status are distinct thematic undercurrents in Hampton's play. Those are qualities it shares with a more contemporary crop of female-driven dystopian dramas like The Hunger Games and Divergent, which is partly why director Keith Dixon has shifted the setting from 18th-century France to an unspecified hierarchical future.
"This isn't a period piece. He felt like there was a very strong parallel between how he viewed The Hunger Games and this period in France. You'll see that in the colors. You'll see that in the lines of the set, which isn't going to be fluffy, ornate and velvety. It's going to have hard, angular lines to it, but still maintain a very sumptuous richness that you'll also see in the beautiful costuming that Summer [Berry] has created for this production," Keefe says.
"Through all of those little pieces, we've created this whole different world," adds Dumoulin. "Our costumers and our makeup artists and set designers have pulled things from different time periods. So I think the audience is going to get sucked into our world." ♦
Les liaisons dangereuses • Jan. 15-31: Thu-Sat, 7:30 pm; Sun, 2 pm • $18-$25 • Spokane Civic Theatre • 1020 N. Howard • 325-2507 • spokanecivictheatre.com