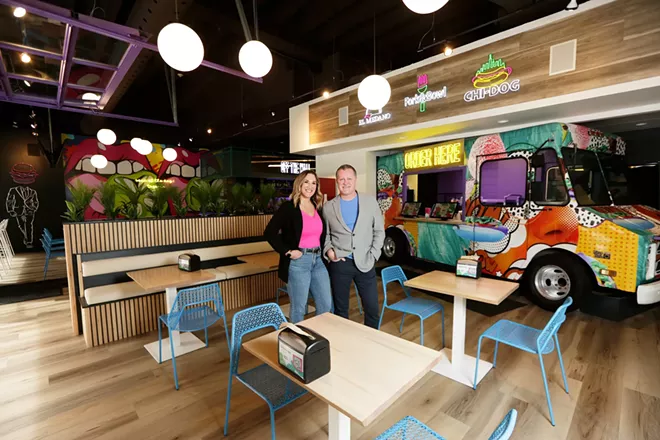 With bold, colorful decor, three menus, a full bar and an indoor food truck, Off The Wall brings a craving-satiating experience to the downtown core.
Owners Josh and Katie Wade, who also own Nectar Wine and Beer, BARK A Rescue Pub, Fête – A Nectar Co., and Nectar Catering and Events, were inspired by a recent trip to Las Vegas, where they encountered similar food truck-inspired, indoor restaurants.
But when the pair decided to open their next restaurant at a location on Wall Street, that wasn't the concept Josh initially envisioned.
"I had looked at this location for another concept, and that wasn't coming to fruition," he says. "It originally started off as, you know, almost like Saranac Commons; it was going to be called Wall Street Commons."
That idea also came from the Wade's travels, during a trip to Chicago a few summers ago. Josh dined at a place called Devil Dawgs, which does modern takes on hot dogs and other classic American foods, and Spanglish, a Mexican restaurant with customizable options.
Those two eateries inspired two of Off The Wall's three distinct menus, Chi-Dog and El Medano respectively, but the Wades wanted to add a third, healthy food option. So they created Fork & Bowl, which serves mainly soups and salads.
"We are a family of four, and everybody always wants something different when you say you want to go out," Katie says. "Everybody can get something here."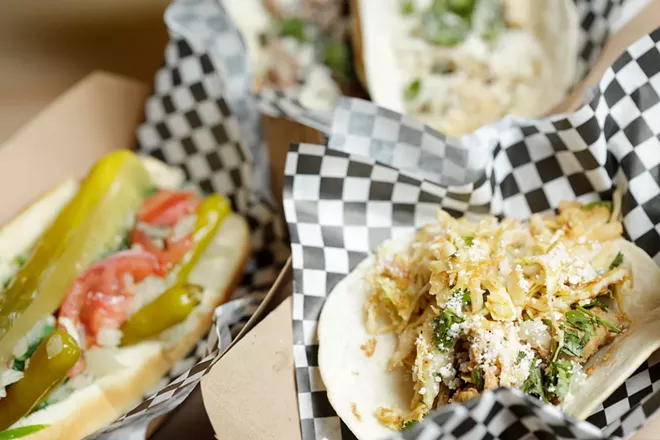 At Off The Wall, diners can order from kiosks mounted on an actual food truck parked inside the counter service-style restaurant, or by using a QR code to access the menu at their table with a smartphone. The Wades wanted to avoid offering table-side service at Off The Wall as a way to keep food costs low while embracing the traditional food truck experience.
At Chi-Dog, you'll find many takes on the classic hot dog, like the titular Chicago dog ($7.50) with sweet relish, hot peppers, onions, tomatoes, pickles and mustard. The Seattle dog ($7.50) has a kick from jalapeños and sriracha sauce that's balanced out by the requisite cream cheese and grilled onions.
This menu also has a budget-friendly smash burger ($5) with Off The Wall's special sauce. Vegetarian diners aren't left out at Chi-Dog, either, as there's a veggie dog ($5.50) and veggie burger patties ($6.50).
El Medano, meanwhile, has six different street tacos ($4.50-$5.50), like the Classico with ground beef, salsa verde and rojas, onions and cilantro. The el pastor comes with marinated pork, pineapple, cabbage, jalapeños and cotija cheese. There's a veggie-option here, too: the Carne Falsa with a sauteed vegetable hash, mushrooms, garbanzo beans, onions, peppers, lentils and cotija cheese.
If tacos aren't your jam, El Medano has a hefty burrito ($12) with beans, cheese, rice and salsa, as well as shareable nachos ($9), a quesadilla ($7.50), chips and salsa ($5), and guacamole ($9) for a midday or late-night snack.
Fork & Bowl, while serving a classic garden salad ($8) with mixed greens, cucumber, tomatoes, onions and a raspberry vinaigrette, mainly offers creative twists on fresh salads. There's the Thai mango salad ($10) with mango, red peppers, peanuts, rice noodles and a Thai dressing, or the berry bowl ($10) with spinach, red cabbage, bell peppers and an assortment of sweet berries, both fresh and dried.
While you may expect to find a burrito bowl ($10) at El Medano, it's actually part of Fork & Bowl's offerings and comes with cilantro lime rice, cabbage, beans, bell pepper and salsa. This menu also has vegan black bean chili and chicken tortilla soup, along with a rotating soup-of-the-day ($6-$9).
While the restaurant serves three unique menus, diners are able to fully customize their meal by ordering off one, two or all three with just one point of sale.
Off The Wall not only brings an affordable variety of food to the downtown core, but also fun, quirky cocktails. Many are inspired by '90s cartoons and shows, such as the Peachy Patrick Star ($10) with bourbon, peach vodka, lemonade and a pink sugar rim, or the My Little Pony ($10), which has Pink Whitney vodka, citrus vodka, Sprite, lemonade, strawberry puree and, of course, pink glitter.
Katie says she gave the bartending team creative freedom to come up with a menu that complements the eatery's playful, casual vibe.
"You're gonna have your Pop Rocks on the rim, cotton candies, glitter in your drinks, but it's not going to be overly complicated," she says.
The bar has specialty shots, too. One, called the Mexican candy shot ($9), has watermelon pucker schnapps, tequila, chamoy, and a Tajin rim, plus tamarind and watermelon candy garnishes. The Fanta-sized shot ($8) has Fanta soda, mandarin vodka and a piece of orange-flavored Airheads candy.
For those enjoying Off The Wall's later hours (the whole venue transitions to a 21-and-up bar after 9 pm each day), food and nonalcoholic drinks add a much-needed option for late-night eats in the downtown core. While the full menus for El Medano and Chi-Dogs are available from 9 pm to close on Fridays and Saturdays, other nighttime specials include breakfast burritos ($9), a breakfast dog ($8), and a smash burger topped with a fried egg and bacon ($8). Energy drinks and rehydration beverages ($5 each) are also available to the late-night crowd to keep the good vibes going.
While Off The Wall boasts a robust and affordable menu, perhaps the most captivating part of the restaurant is the decor.
The walls, fittingly, feature lively, saturated art with neon signs adding additional pops of light and color. Neon blue, pink and yellow chairs surround the tables, and at the center of the space is its colorful food truck covered in comic book-inspired illustrations and food imagery.
"I think people are gonna be blown away by the space — the design, the affordable food, and just the fun atmosphere that it has," Josh says. "It's a little off the wall." ♦
Off The Wall • 121 N. Wall St. • Open Sun-Thu 11 am-11 pm, Fri-Sat 11 am-12 pm (21+ after 9 pm) • otwspokane.com • 509-351-8228