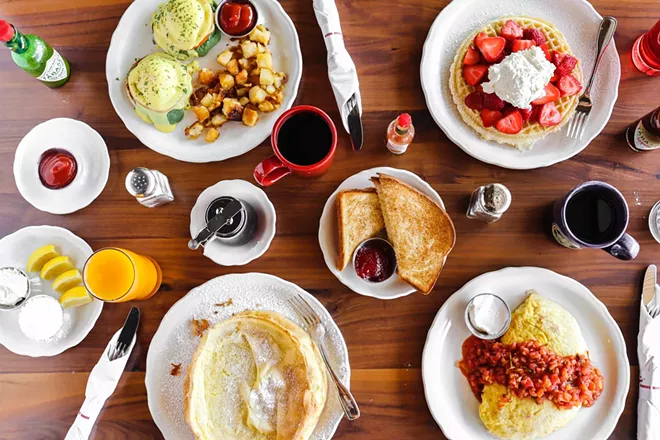 The Original Pancake House takes its pancakes seriously. Well, as seriously as pancakes can be. More refined than your average Bisquick flapjack stack — and arguably more delightful — the Original Pancake House recently opened in downtown Spokane at 245 W. Main Ave.
Founded in 1953, the Original Pancake House has regional roots in Portland, Oregon, expanding in the 70 years since to more than 100 franchises across the U.S.
Despite an impressive selection of 19 different pancakes — including sourdough, blueberry, banana, pumpkin potato, bacon and more — and five varieties of house-made syrup (maple, blueberry, apple, strawberry and tropical), the simple and classic buttermilk pancake with maple syrup ($13.29) hits a perfect level of sweetness, with a gooey interior, crispy edges, balanced finish of salted butter to contrast the rich maple syrup.
Diners can also sample pancakes from around the world, including plate-sized Swedish pancakes with lingonberries ($14.59), Continental Crepes filled with sour cream, adorned with triple sec and sprinkled with powdered sugar ($13.29), and the German-style Dutch baby ($15.29), an oven-baked, souffle-like pancake swimming with butter, powdered sugar and lemon juice. There's also a vast list of savory breakfast items, from meat and eggs to omelets and benedicts.
The Original Pancake House moved into the former home of Luigi's restaurant, and is open daily from 7 am to 3 pm. Learn more at iloveoph.com. (ELLIE ROTHSTROM)
UPDATES
As one of the city's top fine-dining destinations, Gander & Ryegrass is known for its focus on multi-course dinners like its popular chef's marathon menu. As a restaurant that opened mere months before the onset of the COVID-19 pandemic, however, it was forced into survival mode just as it was getting settled. As a result, Gander & Ryegrass launched a to-go sandwich menu, allowing diners to enjoy its fine-dining fare in an easily transportable form.
These lunchtime offerings have remained popular ever since, so Gander & Ryegrass recently created a separate name for the program: SALTBOX SANDWICH CO. Launched last month, SaltBox's core Italian-inspired sandwiches ($11-$13 each) feature house-made ciabatta rolls, with fillings as follows: bacon jam, charred beef, eggplant, prawn and the grinder (shaved meats). Weekly and daily specials keep things fresh.
SaltBox's menu is available at Gander & Ryegrass for dine-in during lunch (Monday through Friday from 11 am to 3 pm.) Pickup orders can be placed at bit.ly/ordersaltbox, or for delivery via Treehouse, Uber Eats and DoorDash.
Craving a perfectly prepared (to your liking, of course) USDA Prime New York steak? Well, you better run to your nearest device to snag reservations for the one-night-only return of CHURCHILL'S STEAKHOUSE'S popular "Miss Cut Steak" night on Sunday, May 7, from noon to 9 pm. For the fixed price of $29, guests enjoy a slightly miscut or off-weight New York steak with mashed potatoes and sugar snap peas. Make reservations at churchillssteakhouse.com. (CHEY SCOTT) ♦