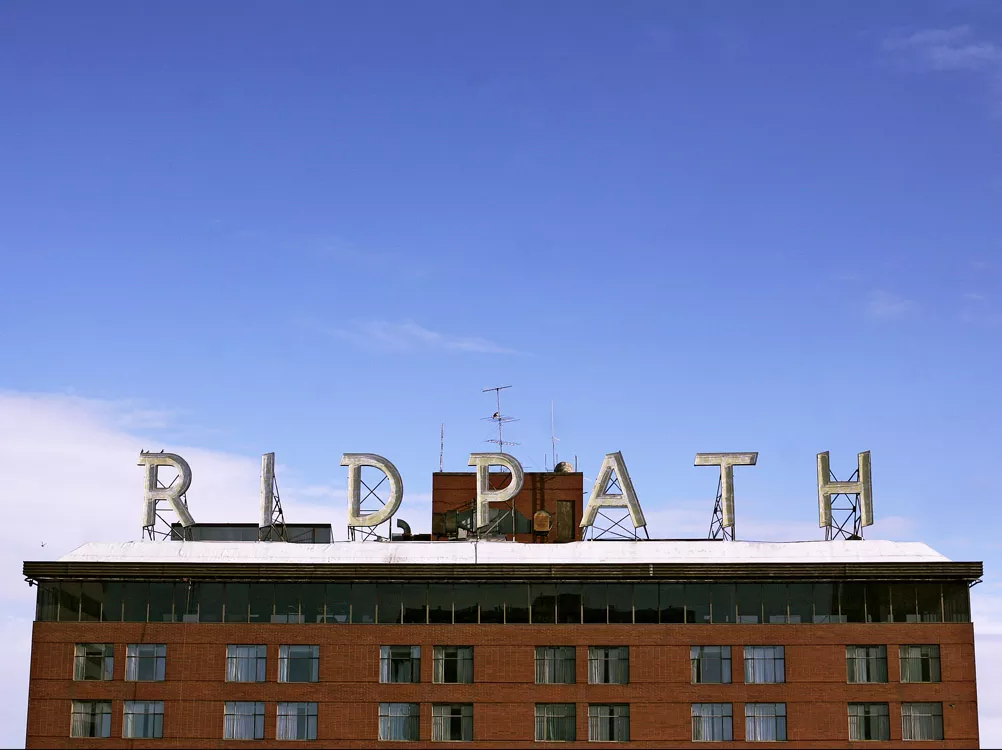 This leak is new. Stephen Antonietti, the self-appointed savior of the historic Ridpath Hotel, just discovered it this morning. The water drops from the light above, landing in a black wastebasket in a three-count rhythm, almost like room service is knocking at the door: tap, tap, tap — pause — tap, tap, tap.
The leak next to it is also new, and each drip splashes off the railing and puddles at the front desk of the once-great lobby adorned with antique furniture and a large Van Gogh print.
Up 13 flights of stairs — the elevator's been broken for years — a menu listing Ankeny's swankiest seafood dishes sits open on a three-foot-high pile of ceiling tiles. A decade ago, many thought this was the region's most romantic restaurant. Now there are piles of ripped-out metal light fixtures, heaps of dry wall and discarded fake-tree-branch decorations. In the stairway, someone scrawled: "Sorry I'm drunk, I love you hotel."
"So, what do you think?" Antonietti asks, standing among the rubble.
The giant RIDPATH letters, silhouetted against the skyline, stand on 112 years of Spokane history. It was here, 39 years ago, that a sequined and paunchy Elvis Presley reserved 55 rooms for his entourage. And here, 15 years ago, that a cocaine trafficker punched Evel Knievel in the nose over an ex-girlfriend. And here where Ronald Reagan spoke, and where civil-rights lawyer Carl Maxey hung out and, later, where his family held his funeral.
Once, it was Spokane's great gathering place, but no more.
Last summer, teen vandals stole across the skyway, broke into the Ridpath tower and left an estimated $40,000 in damage: broken glass, shattered china, ruined artwork and snapped furniture. But the building was long dead before then, done in by ownership changes, neglect, an economic crash, foreclosure, bankruptcy and bank failure.
Developer Stephen Antonietti examines drawings of what he envisions for the hotel complex. [Photo: Young Kwak]
Now the clump of four buildings — the main tower, the smaller Halliday and former YWCA buildings adjacent to the east, and the Executive Court across First Avenue — rot in a messy limbo where nine different owners squabble over its future. Meanwhile, the city of Spokane demands cleanup, security and repairs to fire safety.
Preservationists often fear developers will bulldoze a city's historic icons — but the opposite here may be worse: a perpetually boarded-up blight, lowering property values, draining downtown of its momentum.
"I really have a true love of the building," Antonietti says. "I believe that the building was speaking to me as I walked 13 stories." Antonietti, whose background is in custom cars, has never brought a building back to life before, let alone one this size, with this much historical importance. He believes he's the last man standing to save it.
His plan goes further, though, re-imagining the hotel as a massive entertainment complex unlike anything in downtown.
The Bellboy
A few miles northeast of the Ridpath, at Cassano's Italian Grocery, owner Carl Naccarato is checking his inventory of potato gnocchi.
"I don't think a day goes by that somebody doesn't mention how terrible it is to see that empty building, to see the broken windows," Naccarato says. Many of those, he says, don't realize how close that building is to his heart. "It isn't just a hunk of dirt."
Naccarato spent 25 years at the Ridpath, climbing up from bellboy to busboy to maitre d' to catering manager and general manager. He wore white gloves for Vice President Spiro Agnew's visit, met Bob Hope (who gave him a tie-tack souvenir) and attended the trial when Evel Knievel sued the Ridpath.
The hotel has fluctuated between grandeur and disaster before. Colonel William Ridpath constructed it in 1900, only to watch it catch fire in 1902. The rebuilt Ridpath gradually transcended its seedy days of prostitution and bootlegging before catching fire again in 1950. It was rebuilt again in 1952.
Naccarato was there at the height of Expo '74, when the Ridpath was the top hotel in Spokane, and he was there to witness the Ridpath's slow, sad decline.
To Naccarato, the turning point came in the late '80s. Before then, the hotel had stayed in the hands of the original owners and their descendants. The owners reinvested enough, he says, that it could keep up with changing hotel standards, fads and fashions. But in 1988, it was sold to an outside investment group. The new owners, Naccarato says, didn't maintain it at the same level.
"We needed the elevators updated. The rooms needed to be redone," Naccarato says. "The restaurant seemed dated."
The market changed. Convention-goers wanted larger rooms and the new hotels springing up in the downtown area had them. Naccarato left in 1998, shortly after powerful Northwest hotelier Don Barbieri bought the Ridpath and four other hotels.
The new corporate owners blitzed through the next few years, changing their corporate name from Cavanaugh's to WestCoast Hospitality to Red Lion. They set out to expand to 100 hotels in five years, but the Sept. 11 terrorist attacks rocked the industry. (Barbieri declined repeated requests for interviews.)
When the Davenport reopened in 2002, it got the attention, the press and a lot of the convention business.
In 2004, after Barbieri stepped down as CEO and began running for Congress, Red Lion put the Ridpath up for sale to pay for improvements in other hotels. First a group of NAI Black investors bought the Executive Court across the street, at a time when a mass of downtown condos seemed feasible.
Then, in September 2006, Red Lion found a buyer for the rest of the property. The buyer seemed well-financed and experienced. But the Ridpath's downfall would continue.
The Gambler
Douglas Da Silva came from Las Vegas. A boutique hotelier with a round face and a white bristly moustache, Da Silva is famed for covering lobbies in prints — often nudes — from master painters. Today, he says he's owned 25 hotels across Texas, Nevada, Washington, Tennessee, Arizona and California. He's made money, he's lost money. The Ridpath falls in the latter category.
"I wish I never would have bought the hotel," Da Silva says. Trouble started immediately. He says he had a deal with Red Lion: He'd buy the hotel — the only unionized hotel in Spokane — if they would fire every employee and end the union. (Red Lion denies it severed the union contract.)
"They want $28 an hour for picking up cigarette butts out of the ashtrays," he says. "How can I compete?"
The union fought back.
"Within an hour of closing escrow, I am sued by the union for unfair labor practices," Da Silva says. "Jesus Christ, man, I haven't sold a room yet. What a bunch of motherf---ers, candidly."
It cost over $500,000 and 18 months to get rid of the union, Da Silva says. That money, he adds, could have been used to buy up-to-date furniture, replace curtains, get new televisions, re-open the restaurant. Ultimately, he only upgraded the lobby.
Meanwhile, Harry Sladich, then president of the Convention and Visitors Bureau, recalls that he had a hard time reaching Da Silva. The CVB, a group with the power to book massive conventions and fill hotel rooms, asked for monthly meetings with the new owner, but Sladich says Da Silva wasn't interested.
"We kind of got the feeling we were viewed as the local yokels," Sladich says.
Reviews on TripAdvisor.com were at times brutal. Smells of cigarettes, mold and must, tiny rooms, decaying wallpaper, a "scary" parking garage, a perpetually broken elevator, "tawdry atmosphere," obsolete electrical outlets, reservation mix-ups, deceptive brochures, hair and rotting debris clogging a tub drain, a washcloth covered in snot, sheets that were sticky or covered in hair or blood, and broken glass in a bed.
Da Silva dismisses Trip Advisor as "a bitch-page." Still, out of 44 hotels with TripAdvisor reviews in Spokane, the Ridpath is ranked 43rd — four slots behind the Shangri-La Motel.
Wearing a backwards Blue Devils hat at a table at the Wave Island Sports Grill, Noel Macapagal, former owner of Raw Sushi, confirms it was really that bad. He ran the Ridpath's Studio 23 nightclub during Da Silva's ownership.
"His staff spent more time hanging out, partying and drinking than checking in guests," Macapagal says. The Ridpath had each cleaning worker covering two or three floors, he says, where at other hotels they'd cover only one.
The hotel was hemorrhaging cash. "We were losing money to the tune of $50,000 a month," Da Silva says. Toward the end of 2007, he adds, he abandoned any personal operations of the hotel. His fellow investors weren't putting any money into it, so he let them deal with it.
Macapagal and a group of other investors wanted to buy the whole property. Instead, Da Silva made a choice that still haunts the Ridpath: He allowed it to be divided up. First he sold the Halliday as a separate building. Eventually, the same thing happened to the ground-floor restaurant, the coffee shop, the Y building and the top two floors. The person who ended up buying several of the lopped-off properties — and was involved in every single transaction — was Greg Jeffreys. Today, multiple lawsuits accuse Jeffreys and an associate, Brian Main, of fraud.
Da Silva says he divided the Ridpath to lower opera- tions costs for a half-vacant hotel and to raise enough money for improvements. Dividing the property, however, didn't help. The hotel closed in August 2008, with Da Silva saying it could reopen, possibly as "Clarion Suites" by New Year's Eve.
But Da Silva's entire hotel empire started collapsing. In 2009, a health inspection of his hotel in Las Vegas resulted in a TV news story detailing mold in the ice machines (a speck on the cover, Da Silva says) and bugs in the alcohol (a fruit fly in one bottle, he says). Da Silva pleaded guilty to writing a bad check and filed for personal bankruptcy. He owed millions to investors.
In 2010, his hotel in El Paso, Texas, had its natural gas turned off before being foreclosed on. In the resulting court case, deposed employees described drug parties, missing paychecks and a prostitution ring.
"In late 2008 and 2009, I personally lost $20 million," Da Silva says. "Everyone I know in that business that used to have a lot of money doesn't have money today."
He says he owns hotels today, but he won't say which ones. And to anyone who blames him for the Ridpath's failure?
"I left $3 million dollars up there," Da Silva says. "Just say, 'Thank you.'"
The Debtors
In a mostly empty courtroom, Judge Jerome Leveque, his glasses resting on top of his head, delivers a lecture: "You get yourself in a pickle when you just decide to not show up," he says. "If history repeats, we've got problems."
He's preaching to Greg Jeffreys, the man with his fingerprints on the division of the Ridpath. Jeffreys, who came to court in a black sweatshirt and jeans and without a lawyer, used to own the top two floors — the rubble-strewn mess of Ankeny's was his — until the bank seized the property. He still owns part of the Y building.
Jeffreys didn't attend a scheduled deposition related to the lawsuit.
The rescheduled one takes place this Friday.
Several former or current owners of the hotel accuse Jeffreys, associate Brian Main, and others of a complicated series of fraud and conspiracies: knowingly and unethically inflating the price of the Ridpath's units, misrepresenting whether they owned them, lying about the stability of future tenants, failing to disclose how much Da Silva was actually selling them for, and reaping massive profit. According to the complaint, Jeffreys sold some properties at over double the price he planned to pay Da Silva. (Efforts to reach Main were unsuccessful.)
The current ownership, shared by nine different people, makes it unclear who's in charge of utilities, the elevator and the fire-suppression system. Nearly everyone involved is financially in trouble — even the lenders. The Washington State Department of Financial Institutions closed the Bank of Whitman, which had ended up with some of the property. Da Silva's lender, Integrated Financial Associates, went bankrupt. The FDIC demanded recapitalization and specific management practices at Jeffrey's lender, Riverbank.
When Dave Largent, owner of a small space in the lobby, speaks about the lawsuit, he punctuates nearly every sentence with a sigh.
"The deal should never have even closed," Largent says. "So many things were overlooked: banks, title companies, appraisers, attorneys…"
Jeffreys faces other legal troubles, too, including a lawsuit accusing him of similar fraud in a property in Airway Heights and allegations from Washington Trust Bank that he owes them over $1.26 million.
Beyond an unlabeled alleyway door downtown, Jeffreys sits in an underground office, a sprawling two-level room immaculately furnished with a globe, martini glasses, small ornate statues and poker chips. He gives his side: "This grand conspiracy theory is absolute horseshit," he says. "I don't believe any misrepresentation has taken place."
Reputable banks, appraisers, real-estate agents and title companies all signed off on the transaction, Jeffreys says. "I believe you've got some disgruntled investors that are pissed off at the world because the economy has turned," he says. Jeffreys adds that, because of buyers defaulting, he didn't make much money.
"I can't wait for them to depose me," Jeffreys says.
Jeffreys says he worked with Da Silva to divide the Ridpath and he doesn't regret it. Jeffreys says the true problem with the current situation is that, before Da Silva's lender went bankrupt, it split off a group of investors that still owns much of the Ridpath tower.
Antonietti and Jeffreys have struggled just to get those investors on the phone, much less negotiate with them or get them to pay their bills. Anyone hoping to buy the Ridpath complex has to get past both that group and Jeffreys. And seven others.
The Dreamer
Stephen Antonietti and his wife bow their heads before an eggs benedict breakfast at the Satellite Diner next door to the hotel. "We're praying for the rest of this project," Antonietti says. "Amen."
His new wife — he met her online — raves about him. "As he says, he could sell snow to an Eskimo," Ellen Antonietti says, smiling.
Antonietti says he's the frontman for a group of out-of-state investors preparing to make an offer to turn the Ridpath into an "entertainment Mecca." The group is in the entertainment business, he says, and they want to get into hotels.
"I'm the dreamer that put the project together," Antonietti says.
He's an unlikely savior. He doesn't own any of the Ridpath properties, and he's barely a developer. He sold a few lots in Newman Lake, Wash., but he says he's made his living in NASCAR driving and in making custom cars for Hollywood.
He only stumbled upon the Ridpath issue two years ago, when, he says, a friend was about to pay Jeffreys $1 million for a condo at the top of the Ridpath. His friend wanted Antonietti to do the construction.
Stephen Antonietti [Photo: Young Kwak]
The elevator — out of commission — was the first clue something was wrong. As he looked into who exactly owned the elevator, he began to uncover the tangled ownership. That's when he began to investigate saving the Ridpath.
So how has he, as he claims, lined up national investors ready to offer $25 million not only to save the Ridpath buildings but transform them into an unmatched entertainment/lodging complex?
"It's this," he says. He pats the rolled-up architectural plans on the table. He wants to turn the Ridpath into the Ridpath Grand. He unfurls the plans for the Halliday building, the empty warehouse next to the main Ridpath tower. He'd turn the basement into two "speakeasy" bars, not unlike the one at Churchill's Steakhouse. The main floor of the Halliday would turn into a grand entrance to the main hotel, with a fountain in the middle, VIP parking and a "European village" of small stores, maybe a barbershop or a deli.
And on top of that, he'd build three new floors. The second floor would have huge ballrooms, the third would have "the biggest nightclub in the history of Spokane," and the roof would have an outdoor venue for weddings and banquets. Instead of the old Ridpath letters, he says, a bright neon metal canopy would become the hotel's skyline signature.
He'd dedicate the Y building to bigger, more expensive rooms or suites and renovate the Executive Court building across the street, possibly adding more rooms and placing a glass roof or dome on top.
Antonietti doesn't see a problem with the Ridpath's small rooms. Half could be turned into multi-room suites. In the other half, he can fix the space problem by turning the current bulky TVs into flat screens and swapping some queen beds for foldout couches.
The waitress at the Satellite asks him if he'll be frequenting the diner much. "I will be until I get my restaurant open," Antonietti says. His plans call for four restaurants.
As ambitious as the project is, Antonietti's plans go further. The Ridpath's former owner, Don Barbieri, started TicketsWest, a lucrative regional ticket-sales business. Antonietti wants to harness the entertainment facilities in the Ridpath to compete with TicketsWest. Another ticket company, he says, has already promised to give him the hardware and software for free to help undercut TicketsWest.
But before anything can happen, the Ridpath's tangled ownership needs to be unraveled. Antonietti's been running from owner to owner, trying to figure out who has control of the power or the water, getting permission to enter sections of the building, to turn off alarms, to make repairs.
Antonietti's been meeting with three engineers from Avista about power issues, with the Otis Elevator Company about the cost of elevator repairs. He even sat down and pitched his thoughts on the building to Mary Verner when she was mayor.
"I wish him well on his desire to aggregate the ownership," Verner says. "[But] he wasn't representing anybody with an ownership interest. He didn't have any authority."
Verner says she asked the Downtown Spokane Partnership if they might help the sides come together. The partnership is considering acting as facilitator and discussing public-private partnerships. But mostly, the city's been playing the role of code enforcer.
Last April, the city issued demands to the Ridpath's owners: Submit plans for better security, remove debris, clean the graffiti, install a working fire system. On May 26, the city, not seeing enough compliance, began charging $1,500 a year to six of the owners for code violations.
This Valentine's Day, a hearing examiner may confirm the city's do-not-occupy order, kicking the last tenant — Diamond Parking — out of the building and potentially making it that much trickier to sell until everything is brought up to code.
Jeffreys says he's spent money to clean up the Y building and install security, and he blames Antonietti for stirring the pot, causing problems, drawing the city's increased attention.
"Steve Antonietti was trying to paint a bleak, black hole of a vacated building," Jeffreys says. He feels that Antonietti's efforts haven't helped and references a felony conviction in Antonietti's past.
Indeed, Antonietti was once convicted of a felony for writing a bad check. He's also changed his name twice and once declared bankruptcy. But Antonietti says it all traces back to a messy divorce. He shows a court document proving the felony has been expunged. "To think that, on a $10 million project, I've got to deal with an ex-wife of 10 years," Antonietti says.
When some of that past came up in a Spokesman-Review article, Antonietti says it cost millions in potential investment capital.
Meanwhile, several experienced businessmen have vouched for him. Macapagal, the former Raw owner, calls himself Antonietti's biggest supporter. General contractor Cort Johnson has done hours of free or low-cost construction work for Antonietti.
"I've worked for many visionaries, I've worked for Walt Worthy, I've worked for Rob Brewster, I've worked for Ron Wells. … I know what a visionary is," Johnson says.
Johnson says he has independently confirmed that Antonietti has raised $25 million in capital. That may not be the $40 million necessary for the full project, but it's a sign that Antonietti's investors are willing to put down serious cash.
From Vegas, however, Da Silva calls Antonietti a joke and his plan a pipe dream.
"If this guy isn't the blind leading the blind, I don't know who is," he says, adding that the "Save the Ridpath" website "is a great joke over coffee."
If he was serious, Da Silva says, instead of spending so much time untangling all the issues, he'd make an offer, and hash things out from a position of strength.
Not so, argues Macapagal, who helped develop Antonietti's business plan. "Nine [owners] have to press the button at the same time," Macapagal says. Any one of them could wait until the very last moment and demand a higher price. Especially if they're bitter.
But even if the current owners aren't willing to "push the button," Antonietti says he's found a way around. He's already been prodding the banks to foreclose on the current owners. In the next 30 days, he says, his investors will decide whether to buy the notes on the defaulting properties directly from the bank. Even if he doesn't, he expects the banks to foreclose on most of the properties by May. Then, he can buy up the property easily.
Some are impatient. "I think he truly wants to do it," part-owner Largent says. But he says he's not holding his breath. "I've been hearing 30 days, 60 days — for a year and a half."
The Others
Just-elected City Council members Ben Stuckart and Mike Allen met during their first week on the job to discuss a major issue: the Ridpath problem, and how the city might influence the development of the Ridpath.
The Ridpath falls between the now-thriving Davenport and the next area being targeted for economic revitalization: the University District. Allen worries it's "sliding into blight."
For now, Allen says, the council's simply trying to assess the challenges. Allen says it will probably be a full two years of research and discussion before the city can begin to implement a plan to make the Ridpath productive again.
The city could create a Public Development Authority — a PDA — that could buy each piece of the Ridpath, and use that property as collateral to pay for necessary improvements. If one entity owned the Ridpath, it would become a lot simpler to sell.
Steve Eugster, a former city councilman, owns property near the Ridpath. He is pushing the notion of the PDA, saying that if the city condemned the property and handed it off to a PDA, the city could find a new creative use for it, or even demolish it. Several demolition companies, however, say demolition of the property could cost anywhere from $500,000 to $1 million.
Some developers, like Vandervert Construction, are quick to say they're not interested in the property. But one name has been tossed around more than any other: that of Walt Worthy, the wealthy developer who resurrected the long-closed Davenport Hotel.
Worthy himself has toured through the Ridpath several times in the last two years. But Lynnelle Caudill, general manager of the Davenport Hotel and Tower and Hotel Lusso, says Worthy has no current plans for the Ridpath. With the maintenance and condition of the building, she says, it just wasn't "financially feasible for anyone."
Spokane developer Ron Wells also has a reputation for saving historical buildings. Wells was the one who put together a team of investors to try to save the century-old Jensen-Byrd building, but now, he says, they have shifted their focus to the Ridpath.
Back when Red Lion was selling, Wells had put together his own plans to turn the upper floors of the Ridpath tower. Da Silva beat him to an offer.
Wells still has over 50 pages of documents, drawings, detailed analyses of cost-income projections and equity requirements. He's dusted those off. His old plan for the buildings called for expensive, larger condominiums. His new plan focuses on small luxury apartments.
Wells isn't alone. Though Mickey Brown, already an owner of a piece of the Ridpath, wouldn't talk on the record for this story, Antonietti says Brown is working with an unnamed group to convert the Ridpath to an apartment complex.
Antonietti doesn't think much of that idea. "The rooms are tiny," he says. "How do you put a kitchen in?"
But Wells says he's figured out a way to solve the problem. "I'm not going to tell you my solution because I think it's ingenious," he says.
And there's another person who says he's working on a way to save the Ridpath: Greg Jeffreys.
"The bottom line is, I've been working with a party to put the majority of the Ridpath back together," he says. "I've been working for this the last two years." The Spokesman-Review articles about him and his lawsuits have "clouded the waters" for investors, he says, adding that confidentiality agreements stop him from saying more.
Da Silva, meanwhile, says he's been meeting personally with Jeffreys, in Las Vegas, at least once every three weeks. But when asked about the nature of the meetings, Jeffreys cites the same confidentiality agreement.
"I think a lot of items will unfold in the public eye, early summer of this year," Jeffreys says. "I'm going to set you down, when it's time."
This Friday, Jeffreys is to be deposed in the investors' lawsuit against him. On Feb. 14, the hearing examiner will decide whether to kick out Diamond Parking. Antonietti foresees his investors making their big move in May, or earlier.
Whether the hotel can return from its current existence as a boarded-up target for vandals is unknown. But the Ridpath has a history of rising again. Twice it caught on fire and burned, and twice it was resurrected, even better than before, from the ashes.