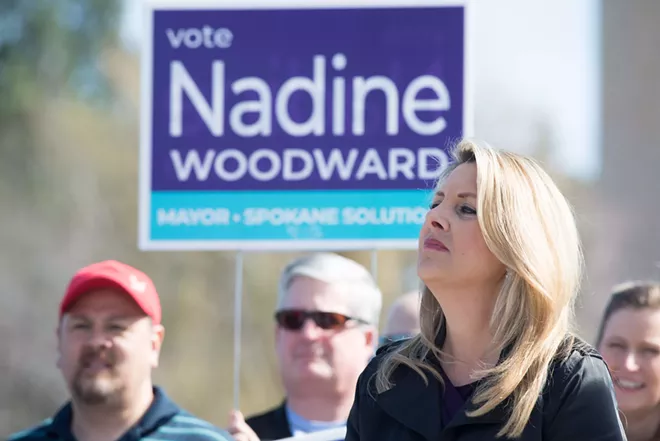 R
ight there
, on the baby blue section of her campaign sign, was the slogan of Nadine Woodward's
long-anticipated
mayoral campaign: "Spokane Solutions."
For nearly three decades, Woodward reported on the problems of the city of Spokane for KREM and KXLY. In that time, Woodward says, she got a "close-up view of the real challenges before us."
Flanked by the Riverfront Park pavilion and the clocktower, Woodward offered up a familiar checklist of goals for the city.
Spokane needs less property crime, chronic homelessness and drug addiction, she argued, and more vibrant neighborhoods and thriving businesses. Streets still need to be repaired and stormwater infrastructure still needs to be invested in.
When it comes to solving these challenges, she said, Spokane needed to move away from "second-hand ideas copied from somewhere else."
"We are not California," Woodward said. "We are not Seattle. We are Spokane and we're proud of it."
Instead, Woodward says, Spokane needs to come together to develop "Spokane Solutions."
"I'm not here to give you the answers to all the city's problems," Woodward said. "I'm telling you that I'm going to work my heart out to find the
best
solutions to Spokane's problems."
But when asked to identify any specific "Spokane Solutions" she was proposing, Woodward repeatedly declined to name anything.
"I have no solutions to propose right now," Woodward said, "because they're not mine. We're going to work together to bring people to come up with Spokane Solutions."
So why not come up with any solutions before announcing her run for mayor, the
Inlander
asked.
"We will
develop
Spokane Solutions," Woodward said. "I'm not coming to the table with Spokane Solutions."
Woodward is offering less of a platform as much as a philosophy. She wants to be a nonpartisan consensus builder who rejects "bickering," "political posturing" and "grandstanding."
Her vagueness made for a sharp contrast with City Council President Ben Stuckart, Woodward's most high-profile opponent. A year ago, Stuckart announced his mayoral campaign with a blend of specificity, rhetorical intensity and willingness to wade into
politically dicey territory
. (Woodward, for example, did not mock an email from an indignant constituent who was angry with a building code allowing for flat roofs.)
"He's been in office for seven years," Woodward said about Stuckart. "My approach obviously is going to be a lot different. I'm not going to come here and tell everybody what I'm going to do. I'm going to
involve
people. We're going to come up with answers
together
."
While her supporters include former City Councilman Steve Corker, a Democrat, most of her supporters lean to the conservative side of the spectrum. Eleanor Baumgartner, wife of snarky Republican politician Michael Baumgartner, is running Woodard's campaign.
Better Spokane, a conservative-leaning pro-business lobbying group, has already thrown its support behind Woodward.
"She's got a great resume," Better Spokane Executive Director Michael Cathcart says. "She knows the issues. She knows the community. She's trustworthy. A complete contrast to Ben."


But how does he know that her eventual solutions would be better than Stuckart's?


"Well, you don't have to go far to get a better solution than Stuckart's," Cathcart says. "She's at least going to consult a broad group of people."
Woodward was the most specific when it came to what she wouldn't do. She promised she will "never embarrass this city." She said she wouldn't be "abrasive." She wants less drama. She
said she was opposed to the City Council's decision to ban Border Patrol from the Intermodal Center. She suggested that opening up City Hall all day to the homeless and other members of the public was a mistake.

Last month, Woodward encouraged Spokanites to watch a controversial KOMO documentary on drug addiction and homelessness in Seattle. Toward the end, the KOMO reporter suggests turning the largely abandoned prison on McNeil Island into an involuntary drug treatment center for addicts.


Wake up #Spokane! WE need to do EVERYTHING possible to make sure THIS doesn't happen HERE. https://t.co/HpjDDSywnL

— Nadine Woodward (@NadineMWoodward) March 19, 2019

But at her press conference today, Woodward insisted that she hadn't praised the video.

"We're not Seattle," Woodard said. "But we need to get a handle of the situation before we become a Seattle."

When pressed, Woodward didn't identify anything that Spokane should do to avoid that fate, besides working together.

"We're going to work together to find solutions," Woodward said. "We're going to bring people together. There's no silver bullet, Daniel. But anyone who tells you they're going to solve it right now — there's just no way.
It's going to be a collaboration of people, who work one-on-one with the homeless who are going to help come up with a solution."
Other than her objection to opening up City Hall, Woodward doesn't identify any mistakes the city of Spokane has made in handling homelessness.
"I can't think of anything right now, exactly," Woodward said. "But I think we've seen it get out of control. You can't just throw money at a problem and think that it's going to, you know, resolve itself."
I asked her to identify what she saw as the biggest mistake the city of Spokane has made in the past decade. She declined.
"Daniel, I'm not going to go that route," Woodward said. "I'm not going to berate what the city has done. I love this city."
Still, some of Woodward's comments appeared to allude to the
sexual harassment scandal
involving former Police Chief Frank Straub.
"No one should be bullied or harassed at work, and that includes City Hall," Woodward said. "I intend to take a hard look now at the ethics and employment standards to protect city employees, especially women, from bullying and harassment."
Woodward once sued
her former employer
, KREM, over age and sex discrimination.
Still, the former reporter largely refused to be pinned down on issues by the city's current reporters. Woodward refused to say how she voted on a city initiative — supported by Stuckart but opposed by Mayor David Condon — to raise property taxes in order to pay for firefighters and police officers.
After a handful of questions, Woodward excused herself.
"I've got to go to the bank," Woodward said. "We'll do it another time, how about that."