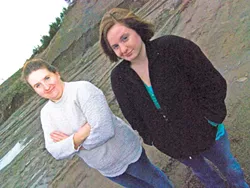 For many, the foundation of our society is composed of a few simple things: liberty, church, public education. But none are so essential — if not as lofty — as sand and gravel. In streets, bridges, buildings and tarmacs, sand and gravel make every modern city.
Which may be why it's taken so long for local and state agencies to call foul on one of Spokane's longtime producers of such building blocks.
Or maybe it's because the owner of the mine in question has powerful friends in county commissioners Todd Mielke and Mark Richard, both of whom have a say in what will ultimately become of the illegal mine.
Helen Countryman, for one, wants answers. "He has a nasty habit of running the machines at all hours of the night," Countryman says about Randall Gillingham, who owns Gillingham Sand and Gravel and the Marshall Gravel Pit in Cheney, about a half-mile from Countryman's house. "I called the county commissioners and left a message on each of their voice mails at 2 am. I fi gured if I had to listen to it at 2 in the morning, then they had to listen to it at 2 in the morning."
Next week, Countryman will have a more formal chance to let Spokane County commissioners know how she feels. That's when the commission will hear public testimony regarding Gillingham's recent requests to change his land's zoning from "rural conservation" to "mineral lands," and amend the county's Comprehensive Plan to allow for his mining operation.
One problem: Gillingham has already mined 26 acres without permission. Another problem: Gillingham's political donations to Mielke and Richard could present a conflict of interest for the commissioners.
But for Countryman, it's the noise. Which is why she plans to show up, along with dozens of her neighbors, to speak at the public testimony. So will Gillingham, to explain that this is one big misunderstanding.
"It's confusing, but I'm trying to work it out," he says. "A lot of that mine has already been mined. It's done. It's over. It's in a stage where it needs to be reclaimed. … It's a lot better to get it in a mine stage so you can fill it like a landfill. When you're trying to fix 50, 60 acres, it's difficult. It's like eating a elephant, one bite at a time."
The Marshall Gravel Pit sits on the northwest side of Cheney-Spokane Road almost exactly between the road's namesakes. It's 45 acres and "just a big hole," one neighbor says. Piles of drab-colored rocks stand silently while rock crushers rumble. The occasional explosion is heard, shaking the earth loose and rattling windows.
For anyone driving on this county arterial, the mine is no secret. It opened in the 1950s as a source of rocks and dirt used to cover for the neighboring garbage landfill.
According to Gillingham, when he bought it in 1996 the mine was already far beyond its regulated borders. He kept mining it anyway and, in 1999, was dinged by the state Department of Natural Resources for operating without a permit. Finally, in 2002, he won approval to mine 19.6 acres.
But according to documents from the DNR, the mine quickly grew from 38.6 acres to 46.6 acres between 2004 and 2007. The same documents show a trail of hand-slaps and easy warnings for Gillingham about his unsanctioned mine growth, beginning in 2006.
"I've actually done very little mining," he says. He estimates that he has mined 250,000 tons of material at the site since purchasing it.
Two weeks ago, the DNR issued a stop-work order for the pit, citing a "substantial deviation" from the approved work, calling the mining "illegal." In its order, the agency cites the years of Gillingham ignoring both its cautions about mining too much and its requests for more money to cover cleanup costs should the company go belly up.
"DNR's policy has long been working with landowners to try to resolve something. That's what's important to us," says Bob Redling, a department spokesman. "But we do need the county to make a land-use decision. The county really has more power to stop a mining operation than we do. A stop order really just imposes a fine — we can't go down there and put a lock on their gates."
A solid lock on the gates is exactly what many neighbors want.
"This is out in the country.
We're not looking to start big operations out here," says John Tobin, pastor at the neighboring Marshall Community Church. "If you're already doing it and not supposed be doing and now you're trying to get permission after the fact, it's not right. You're breaking the law."
"We were told that the gravel pit was closing," says Jason Jongeward, who bought land from Gillingham last year. Jongeward is building a high-end subdivision in which the smallest house sells for $1.8 million. "For that gravel pit to go right up to my property lines is a severe detriment."
Earlier this year, Jongeward went around and gathered signatures demanding that Gillingham abandon the mine. He estimates he gathered 60 signees.
Gillingham isn't swayed.
"It's not like they didn't know that pit was there," he says. "It's like building a house outside the airport and then saying, 'I don't like the airplanes.'" Commissioner Mielke agrees.
"The gravel quarry pre-existed a lot of the homes out there," he says. "[Jongeward] certainly knew there was a gravel quarry next to him."
Still, Mielke says he's interested in hearing what people have to say at the public hearing. But unless they can convince him that the mine goes against the county's Comprehensive Plan, his decision is made.
"This is not a new gravel pit.
It pre-existed the Comprehensive Plan," Mielke says. On top of that, in his interpretation, the Comp Plan already leans in the direction of Gillingham's approval. "Generally speaking, you try to fully utilize [a source of] natural resources before you open a new one."
Something Mielke hadn't taken into account was the growth of his campaign coffers due to Gillingham's actions.
According to documents from the state's Public Disclosure Commission, Gillingham Sand and Gravel donated $800 to Mielke's last campaign, the largest amount allowed during the general election. Big Cigar, a venture that has a primary partner in Gillingham's father, donated that same amount to both Mielke and Commissioner Richard. Gillingham's father also gave $1,000 to Mielke's 2004 campaign.
Jack Gillingham, Randall's father, has an affi liation with the mine, though his son would not disclose exactly what his dealings are. But as recently as 2007, Jack Gillingham was referenced in DNR documents about the mine, which said he was discussing "reclamation objectives for some of the disturbed areas" with a department inspector.
"I have not thought about it," Mielke says. "I did not know that Randy was involved with Gillingham Sand and Gravel.… I will certainly run it by our legal counsel." He added that he doubted there was a conflict of interest because he received no "direct financial benefit.… I am not a business partner."
Commissioner Richard did not return calls seeking comment.
Adds Gillingham, "My dad has a business and I have a business and I do talk to my dad, but I really don't know who he gives money to and who he doesn't give money to... I have never given to Todd Mielke's campaign."
When told of the PDC documents showing his company's contribution to Mielke, Gillingham blamed his father.
"If that's true, then I wasn't aware of that. Maybe my dad contributed and put my name on it," he says. "I don't think that's going to be an issue. I think these guys are going to make a decision that's good for the county and good for the zoning. Whatever they decide, I'm OK with that."

The public hearing will be held on Wednesday, Dec. 9, at 6 pm in the Commissioners Hearing Room in the Spokane County Public Works Building, 1026 W. Broadway Ave.