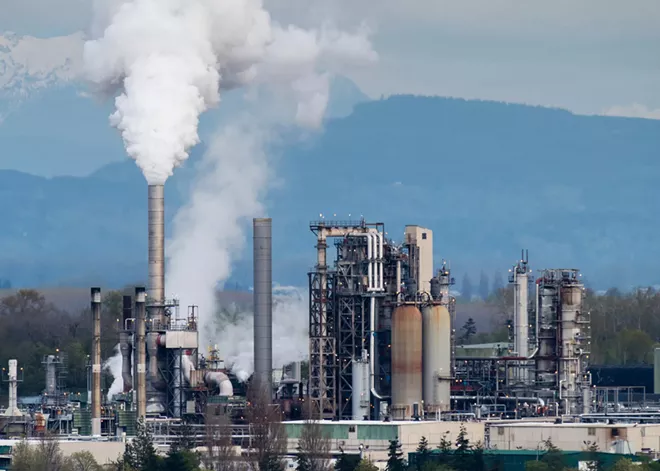 Less than a year into Washington's cap-and-invest program, the state will explore linking its carbon market with California's first-in-the-nation program. Both require companies to buy "allowances" or "credits" to cover the impacts of their polluting emissions.
Last week, Department of Ecology Director Laura Watson said that Washington will start the formal process to negotiate joining California's cap-and-trade program, which started in 2012 and linked up with Québec, Canada's program in 2014.
"The climate crisis cannot be solved by Washington, or any one state, acting on its own. It demands coordinated action," Watson wrote in a Nov. 2 letter to Gov. Jay Inslee announcing the process to link the markets.
Washington's program, created by the Legislature's Climate Commitment Act in 2021, is more stringent than the California-Québec system in some ways, and held its first auction of allowances to cover greenhouse gas emissions in February.
The negotiation process will include public review and input, an environmental justice assessment, and any linkage agreement must meet Washington's statutory requirements in order to move forward. The soonest the markets could link would be 2025.
Under Washington's system, polluters can invest in offset projects in place of buying an allowance. Unlike California's system, when an offset is used in Washington, it removes an allowance from the pool. Washington's program also requires about a third of the revenue to be spent on projects in communities overburdened by pollution, and requires meaningful partnership with tribes.
Environmental groups want to ensure those elements are maintained if Washington connects to the other market.
"Washington linking with the California-Québec market could help increase the integrity of both programs," says Kelly Hall, Washington director for Climate Solutions.
One criticism of California's program is that overburdened, often poorer communities haven't seen expected environmental benefits from emissions reductions. One way to fix that for both programs would be to put a cap on each facility's emissions.
"The statewide cap [on emissions] doesn't touch on individual businesses," says David Mendoza, director of policy and government relations for the Nature Conservancy of Washington. "The idea would be to make facility-specific caps, so those individual locations would have a reducing amount of pollution over time."
It's essential to ensure that joining the markets is mutually beneficial and holds polluters accountable, says Rebecca Ponzio, the climate and fossil fuel program director for Washington Conservation Action. If done well, other states may decide to join in.
"If we can join with the right protections and sideboards, we set a really important precedent for the greater region, the nation, to establish a market like this in a way that is equitable, upholds tribal sovereignty and deals with climate pollution," Ponzio says.
Washington's market has been criticized by some in the oil and gas industry, and people who are seeing higher prices at the gas pump, as businesses are already passing along the cost to customers.
While the program was initially expected to bring in about $1.7 billion over the first two years, it has already brought in about $1.4 billion in less than a year.
The largest in-state emitters are required to aggressively reduce their impacts on the environment in coming years, with fewer allowances offered over time. By the first compliance deadline next November, polluters will need to have enough allowances to cover 30% of their 2023 emissions.
That could be driving participation in the first auctions, where allowances (covering 1 metric ton of greenhouse gas emissions each) have ranged in price from $48.50 to $63.03. Meanwhile California's auction price in August was $35.20.
Washington state Rep. Mary Dye, R-Pomeroy, thinks it's unlikely that prices would go down if Washington joins California's market, and she is concerned about family budgets.
"Right now you see people struggling," in the state and elsewhere, Dye says. "Our policy choices are offshoring our climate impacts on other nations like India, China, the [Democratic Republic of the] Congo and other places. It's not moral."
Dye says the state would do better to encourage private timber practices to reinvigorate local economies and invest in healthy forests that can sequester carbon.
If the cap-and-invest program must remain in place, she wants transparency on who is participating (including how much the auctions are influenced by speculators purchasing credits to sell later), a full accounting of how the proceeds are spent, and a technology-neutral approach to reducing emissions.
"Is [that money] really helping our energy economy to decarbonize or change their processes to be less impactful? Is [the program] protecting our essential manufacturing and processing?" Dye asks. "Part of the problem I have with the policy in general is it puts a thumb on the scale for technologies that are 'good technology,' and it doesn't allow the innovation that would occur organically because, as you're aware, people are concerned about their impact."
She doesn't want the state to invest in things that may seem great, such as electric vehicle charging stations, if they're going to end up being the Betamax of clean fuel instead of the VHS.
"We should be technology-agnostic and innovation forward," Dye says. "The best place that happens is with people that are incentivized by the free market and public interest." ♦