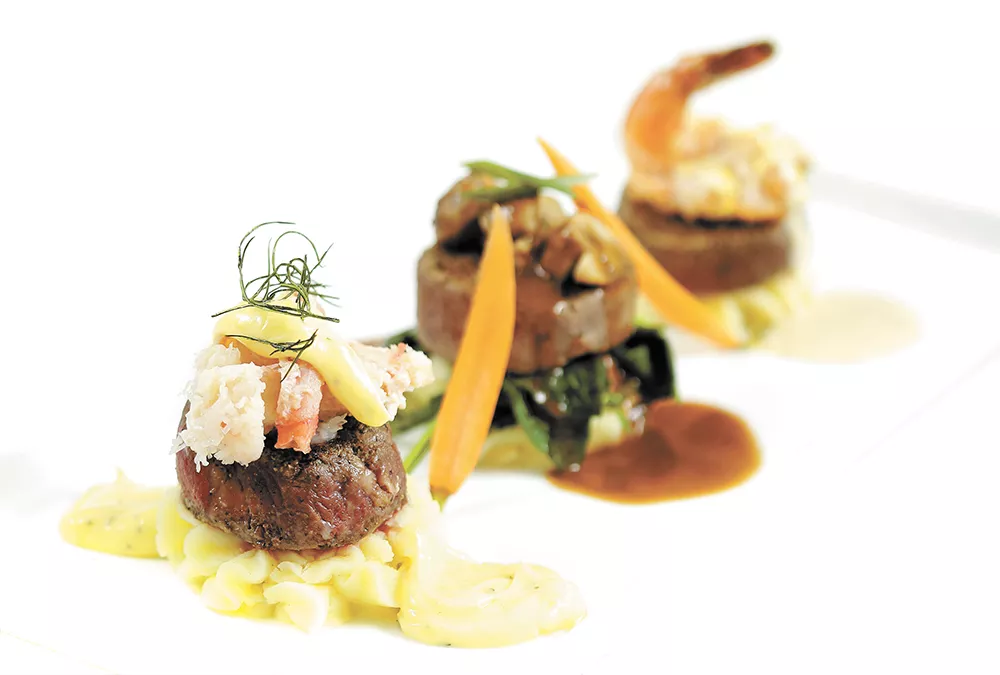 For the third year, the culinary scene of North Idaho is included in Restaurant Week. Now there are more options than ever for those in the Panhandle, and for Spokanites looking for a change of scenery.
You'll see plenty of Lake Coeur d'Alene from inside the Coeur d'Alene Resort's Dockside restaurant, a spot you might know best for its Sunday brunch. For Restaurant Week, Dockside has gone fishing for a variety of seafood dishes, including a smoked Idaho trout bruschetta appetizer. The second course offers mussels in white wine sauce topped with a shrimp-and-crab cake, while their halibut is swimming in a rich lobster sauce. Save room for dessert and let the chef surprise with a trio of micro-bites.
For lunch in the Lake City, Syringa Japanese Cafe and Sushi Bar is a favorite spot, with tasty bento boxes and donburi rice dishes made with expert care. You'll find that same attention to detail in the balance of flavors for dinner. Try a crispy potato croquette seasoned with wasabi for the first course, and your choice of seafood for round two: a sashimi assortment, salmon teriyaki or miso-marinated Chilean sea bass. Pair that with $4 Mad Bomber pints for a memorable meal.
Bardenay can build you a custom cocktail with any of their handcrafted spirits, making it perfect for happy hour. They're offering a cocktail as one of their first course options during Restaurant Week, though a local beer or wine would go great with their charcuterie plate featuring housemade sausages. Check out their Southern-inspired flat iron steak with crawfish butter or savory pork ramen for dinner. You can even drink your dessert; one of the choices is an adult root beer float with housemade ice cream.
Seasons of Coeur d'Alene is offering a classic first course of soup — a hearty French onion — or salad. Your second course options cover all the meat proteins: buttermilk chicken gets a little spice uplift from green-chile pan gravy, while andouille sausage adds heat and depth to their seafood stew. Or go traditional with a twist: the Misty Isle rib-eye steak is served with Idaho steak fries and a tangy balsamic reduction. Hang out by the fire or enjoy music from the lounge during dessert. Try bread pudding with brandy sauce, or ask to see the wine list for the perfect accompaniment to the flourless chocolate cake.
Joining these Restaurant Week returnees from 2015 are two downtown eateries that have one owner, but very different menus and traditions. Exposure and re-exposure prompted Frank Ciccone to join Inlander Restaurant Week. While Kaiju Sushi and Spirits is new to the scene, opening last year, Cricket's Restaurant and Oyster Bar has been a fixture in Coeur d'Alene since 1985.
For Ciccone, who was part of the new ownership team that took over in 2011, that means getting people to rediscover Cricket's, including their brick-oven-baked pizza. Another Restaurant Week offering he's excited about is Malibu oysters, featuring fresh, Pacific oysters topped with cucumber, ponzu sauce and daikon.
"What we're doing is most everything from scratch," says Ciccone, "which is different than what people are used to from Cricket's of old." ♦