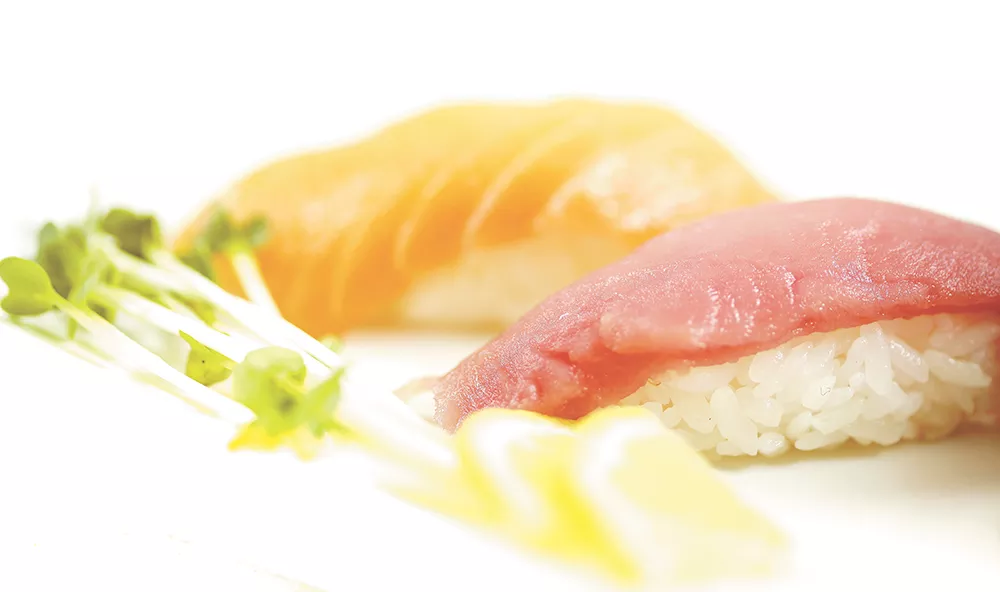 SEAFOOD
SHRIMP AND SCALLOP GNOCCHI
Scratch
Menu says: "Ras el Hanout prawn, scallop, onion, butternut squash, browned butter, spinach, goat cheese, sage."
We say: As if housemade gnocchi isn't delectable enough, toss some fresh seafood into the mix.
NIGIRI SUSHI ASSORTMENT
Bonsai Bistro and Sushi Bar
Menu says: "Includes maguro (tuna), sake (salmon), hamachi (yellowtail) and walu (escolar)."
We say: This is actually a first course, and you can add even more sushi in your next course.
IDAHO SUSHI ROLL
Bistro on Spruce
Menu says: "Smoked sockeye salmon, julienned sweet potato, cream cheese and scallions, sushi-wrapped, served tempura-fried with chili berry coulis, garnished with wasabi tobiko caviar."
We say: OK, so we had to Google a couple of those ingredients, but that didn't make this any less exquisite.
---
FIRST COURSES
SMOKED BEEF TONGUE
Durkin's Liquor Bar
Menu says: "Mama Lil's Harissa, crispy sunchokes, mushroom aioli."
We say: Oh, come on. You pretty much eat the rest of the cow, and if it had to die for you, why not enjoy it down to the tongue?
BROADWAY PEA SALAD
Clinkerdagger
Menu says: "Water chestnuts, bacon, creamy pepper dressing."
We say: If you've lived in Spokane long enough, you'll have had this. There probably isn't a more famous first course on any local menu. Simple, and kind of old-school, but a tried-and-true classic.
KIDNEYS
Santé Restaurant and Charcuterie
Menu says: "Garlic, shallot, fine herbs, butter, bacon."
We say: Leave it to Jeremy Hansen at Santé to keep his Restaurant Week tradition alive by offering out-of-the-box dishes, like kidneys. Come on. Give it a try.
---
MEAT
BISON RIBS
Rusty Moose
Menu says: "Braised Montana bison ribs, merlot barbecue sauce, served with white cheddar mashed potatoes and roasted asparagus."
We say: You don't see bison ribs on the menu too often. Go for it.
THE ULTIMATE STACK
Charley's
Menu says: "A creative blend. Our five-cheese blend mac 'n' cheese on Parmesan toast, topped with our stuffed meatloaf, drizzled with sweet chili sauce. Served with sautéed seasonal vegetables.
We say: That sounds ridiculous. And also something you can allow yourself just this once — because it's Restaurant Week.
BEEF COLORADO
Central Food
Menu says: "Chili braised beef, pickled cabbage, corn tortillas, salsa verde."
We say: It's nice to see a break from the Northwest cuisine with dishes like this. If you've never had this dish, it's worth a try this week. As a rule, you should always order anything that comes with tortillas. Little life tip for you, there.
---
VEGETARIAN
BARLEY RISOTTO
Casper Fry
Menu says: "Vegetable stock, white wine, Parmesan, carrots, asparagus, parsnip, chard (can be prepared vegan)."
We say: Of the vegetarian options to be found on the Restaurant Week menus, this one stands out for not just its creativity, but also its heartiness and diverse ingredients. And that's a nice nod to all the vegans out there, too.
PENNE VERDE
The Cellar
Menu says: "Creamy spinach pesto with aged Parmesan, charred yellow, red, and green onion medley, roasted shitake, king trumpet, and beech mushrooms."
We say: That is one hell of a pasta dish, and extra appreciation points for the trifecta of mushrooms.
BLACK BEAN THAI WRAP
Geno's Traditional Food & Ales
Menu says: "Black beans, jasmine rice, cabbage, shredded carrots, bell peppers, and cilantro tossed in our homemade peanut sauce and wrapped in a spinach tortilla. Served with a cucumber salad."
We say: Even if you're not a vegetarian, you have to admit this sounds good. It sounds massive and healthy at the same time, which is a rare feat.
---
DESSERT
THAI FRIED BANANAS
Linnie's Thai Cuisine
Menu says: "Bananas wrapped in spring roll wrappers, deep-fried, served with Brain Freeze coconut ice cream and topped with caramel sauce."
We say: It never occurred to us to deep-fry a banana, but now we're regretting every non-deep-fried banana as a wasted opportunity. The rich Brain Freeze ice cream is a nice touch, too, and a solid dessert to complement the spicier early courses.
CHOCOLATE BEIGNETS
Luna
Menu says: "Milk, white and dark chocolate crémeux."
We say: If you've never had a beignet, have one now. Or have several, actually, because who knows when the next time you'll get a chance to savor these French mini pastries.
BASE CAMP S'MORE STOUT ICE CREAM FLOAT
Lantern Tap House
Menu says: "S'mores Stout topped with toasted marshmallow."
We say: Thankfully, there are creative brewers out there like the folks at Base Camp Brewing Company who make a S'Mores-flavored beer. We're also thankful that the Lantern shares our philosophy regarding serving desserts made with stout. ♦