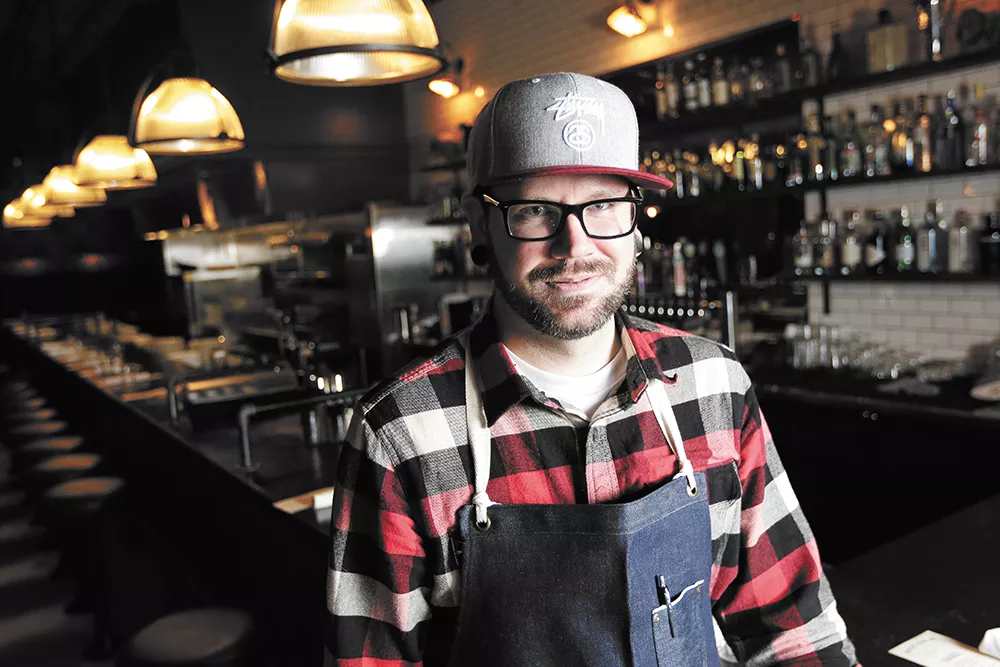 Deciding to become a chef was a decision Shaun Chambers made at 15 years old. He had become interested in cooking from watching Emeril Lagasse and other cooking shows with his dad when he was younger, but he didn't originally know he wanted to go to culinary school.
Many of Chambers' friends at the time were dishwashers and beginning to move up in the kitchen, so it made sense to him to get a job in the kitchen at Luna. After completing the Culinary Arts program at Spokane Community College, Chambers's move to Durkin's Liquor Bar downtown came after he quit his most recent job in June and spent some time relaxing and working at Seattle restaurants on a stage basis.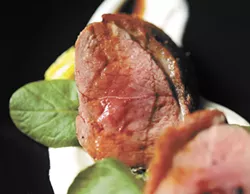 "When you're staging, you go and cook for two to 10 hours as a sort of working interview to see where you want to work, and they get to see what you are capable of producing," says Chambers. "There were a few restaurants I had eaten at in Seattle, and I thought it'd be fun to hang out at some of those for a day."
Chambers learned new techniques by putting himself in different environments and getting different perspectives on how other people work. Now that he's in charge at Durkin's, he says that though the Prohibition theme still will be incorporated into the food menu, it'll begin to shift more toward his own style of food.
He describes his style of cooking as clean, contemporary and Northwest-inspired. He focuses on finding ingredients indigenous to Washington, making many of his dishes seasonal.
Chambers frequents farmers markets and plans to grow as much as he can once the weather starts to warm up, keeping ingredients local and fresh. One of his plans for the Durkin's menu is to incorporate more wild mushrooms into a few of the dishes, along with continuing to feature salmon in the spring, as well as halibut and oysters from Washington.
Though cooking is something Chambers usually keeps to the kitchen at work, rather than in his home, many of his friends are also chefs. When they all get together, they create dishes they're unable to make at their restaurants.
"I eat pho just about every day," says Chambers. "But I do love making pizza if I have the right equipment, like a stone slab I can cook the pizza on in an oven, or on the barbecue."
Chambers also enjoys toying around with preserving, pickling and fermenting things, along with making hot sauces.
"It helps to be open-minded as a chef. With cookbooks, the Internet, and exposing yourself to different work environments, there is always more you can learn," says Chambers. "Being a chef means constantly learning." ♦