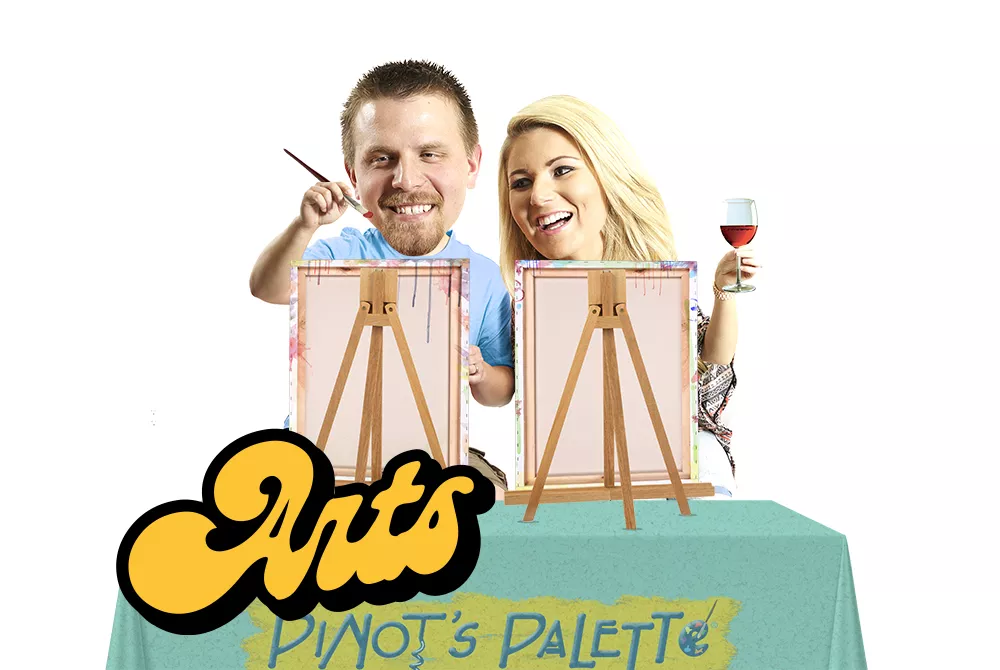 SEVEN2 DRAW OFF
Art is hardly a spectator sport, but crazy-good stuff happens when creatives get together. Celebrating five years, the Seven2 Draw Off is equal parts art exhibit, improv comedy and house party, with proceeds benefiting local charities. Borracho Tacos & Tequileria hosts June 20 when two artist teams — Chelsea Hendrickson and Karli Ann Ingersoll vs. Scott Nicks and Zach Snuggs Grassi — battle for top props to the sounds of local band Water Monster. Check Facebook for future events.
COMMUNITY CHALK MURAL
In 1858, the Army slaughtered several hundred horses belonging to the Coeur d'Alene, Spokane and Palouse tribes along the Washington-Idaho border. To honor those horses, Colville Federated Tribe member and artist Ryan Feddersen is enlisting help of all ages to create the Community Chalk Mural at the Spokane 900 Horses Tribal Gathering Place, June 20-28. See visitspokane.com/art/news for details.
ART ON THE BLACKTOP
When they didn't see an art festival they liked, Spokane artists Jason and Deb Sheldon created their own, inviting 15 newer and established artists to set up in the parking lot adjacent to their 29th Avenue Artworks. Late Mother's Day present? Something special for Dad? Browse glass from Ken Frybarger, Jason Sheldon's metal art, jewelry by Desi Mowry, ceramics by Cinda Reed and more, June 20-21.
KINETIC FEST
July 12 at Coeur d'Alene's Riverstone Park will be a moving experience for all ages. There's a kids' bike rodeo, a skateboard trick show and dirt trikes — co-organizer Barb Mueller of Gizmo-CDA describes them as Hot Wheels for adults — and a kinetic sculpture contest with local artist teams, including Allen Dodge and Michael Horswill, whose public sculptures adorn plenty of places throughout the Panhandle. Construct a "mutant" toy from donated castoffs (picture a friendlier Sid's room from the movie Toy Story), while the finale to this first-ever event will be a parade of outrageous human-powered vehicles.
SANDPOINT ARTS & CRAFTS FAIR
It's a picture-perfect day for all: kids' art activities, live music, food trucks and more than 100 amazing artists making and selling their wares at City Beach, Aug. 8-9. Insider tip: Go early Saturday for the farmers market, spend the day sampling Sandpoint's best — breweries, winery, eclectic shops and the historic Panida Theater — then stay overnight and wake up fresh to stroll the fair.
SUMMER INK
They're pen-and-ink drawings to last a lifetime. And while you can pick something from the flash file, consider customizing your new skin art from reputable artists like On the Level Tattoo's Caleb Frey, who's so in demand, he's booked until 2016. Frey charges about $125 per hour and advises customers that good tattooing takes time: "Be as committed as your artist is going to be."
HEART OF THE WEST ART SHOW
Used to be you had to travel to Great Falls, Montana, to see the best of the West in artwork. But this year, the exhibition has actually moved west from its original location and will debut in Idaho at the Coeur d'Alene Resort, Aug. 20-22. The hotel is vacating several rooms to accommodate 60 juried artists, including several notable and celebrated western art locals like Kyle Paliotto and Terry Lee. A "quick draw" artist demonstration and live auction conclude the event.
SUMMER SCHOOL
Ever notice that once you don't have to go to school, taking classes can be both rewarding and fun? Kick-start a new career, schedule some "me" time or just indulge your inner artist.
In North Idaho, get in and out quick with one-day evening classes at the Kroc Center: jewelry making (June 23), digital photography (July 29) and printmaking (Aug. 25).
Coeur d'Alene Art Association, sometimes in conjunction with Spokane Art Supply, offers classes by highly accomplished artists at low rates. Wes Hanson, a longtime high school art teacher, will have you feeling good about watercolor in no time, while wildlife artist Joe Kronenberg shares his mastery of pastels.
Learn from our region's working artists at Spokane Art School in afternoon and early evening classes like charcoal drawing with Jery Haworth. While you're there, check out the latest exhibit, "20,000 Leagues Under the Sea," through Aug. 29, featuring several Art School instructors like Lindsey Merrell and Tom Quinn.
Through Spokane Parks & Rec, the Corbin Art Center offers single- and multi-day classes like Cosplay Costuming (June 29-July 3). If you do your best work in the dark, check out Summer Nights Photography (June 24).
While they won't promise you anything like famous wheel-throwing scene from the movie Ghost, great instruction can be had in wheelwork and handbuilding. Go eight weeks at Spokane Potters' Guild, become a member at Urban Art Co-op, or drop into the Clay Connection by the hour, week, month or scheduled class.
Don't overlook unexpected locations, either. In Spokane, Anemone offers two-hour classes that will have you making paper flowers like a pro. Bring your own snacks and beverages and make it a party!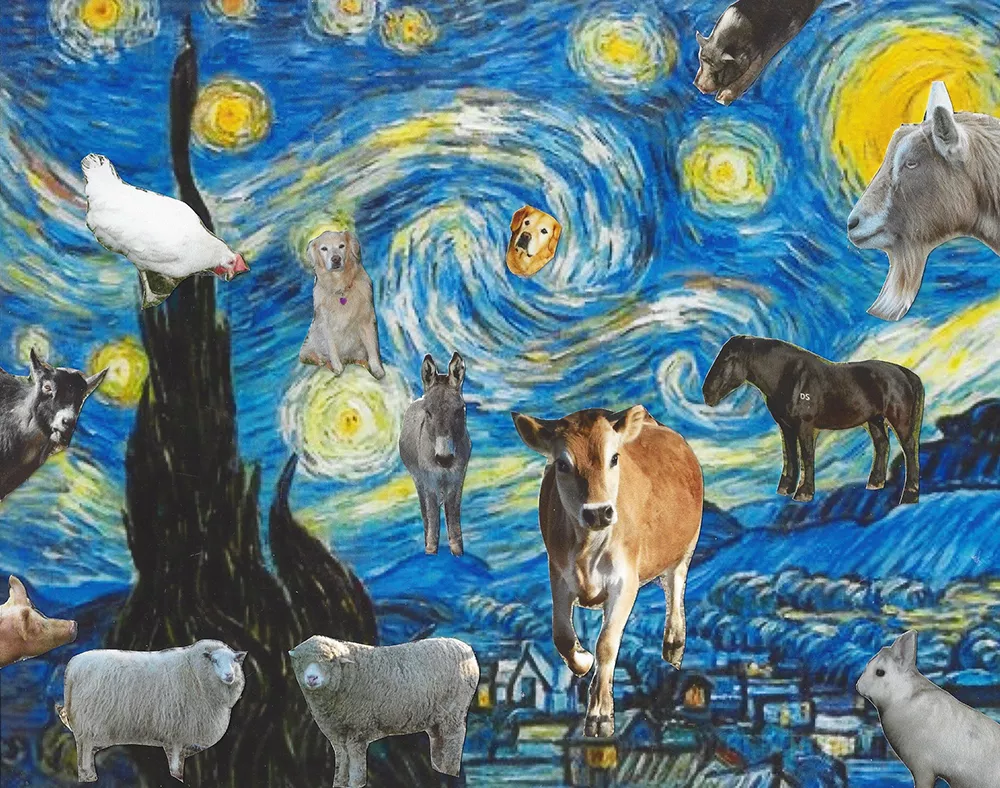 ART FOR THE ANIMALS
It's been said that art feeds the soul, but at River's Wish Animal Sanctuary northwest of Spokane, art feeds all parts of the body. Through their annual July 18 benefit, "A Starry Night Celebration," founders Pete and Kit Jagoda feed a veritable ark of animals: three cows, 12 goats, five sheep, four donkeys, 20 horses, 60 rabbits and nine pigs. They also care for nine cats, seven dogs and several dozen assorted turkeys, chickens, ducks and geese on their 65-acre refuge, which they founded in 1997.
The $20 entry, says Kit, who teaches public school art full-time, helps offset such costs as veterinary care, feed and an estimated 90 tons of hay per year.
"We also have equine senior and grass pellets for the horses; minerals, produce and pellets for the rabbits; feed for the birds and cats, along with veterinary expenses, farrier costs, litter, building and maintenance, along with miscellaneous expenses that occur when running an animal sanctuary," says Kit.
Nosh at Allie's Vegan Pizzeria & Café, and have a drink from Iron Goat Brewing. Music for the event will be provided by Greg Loewen, as well as multitalented artist/musician Tom Dukich and his Carpal Tunnel Trance Blues Band.
Expect a strong showing from members of the local art scene — Pete Jagoda is a longtime metalsmith who teaches jewelry at Spokane Falls Community College — many of whom have donated artwork for the live and silent auctions.
Although the event is art-centered, says Kit, the real stars are the animals, many of whom you can visit during the benefit. (She suggests wearing comfortable clothes, since much of the event takes place around the barn.)
Their stories — abused, neglected or simply no longer able to be cared for by their owners — are part of the legacy of River's Wish, named for the Jagodas' beloved golden retriever.
"Each of these animals [has] been given a second chance, and they have so much to teach us about compassion and what really matters in life," Kit says.
See riverswish.org for details, including an artist retreat at River's Wish scheduled for June 29-July 2 through Spokane Art School. ♦