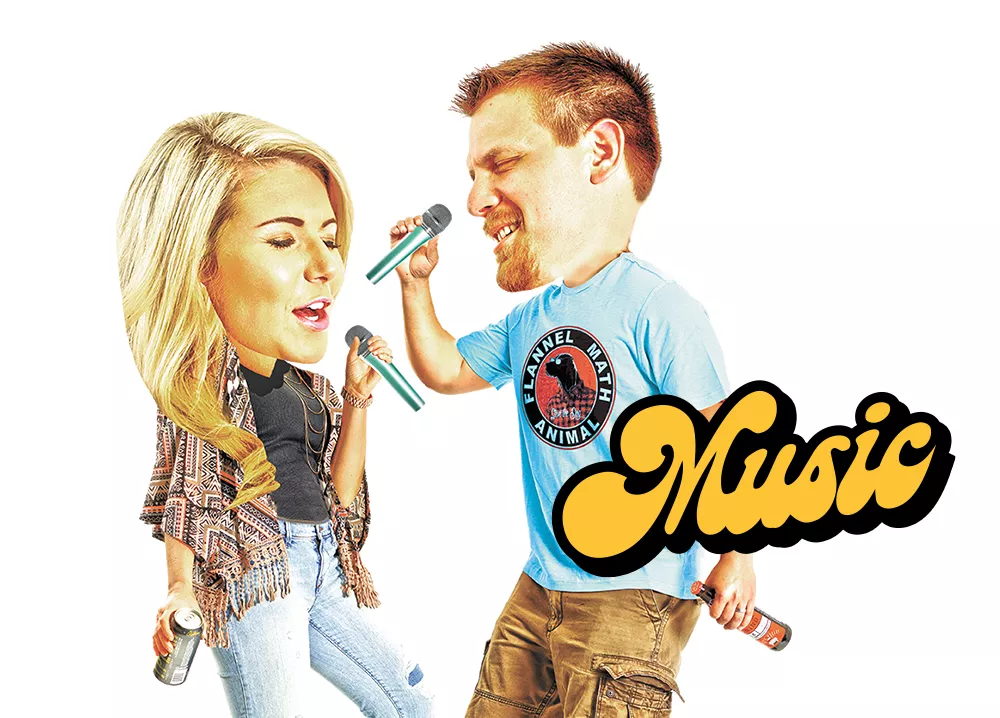 FESTIVAL AND AFTIVAL AT SANDPOINT
For Diana "Dyno" Wahl, running the Festival at Sandpoint means pulling 18-hour days during the event to ensure the outdoor music event unfolds as smoothly as possible. The executive director, who's been with the nonprofit for nearly 18 years, says it's the rush of excitement that pulls her out of exhaustion. This year is shaping up to include more excitement than ever.
Now in its 33rd season, the festival, happening Aug. 6-9 and Aug.13-16 at $37 to $60 a show, except the $6 family show, features big talent in the way of Chicago-based alt-rock band Wilco (a favorite of Wahl's), Minnesota hill-stompers Trampled By Turtles and up-and-coming Brooklyn-based act Lake Street Dive. For those looking for more traditional musical acts, there's Arlo Guthrie, Vince Gill and two classical concerts, one of which includes the Spokane Symphony.
"I usually go on a weeklong vacation after the festival, and then I'm back at it again," Wahl says. "It's always the worst waking up that week after, when I think, 'How am I going to top this year?'"
Hitting that perfect balance between hip and classic is the biggest challenge for the booking committee, says Wahl — that and wooing artists up to the tourist town, although that's gotten easier.
"Sandpoint used to be a really hard sell," Wahl admits. "But now we've gained a reputation for excellent technical capabilities with sound and lighting. Acts come knowing that even though it's remote, their experience is going to be quality."
Those who've attended the family-friendly event know what makes the festival stand out: the freedom to bring in whole picnic baskets of food, complete with alcohol. Last year, Wahl says the committee worked to ease the tension between standing concertgoers and those who like to sit, also implementing a dancer-friendly concert (this year, that's Ziggy Marley on Aug. 7).
"We try to let the bands dictate whether people will want to sit or stand during a particular show," Wahl says. "We told our attendants to be a lot more flexible with that, and we got great feedback."
Meanwhile, the Hive keeps the party going with its Aftival concert series ($40 per show/$120 for all four), which runs the Friday and Saturday of both Festival at Sandpoint weekends. This year, the downtown Sandpoint venue hosts Funky Meters, Yonder Mountain String Band and then Melvin Seals and JGB, who plan to re-enact two Jerry Garcia Band concerts in full (celebrating the 50th anniversary of the Grateful Dead).
Rob Smith, the music venue's general manager, says the whole purpose of their event is to complement the Festival at Sandpoint. They will offer shuttles from War Memorial Stadium over to the Hive once Festival at Sandpoint shows have concluded.
Look for more information on Aftival at livefromthehive.com and Festival at Sandpoint at festivalatsandpoint.com.
CLAP YOUR HANDS SAY YEAH
The Bartlett, open for more than a year, continues to attract exciting indie talent to its stage each month. This summer is no different for the all-ages music venue, with Clap Your Hands Say Yeah playing July 19. When the indie-rock band's seminal self-titled debut album came out a decade ago (let that blow your mind a bit), it was their off-kilter guitar sound, paired with Alec Ounsworth's warbly voice, that took people aback. They've made plenty of music since, but for this summer tour, the band is playing that first album in its entirety. The show begins at 8 pm and is $15. Find more information at thebartlettspokane.com.
MELISSA ETHERIDGE, BLONDIE AND JOAN JETT
Rock 'n' roll isn't dead — especially not when rock singer-songwriters Melissa Etheridge, Debbie Harry of Blondie and Joan Jett are still around to play it. Certainly the coolest grouping of the Northern Quest Resort & Casino's summer music lineup, the three women in question will show why they're still relevant decades after they rose to fame come July 20. Make sure to show up in as much leather as possible. The show begins at 7 pm and runs $45 to $85. Go to northernquest.com for more information.
SAM SMITH
The Gorge Amphitheatre's summer lineup isn't as thrilling as in years past (although we're excited for Foo Fighters later in September), but Sam Smith, playing Aug. 8 at 8 pm, is a huge get. Thanks to his 2014 debut LP In the Lonely Hour tearing up the charts, plus cleaning up at the Grammys and Billboard Music Awards, he's essentially become the biggest pop star in the world. Now that Smith has regained the use of his voice after undergoing vocal cord surgery last month, you can expect the 23-year-old from London to sound as angelic as ever. Tickets start at $47, but you can pay as much as $4,675 if you wish.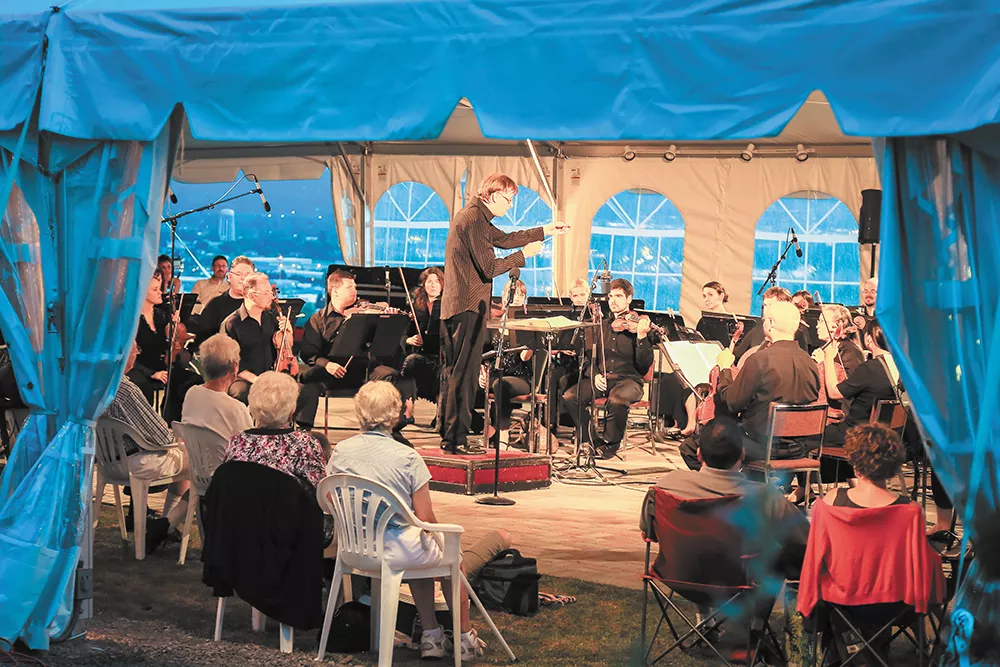 SOIREE ON THE EDGE
Arbor Crest Wine Cellars hosts live music events steadily throughout the summer, but none as glamorous as the Spokane Symphony's Soirée on the Edge events. Taking place on two consecutive Wednesdays (Aug. 12 and 19, at 7 pm), conductor Eckart Preu leads his orchestra through emotive classics and modern favorites while the sun sets beyond the horizon. Cost is $20 for grass seating (blankets and short lawn chairs are fine), and $40 for reserved table seating. Make sure to pack snacks as well. Go to spokanesymphony.org for tickets.
SUPPORT LOCAL RECORD STORES
Records are so hot right now. In a world where LPs accounted for 14 percent of the physical market last year, according to the Recording Industry Association of America, the old-school album continues to rise in popularity and sales (nearly 50 percent compared to 2013). As with every trend, the bubble may burst soon, but it's fun to collect in the meantime. For those who are new to vinyl, you've got Groove Merchants along with Recorded Memories and 4,000 Holes in Spokane and the Long Ear in Coeur d'Alene. Get out there and support local music businesses!
BLUE WATERS BLUEGRASS FESTIVAL
You can expect a lot of creativity from a festival whose tag line is: "The water is blue. The grass is too." While it's a mostly wholesome and family-friendly event, the Blue Waters Bluegrass Festival is by no means boring. Happening on the banks of Medical Lake at Waterfront Park, the event has pulled some of the hottest acts in bluegrass to the area, including the Steep Canyon Rangers and Della Mae. This year, singer-songwriters Laurie Lewis and Kathy Kallick (of Good Ol' Persons) headline the three-day event (Aug. 7-9), which includes camping, open mic sessions, a youth camp and a little mayhem. Cost runs $20 per day or $50 for a weekend pass. Find out more at bluewatersbluegrass.org.
COEUR D'ALENE CASINO RESORT MUSIC
Out in Worley, Idaho, 25 miles south of Coeur d'Alene, the Coeur d'Alene Casino Resort offers a whole host of musical offerings all summer long crafted specially for those inclined to reminisce, starting with Great Balls of Fire Live!, a 1950s rock tribute show, on July 3. Creedence Clearwater Revisited (which features CCR's original rhythm section of Doug Clifford and Stu Cook) hits July 16. On Aug. 22, see Catch a Wave for a Beach Boys and Beatles tribute show. Local cover acts also play the next few months in the Music, Micros & Barbecue series, which features everything the title suggests. Get tickets at ticketswest.com. ♦