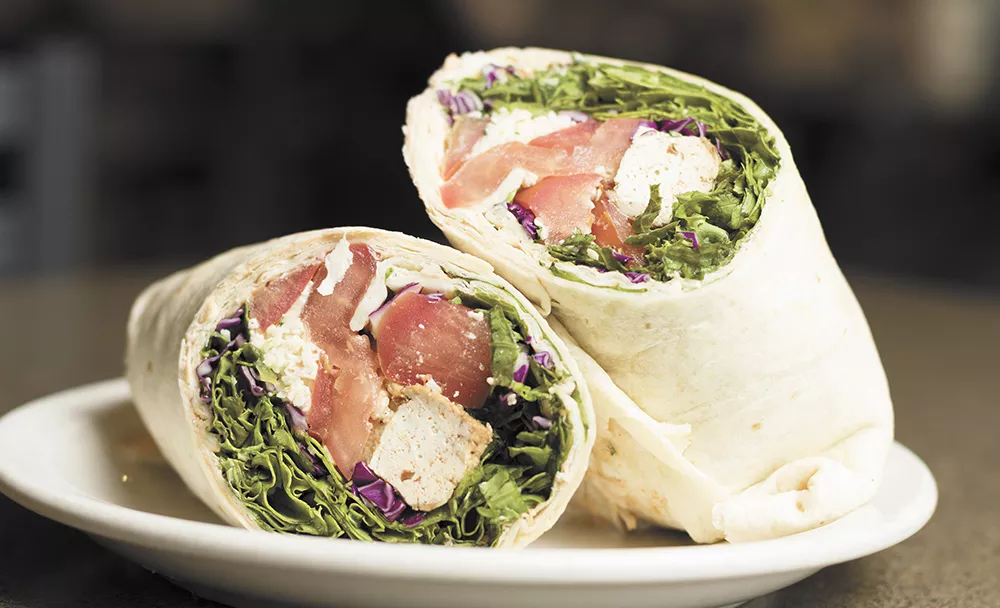 EEach year as Inlander staff sit down to brainstorm ideas for this annual special section, there's always one fervent request that arises — make sure to include some healthy food options among all the mentions of indulgent, greasy fast food. So this year we thought, what better place is there to find affordable, varied, fast and good-for-you food than at the deli counter of the region's numerous markets? It's entirely possible to fill yourself up for breakfast, lunch or dinner at these spots for well below $10 a meal.
Main Market
44 W. Main, 458-2667
Just as the member-owned co-op focuses on sourcing organic, natural and locally made products for its retail side, the Main Market deli is bursting with healthy, wholesome options for any meal. In March, the market debuted a new hot bar, offering all kinds of buffet-style dishes, like tempeh cacciatore, three-cheese polenta, tofu pot pies, chicken adobo and baked spaghetti. Since the menu changes daily, deli manager Shanon Davis posts the hot bar's offerings on Main Market's Facebook page. All hot bar dishes are sold by weight, at $8.99/lb.
Back in the deli, don't overlook the variety and affordability of sandwiches, wraps and salads in the case. We love the Asian-inspired airport chicken salad — it's named after a recipe made famous in San Francisco — with rice noodles, chicken, baby spinach, cabbage, peanuts and a housemade sesame dressing. Pair a small salad with any half-sandwich or wrap and you've got yourself a meal for $6.99.
Huckleberry's Ninth Street Bistro
926 S. Monroe, 624-1349
The region's only stand-alone Huckleberry's market is always bustling during lunchtime, given its proximity to downtown and the Deaconess Hospital campus. The options are definitely as diverse as any sit-down restaurant. There's also espresso, a juice bar, and even sushi just down from the deli counter. If you have time to dine in, the bistro has a made-to-order menu of burgers (meat, vegan or vegetarian), hot sandwiches and breakfast. For lunchtime, the cold case offers a tantalizing display of humongous half-wraps — seriously, they're about the size of your head — like the blackened tofu taco wrap, for just $5.49. If you're really hungry, add on a small salad to go, like the broccoli ($7.69/lb.), citrus ($6.99/lb.) or farmers market salad ($7.99/lb.); the latter is a colorful smorgasboard of red pepper, arugula, red onion, chickpeas, shallots and a tangy, olive-oil-based dressing.
Pilgrim's Natural Market
1316 N. Fourth St., Coeur d'Alene, 208-676-9730
Much like its Lilac City counterparts, Pilgrim's Market in the Lake City offers a dizzying array of dishes to whet anyone's appetite, whether omnivore, vegan or vegetarian, or someone with dietary restrictions. There's a juice and smoothie bar if you prefer your nutrition in liquid form, a cold case with salads, a hot bar and a Grab-n-Go case offering veggie and hummus snack boxes ($4.99), as well as pre-made sandwiches and packaged salads.
Should you ever cave to the urge to substitute part of your daily caloric allowance for something sweet, Pilgrim's also makes and serves its own ice cream, offering a tasty list of gourmet (strawberry balsamic) and seasonal (huckleberry chocolate chip) flavors, for $3/scoop or $4.25/double. A popular weekly special is "BBQ Friday" at the hot bar ($8.99/lb.) that serves up all the fixings: German potato salad, pulled pork, yam jojos, baked beans, chipotle corn salad and whole roasted chicken.
Rocket Market
726 E. 43rd, 343-2253
Tucked back in the maze of claustrophobically narrow shelving at this tiny South Hill market, you'll find the Jupiter Bistro, a small deli counter between a wall of wine and a small produce area. The prices of Rocket's sandwiches and other case offerings are so darn low we almost feel guilty giving away its secret. Even better is how amazingly good it all tastes. One huge ham, brie and apple panini, on perfectly crispy bread from Bouzies Bakery, costs only $6.99, but is plenty filling for two to share, if you each add a small salad on the side. Just as tempting as this sweet-meets-savory sandwich are the square bricks of baked mac and cheese and the variety of quiche in Rocket's case. The crunchy, colorful Lilac City Salad — aptly named for its dominant red cabbage — pairs well with this particular sandwich, but so would any of the market's rotating salads, all listed on Rocket's website, rocketmarket.com.♦