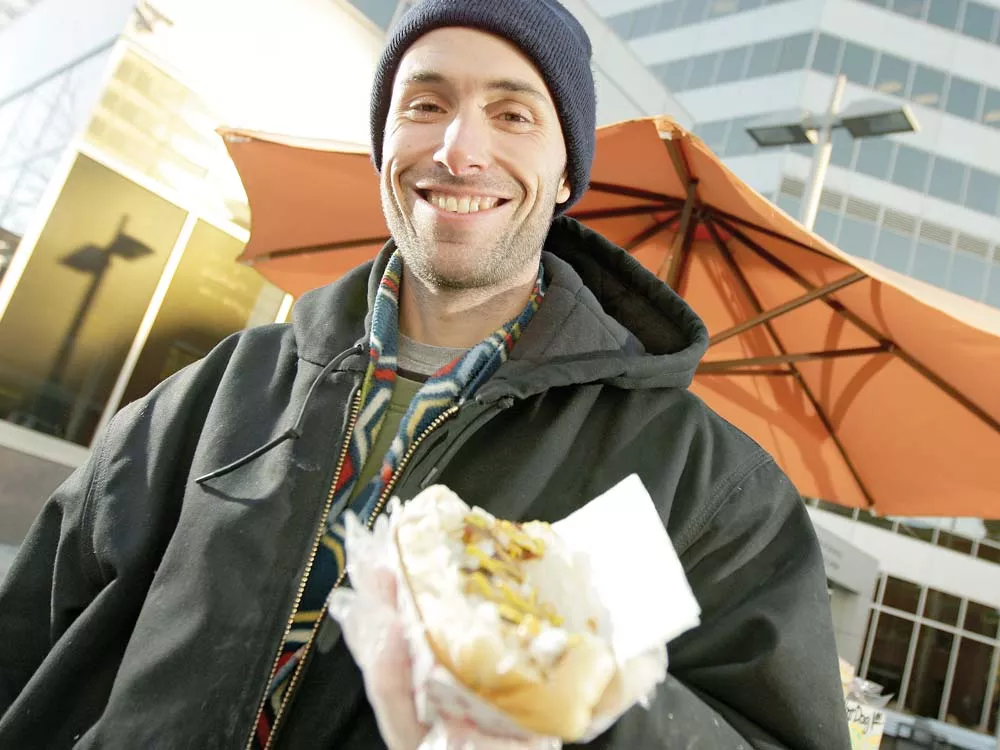 Catholic. Protestant. Sunni. Shiite. Weiner. Frankfurter. It's the littlest differences in tradition that get the faithful fired up.
People can be very picky and very protective of their favorite kind of dog. Even calling something a "wiener" is enough to get you lectured in certain circles. Like, say, if what you're referring to is actually a frankfurter.
Those are different things. Subtly. Did you realize that? We didn't.
Sausages have been around since the time of Homer (or maybe Nero, sources differ), and sausages in buns since around the 1500s (as a snack during the coronation of Holy Roman Emperor Maximillian II). But the hot dog really seems to have taken off in America during the late 1800s, when a bunch of (generally German) entrepreneurs in places like St. Louis and Chicago and Coney Island started putting wieners in buns. (Go ahead and giggle, we'll wait.)
The number of people who lay claim to the dog, and the number of regional variations on it, are a testament to what a fundamentally incredible idea it is to pair a spiced, crisp, tubular meat with a pillowy starch — the best thing since before sliced bread.
Dogs are a hand food, which, almost by default, makes them a street food. Our first stop in search of a heavenly dog, fittingly, was to the streetside HOT DOG CART (601 W. Riverside Ave.) that "Cheddar" Chad Rattray runs in front of the Bank of America Building.
Rattray has been set up in this spot for the last decade, give or take, offering standard wieners — which he calls the Dollar Dog ($1) — a jumbo dog ($2.50) and Polish ($2.50), German ($3) and Italian ($3.25) sausages.
Summer is when he makes his money. Winter, he says, is "the time of year you try to keep some gas in the car and the heat turned on."
While we talk, a man walks up, looking a bit tentative. "Dive right in, man," Rattray says. "How you doing?"
"I'll be doing better once I get a Polish," the man replies.
Rattray likes to let "people hook them up however they want." He has his favorite, though — a combination tasty enough that he's still eating after a decade.
"I go with an onion medley [fresh and grilled]," he says, "sauerkraut and both mustards [yellow and sweet]." He puts it on "whatever dogs are left" at the end of the day but prefers either the Italian or just a Dollar Dog.
We tried Rattray's combination — we'll call it the Cheddar Chad — with the Italian sausage. It was sour, tangy and sweet but cut with enough acid astringency from the fresh onion to keep the toppings from overpowering the sweet, fennelly dog.
The dog-as-street-food changes depending on your locale. They're big in Austria, for example, where the Ksekrainer hot dog comes in a baguette-like bun, which is hollowed out and lined with sharp mustard, sweet mustard, ketchup or all three, and then stuffed with a sausage that's akin to kielbasa, but filled with emmenthaler cheese. Putting the Ksekrainer on a dense dark bread and topping it with curry is also popular, and heavenly.
A friend and I went in search of Ksekrainer at ALPINE DELI (417 E. Third Ave.), an eastside market held in great esteem by Germanophiles. What we found was more like a proto-dog, the kind of thing that may have inspired those first immigrant entrepreneurs.
The dogs on tap were two: the wiener (in the traditional Viennese sense, $3) and the bockwurst ($3). The condiments available were one: coarse ground mustard. Both come on a simple sliced white roll.
As much as they're known for beer, the Germanic tribes are known for their sausages and their mustard. The Alpine Deli's offerings celebrate the interplay of the two. The wiener is juicy and chewy (much chewier than the average American dog) and snaps off in the mouth while the bockwurst, sliced length-wise and browned, is soft and almost creamy. The mustard added a subtle sweet tang and a nice crunch from the whole seeds.
If the people at Alpine Deli are Austro-traditionalists, then Gary Swiss, owner of CRAZY G's (821 N. Division), is something akin to an American futurist. He believes in better dogs through engineering. He used that word repeatedly when explaining how he arrived at his Crazy Dog ($5.25) and its toppings. The basic choice of mustard, ketchup and sweet relish, for example, is "engineered" for local palates.
Add sauerkraut to your dog and he'll suggest removing the relish — the sweet would compete with the sour — and he'll tell you that the sauerkraut is flash-cooked, so it doesn't make the hot dog tepid. These are carefully considered things, Swiss says: "Everything has been engineered." He's a fan of fresh onions and, if asked, he'll suggest leaving off the ketchup, a condiment he says is considered gauche in other cities. "In L.A., you'd get shot for putting ketchup on it."
The patriotism comes in the meat itself. "We're not trying to do German sausage," Swiss says, "This is a true all-beef, all-American hot dog."
But while Swiss hinted at the diversity and regionalism of the American dog, we had to go up the road a piece to find examples of it.
Out in Cheney, on the stretch of First Street where you'll find the town's college bars, sits LOCO DOGZ (313 W. First St.), a beautifully branded space with an industrial feel. Like Gary Swiss, owner Scott McCandless came out of retirement to pursue the perfect dog.
In contrast to Crazy G's engineered simplicity, though, Loco Dogz zeroes in on regional specificity. The Wisconsin ($3.50) is a brat with fresh sauerkraut and Bertman's mustard.
The N'awlins ($3.50) is a spicy andouille sausage topped with grilled onions and an easily devourable barbecue sauce (made in-house with espresso).
The Chicago ($3.50) heaps on mustard, onion, tomato wedges, celery salt, spicy-as-hell sport peppers and neon relish. Because they're tough to find outside the Windy City, the relish and peppers are shipped in, says manager Jody Reid.
The menu has nine standard dogs ($2.50-$4.50) and a monthly special. Reid says that in upcoming months they'll feature the Gilroy, with artichoke hearts and a chicken sausage, and the Wichita, which uses something called Hungarian goat peppers.

Loco Dogz ended up being a microcosm of our entire search. While America didn't invent sausage or buns — or even probably putting sausage in buns — the thing that has made hot dogs quintessentially American is the way they can adapt for different tastes. We're a nation of incredible diversity, and our most popular street food reflects that.
The key to the success of the dog isn't partisan at all. To echo once more the words of Cheddar Chad Rattray, it's that "people hook them up however they want."