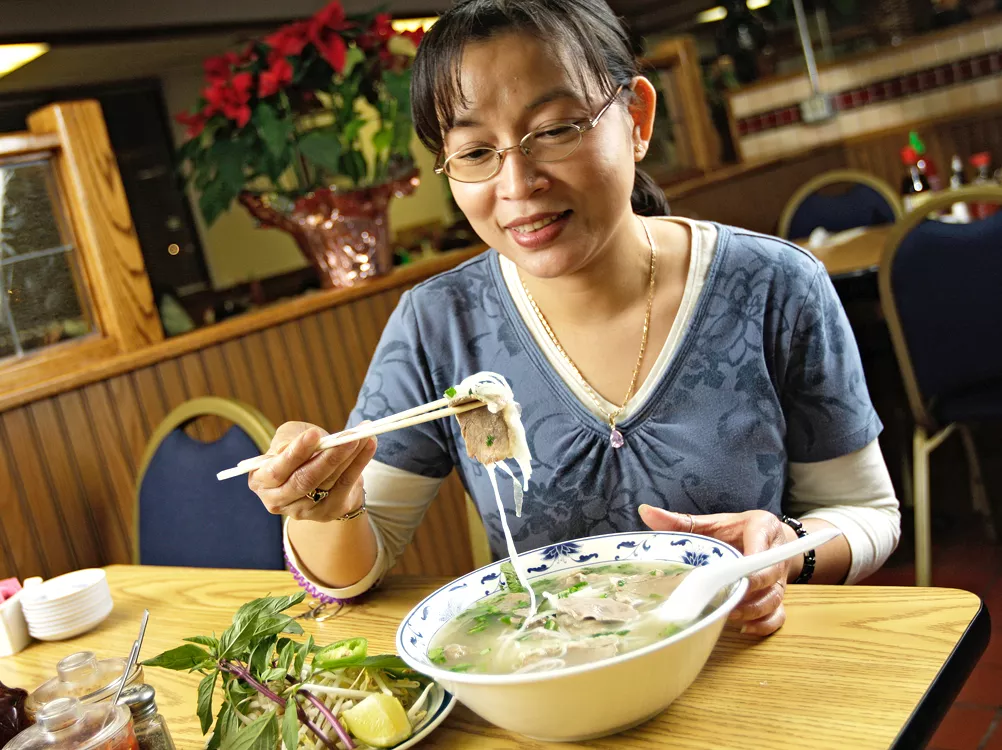 In 1975, the end of the Vietnam War caused a great outflow of Vietnamese citizens, who escaped prison camps and braved the journey by boat to seek better lives. More than 100,000 Vietnamese arrived in the United States in the wake of the war, and that number doubled by the 1980s.
Among the customs they brought with them was pho (roughly pronounced "fuh"), a traditional beef noodle soup that's seasoned with spices and onions, then garnished with basil, lime, jalapeño and bean sprouts.
And thank goodness they did, because I'm addicted to the stuff. Happily and hopelessly addicted. Have been for years.
That's why, like any good junkie, I set out to find the best fix in town.
VINA ASIAN RESTAURANT (2303 N. Ash St.) sits next to a hair salon in north Spokane. The giant mirrored windows let natural light spill over dark wooden tables, each of which has its own metal rack containing sauces, chopsticks and neatly stacked glass pho spoons. The restaurant is busy this time of year, even during that nebulous period between lunch and dinner.
"Sometimes it's really difficult," says Hong Pham, who owns Vina along with her husband, Hung. "But it's much better than a slow business."
The two moved from Vietnam to the States in 1993 in search of work. Hong smiles as she recalls how, back when the Phams were getting started, she was working at McDonald's and he was putting in hours at a Chinese restaurant at the Spokane Valley Mall. She says that's where he learned to cook — a skill that has allowed them to build the business they have today.
Hong doesn't believe you can take shortcuts with pho, especially when it comes to the broth. She says they boil their beef bones for up to five hours, producing a full-bodied pho with a rich, slightly salty base. It keeps the customers coming back and the Phams busy.
But they're not the only pho-serving family who are busy these days.
Nestled in Spokane Valley, THREE SISTERS VIETNAMESE AND CHINESE CUISINE (10615 E. Sprague) makes its home in what used to be a fast-food restaurant. On the floor in a corner by the cash register sits a golden statue of Buddha, surrounded by a bowl of fresh fruit, garlic and small cups of tea.
This is the first business endeavor for Long Dam, who spent years working for others since moving to America in 1989. He started Three Sisters with the help of his three daughters, Tammy, Jenny, and Lyn.
"Dad likes to cook, and I like to cook," says Tammy, who waits on tables with her sister Jenny. "My dad and I dreamed of having our own business, and my dad said, 'Just go for it.'"
Tammy says Long does all of the cooking himself. Each dish, which is made from scratch, is from his own recipe. His pho process is especially intensive — the broth alone takes about eight hours to prepare. His balance of spices and extra-tender beef cuts makes his pho stand out in both its flavor bouquet and its texture.
"He's really tricky with it," Tammy says, laughing. "It's his own style."
That's not unusual. Because pho is such a staple dish in Vietnam, there seem to be as many variations of it as there are families.  
Take the one made by Henry Cao, owner of PHO VAN (2909 N. Division), which operates north-side restaurants on both Division and Hamilton streets. Cao appears from the kitchen of his Division Street restaurant with his arms full of plastic packages containing the spices he uses in his pho: He opted to show, rather than tell. While some spices, like cloves, are easy to recognize, others are more unusual — like foot-and-a-half-long tan slabs of bark, which Cao identifies as cinnamon.
His attention to flavors is reflected in the unique taste of his pho. Instead of being predominantly beefy, Cao's broth plays up the spices without overdoing it. He formed the recipe through years of practice, he says, starting when he used to cook pho with his mother and father.
At PHO THANH AND CAFÉ (2108 N. Fourth St., Coeur d'Alene), an old man sits looking out the window, smiling at passers-by walking through the snow. The building is slightly outdated, as is its interior. But despite the odd décor and high ceilings, the atmosphere is still cozy.
The pho is brought to the table in just a few minutes. Unlike other pho places in the area, Pho Thanh's soup is served with a beef rib, which has been made so tender that the meat falls off the bone with the slight prod of a chopstick. As the rib would suggest, the broth has a full beef flavor.
The restaurant is owned by Sau Nguyen, who sold the family restaurant in Vietnam and emigrated to the United States in 1990.
"It's just a better life for us here," says John, one of Nguyen's sons.
Everyone I asked echoed John's sentiment — they came here for a new life and new opportunities.
Lucky us.
Meat Mysteries: Solved
Blindly sampling new and unknown foods can be great fun, but as a category of foods to experiment with, most of us would exclude "meats." So for the wary, here are the pho basics. Godspeed.
Tendon (Gân): That tissue that keeps your muscles and bones united. After a few hours of cooking it becomes soft, almost adopting the texture of fat. Tastes "beefy."
Tripe (Sách): This is made from cow stomach. It looks spongy and, like tofu, is a culinary chameleon, usually taking on the flavor of what it's cooked in.
Brisket (Gou): A cut originating from the lower chest of the cow. Simple. Has a rich beef flavor.
Flank (Nom): This fatty cut comes from the abdomen of the cow. Ever had a beef fajita? Same thing. 
Meat Balls (Bò Viên): Made from ground beef, with ingredients such as fish sauce, garlic, pepper, etc.
Chicken (gà): Straight-up chicken. (TH)