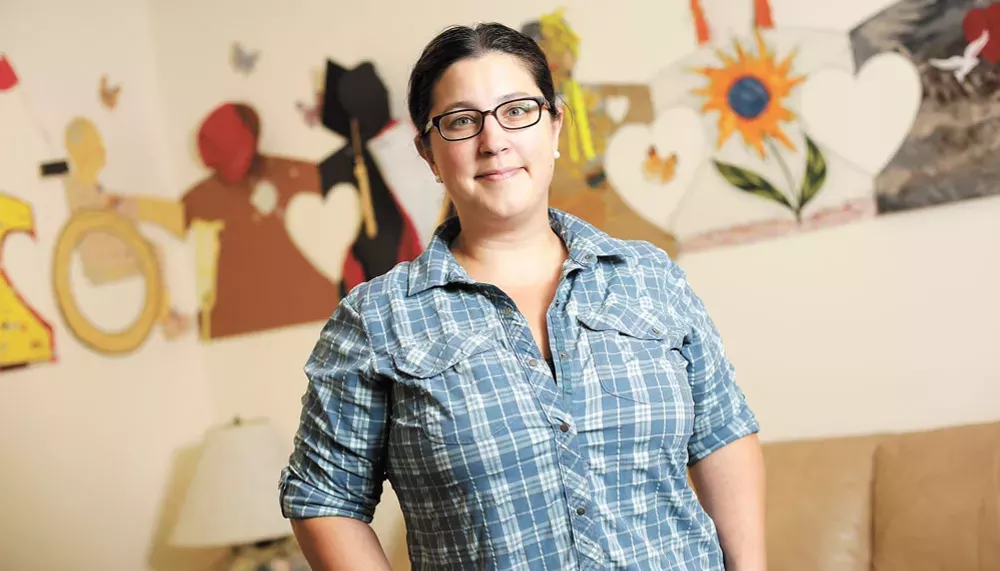 Spokane attorney Rosemary Wear makes sure her clients know exactly where to find her when they need her help, whether they realize they do or not.
Every Thursday morning, the disability law specialist sets up her mobile, pro bono office at the House of Charity in downtown Spokane, where she spends three hours, from 9 to noon, offering free legal advice and assistance with the intensely bureaucratic process of applying for Social Security supplemental security income (SSI) or state disability benefits.
In the afternoon, Wear moves across downtown to the Women's Hearth day shelter operated by Transitions, where she can be found from 1 to about 3:30. In addition to these weekly sessions through her Wear Law Office firm's Disability Assistance Project, she also takes time on Monday mornings to volunteer at Community Court, held at the Spokane Public Library's downtown branch.
"Part of why we do what we do is because the Social Security program is so long and involved and complicated," Wear explains. "There are so many different steps, people can get lost if they don't know what they are doing."
Wear has been offering these weekly clinics for the past four years, after being laid off from a job here with a Seattle-based disability law firm, for which she'd done similar outreach.
"I was just devastated and thinking about these people showing up and not finding anyone," Wear recalls. "So my husband said, 'Just do it yourself,' and we took the leap and had faith things would work out."
Wear is the only attorney in her private practice, which also specializes in disability law, and is thus the sole attorney running the Disability Assistance Project, although she often has help from students at Gonzaga University School of Law.
In her work, she's seen countless examples of how these state or federal benefits help people in hard times get their lives back on track.
"You meet people who are so resilient and have this spirit, and somehow through it all they managed to survive and persevere — it can be pretty awe-inspiring," Wear says.
Still, because the process to start receiving assistance for reasons such as being physically disabled, mentally or chronically ill can be so slow, Wear says she also often sees people who've lost everything along the way before finally securing the support they need.
"Sometimes it takes two and a half years to get it right and Social Security sees that someone is disabled, and that is really heartbreaking," she says. "But when it finally does happen, it is so good to see them have relief from that, and you get a sense of justice and see things are done right."
Wear was born and raised in Coeur d'Alene, where she grew up in a family of five who sometimes struggled to get by from just her father's income as a carpenter.
"My parents ... taught us it was important to give back even if you didn't have much yourself — there were always people less fortunate than you," Wear recalls.
While studying at Gonzaga Law School, she fell in love with constitutional law's precise logic and analysis. At the same time, she realized that by becoming a lawyer, she could use her skills to help people. Before graduating with her law degree, she started working with a local nonprofit specializing in unemployment benefits.
"Everyone we helped was so grateful, and you got to see the impact of the work you were doing," she says.
Today, through the Disability Assistance Project, Wear has helped hundreds of people from all backgrounds and stages of need. As she recalls the story of a recent client, a single mom with a history of mental illness and abuse, who is also parenting a disabled child, Wear is moved to tears describing the trauma her client went through before finally getting help.
"We got her applied to the state disability program, which helps tide people over until their SSI is approved," she says. "I called her six weeks later to follow up and said, 'Hey, how did it go, did you get your benefits turned on?' And this client said 'Yes, thank you so, so much,' and that she'd went out and bought her first brand-new pair of underwear she'd had in seven years."
Recalling this moment captures Wear's deep motivation and dedication to showing up every week for local people in need like this woman, and so many others who don't know who to turn to for help.
"My parents always taught me that everyone is equal, and that everyone should have a right to some type of human dignity and decency," she emphasizes. "No one should not have clean underwear. I don't care if you work or not, if you're disabled or abled... Even though [my work] may be us helping people get money, I think that gives them that self-respect and dignity — they feel that they have value and they are self-sufficient and can provide for themselves." ♦
---
Age: 35
Positions: Owner/lead attorney of Wear Law Office, founder of the Disability Assistance Project, member of the Spokane Homeless Coalition, member of the Regional Planning Committee for Access to Justice
I give back because... I believe all human beings have inherent worth and it is our moral obligation to try to help each other realize our fullest potential.
I look up to... all of the wonderful people in our community who give back to those less fortunate than themselves.
I wish that... all human beings saw that we are all the same and all have value, and treated all human beings with dignity, respect, love and compassion.