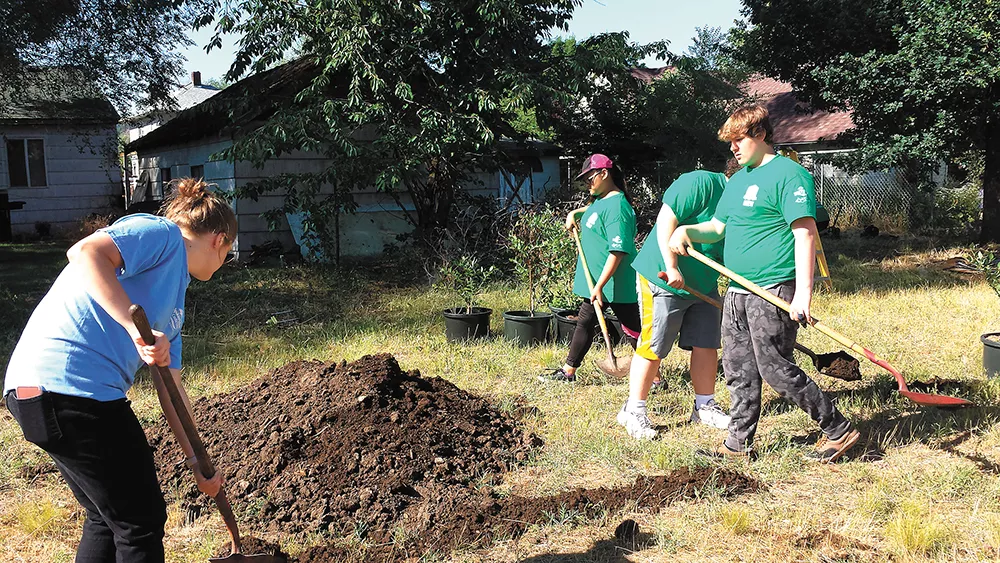 In the past decade, we've learned a lot about kids, including how they develop and mature, how they make decisions, and what they need in order to succeed. Much of that success is built around a safe, stable home environment.
Unfortunately, youth homelessness is one of the biggest issues facing kids in Washington state. According to a 2016 report from the state Office of Homeless Youth (created in 2015 specifically to address the issue), 13,000 kids in Washington do not have a safe place to stay.
Recently, the statewide organization A Way Home Washington helped facilitate a 100 Day Challenge to find homes for 100 kids in cities across the state. Spokane surpassed that goal.
"For years, placement is the number one request that we see," says Rosey Thurman, an attorney with the nonprofit legal clinic TeamChild (teamchild.org).
Most of Thurman's work, she says, involves helping kids navigate the court system. But just ask the kids she's helped, and they'll tell you she does much more than that. The same can be said of other local organizations working with kids. Here are their stories about what they do and why they do it.
A HOME
Homelessness doesn't just mean living on the streets. Although Jazzmine Lindsey technically had a place to stay, it wasn't a great setup.
"I was running with a bad crowd, getting involved in stuff I knew I shouldn't be doing," she says.
In eighth grade, Lindsey was kicked out of school. In fact, she says, she wasn't allowed to re-enroll in any Spokane Public Schools. With her parents in two different states, and no one to help, Thurman went to bat for her.
Thurman got Lindsey back into school, helped her become emancipated at age 16, and helped her find her own place.
With a safe place to stay and a job, Lindsey, now 20, earned an associate's degree from Spokane Community College and is currently working toward a bachelor's degree at Eastern Washington University.
"Rosey fought like hell for me," she says. "For youth who are at risk, TeamChild is the best thing out there. I owe Rosey everything. I really do. Without her, I wouldn't be where I'm at today."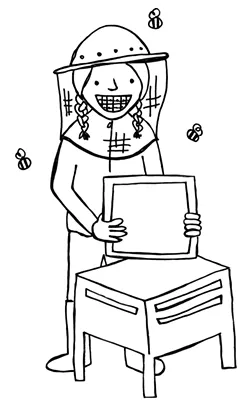 A JOB
Can you name three different varieties of kale? Did you even know there were three varieties of kale?
The kids who work for River City Youth Ops — formerly Project Hope Spokane — do, and can name them all. The West Central-grown program (youthops.org) has established nine community gardens maintained by kids ages 14 to 18. They grow fruits, veggies and herbs, and sell them at street markets throughout the city.
"The heart of what we do is job training," says Jenifer Priest, the nonprofit organization's development director. "For these youth, it's a way to build job history, and give them something productive and meaningful to do. And it's a way to earn a paycheck."
The kids work from 9 am to noon every summer weekday in gardens throughout the city that they've built on vacant lots.
"So they take something that might have been overgrown and littered, and turn it into something productive," Priest says.
Some kids also do lawn care, mowing, trimming and edging property, mostly in West Central, she adds. And new this year, the organization has started a beekeeping program. So far, nine kids have been trained to care for the six hives installed near the gardens. Although the hives won't produce any honey this year, Priest hopes that's a possibility in the years to come.
A majority of the youths who work the gardens come from the West Central neighborhood and from low-income families, or are working out issues.
"Not that they're living under bridges, but they're couch surfing or living with friends," Priest says. "But imagine being 15 and being told to leave home. We provide a really positive experience for kids who come from those situations."
You can buy River City Young Ops' produce at the Kendall Yards Night Market on Wednesdays, the Perry Street Thursday Market and the Emerson-Garfield Farmers' Market on Friday nights. And they'll gladly accept donations. The number of kids who can work is directly related to the amount of money coming into the organization, Priest says. This year, about 100 kids applied for 47 spaces.
"I think in Spokane County there's, like, 9,000 youth ages 16 to 24 who are neither going to school nor working," Priest says. "So by working with kids from a younger age, we avoid that."
A RELATIONSHIP
Darin Christensen starts with a list of 40 things that kids need. Called "developmental assets," these are elements like family support, safety, creative outlets and a sense of purpose and power. According to the Search Institute, an organization dedicated to studying adolescent development, they're the key to adolescent success.
"Think of them like arrows in a kid's quiver," says Christensen, CEO of Big Brothers Big Sisters of the Inland Northwest.
For kids lacking some of those arrows, Big Brothers Big Sisters is there to fill in.
"Those relationships help the kid be a kid who can succeed," Christensen says. "They open a kid's eyes to what's going on around them."
For example, take Denny and Levi, who were matched in spring of 2012. For five years since, the two have built a relationship that's changed both of their lives.
"It's more than a match at this point," Denny, the "little" one, says in a video prepared by the organization. "I consider him one of my closest friends."
People from North Idaho and Eastern Washington who are interested in learning more about becoming a big brother or sister can visit the organization's website (nwbigs.org), Christensen says. There are a couple of different programs to choose from.
"We're working to implement programs to help younger children and to support high school students," he says. "We need mentors across the board. We typically have a waiting list of 50 to 60 kids." ♦
---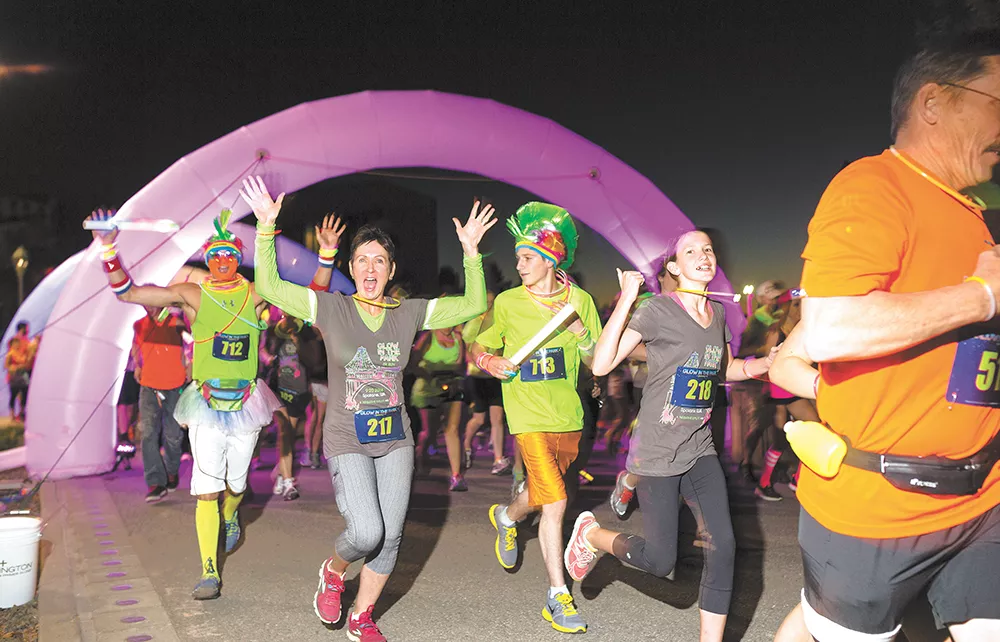 LIGHTING UP THE NIGHT
An electrifying, after-dark 5K in Spokane's Riverfront Park and along the Centennial Trail next month will benefit the Boys and Girls Club of Spokane County.
The course for the annual Glow in the Park Run, held on the evening of Saturday, Sept. 16, is filled with lighting and music, making for 3.2 miles of a festive, party-like atmosphere.
The event begins at 7:30 pm, but don't miss the all-ages, pre-race party with a live DJ that starts at 5:30. Stick around after the race for another dance party with contests and giveaways.
You can register up to and on the day of the race (nsplit.com/glow-run-spokane; you'll save a few bucks by registering in advance). The cost is $39-$49 for adults and $12 for kids younger than 10. Proceeds from Glow in the Park support the Boys and Girls Club, which provides programming around citizenship, academic success and a healthy lifestyle for thousands of local kids.
Start planning your brightest race outfit now, and don't forget to include lots of glowsticks and LED-powered accessories, which can also be purchased as an extra upgrade when you register.
— MITCH RYALS
---
REACHING FOR THE FUTURE
One of the kids wants to be an architectural engineer. Another wants to be a lawyer, and two more want to work in film — one as a movie producer, the other as an editor. Thanks to the local program that has pledged to pay college tuition for 49 kids at Lidgerwood Elementary School, those goals seem more attainable than ever.
In 2008 the founders of Reach for the Future "adopted" second-graders at Lidgerwood and told them that if they graduated from high school, their college tuition would be covered. Now, those kids are high school juniors, and the majority are on track to graduate.
"We wanted to get to them early enough to plant the seed," says Lauren Garske, the foundation's project coordinator. "It's not a question of if you're going to go to college, but where you're going to college."
In addition to college tuition, the kids have access to afterschool tutoring and mentoring programs multiple times per week. They've also taken tours of every college campus in Spokane. Garske hopes to travel to Seattle to tour more campuses this year — "if we can get the funding," she says.
"So college becomes a vision, not just a word," she adds.
Since the program was started by Patsy Etter and Neice Schafer almost a decade ago, some of the kids have moved to different states, such as North Dakota and Wisconsin. But, Garske says, they're still eligible for the scholarship as long as they graduate. Many of them will be first-generation college students.
Much of the money to operate the program each year comes from private donations. Visit reachforthefuture.org if you'd like to contribute.
— MITCH RYALS