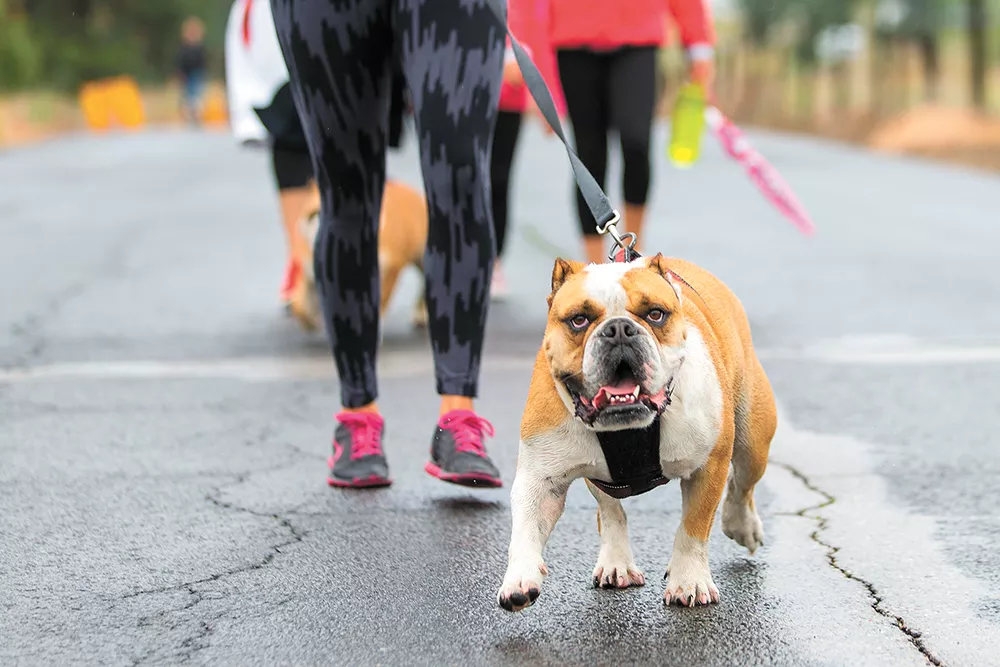 There's a very real risk to becoming the new executive director of the Spokane Humane Society: You might fall in love with a dog. Or two.
For Sheila Geraghty, who became the Humane Society's new executive director in April when former director Dave Richardson handed over the reins after 11 years, that dog was Buddy, a large Chihuahua mix who'd been suffering from serious neglect.
"He lived in a backyard and didn't even know that humans are nice people. Some of these dogs, due to neglect, don't know what a person is," Geraghty says. "Buddy didn't know what a leash was... This dog did not want to be around people at all."
But the Humane Society's mission, after all, centers on taking animals who'd been in the roughest circumstances, giving them medical aid, then training them to be better pets. Geraghty started doing that with Buddy, taking him under her wing.
When he first arrived, Buddy "was so terrorized by this whole experience, he actually hurt himself trying to get away," Geraghty says.
But slowly, he began to acclimate to people. A volunteer would sit in Buddy's kennel and just talk to him for long periods of time. Slowly, he began to learn how to approach humans. But when it was time to put Buddy up for adoption, Geraghty couldn't do it.
"He had so much more to learn about being a dog," she says. So — why not? — she decided to keep him. "He's the now the greatest dog ever," she adds.
Few Spokane nonprofit institutions are as old as the Humane Society. This year, it turns 120.
"Back in the day, animals weren't considered anything that needed to be cared for, like animals are cared for today," Geraghty says. "They weren't pets. They were working animals."
In 1897, however, the Spokane Humane Society was focused on advocating for the rights of horses: The only way to get loads up the South Hill was to have horses lug them in heavy carts, step by step, the 30 steep blocks between downtown Spokane and 29th Avenue.
"They were not getting water," Geraghty says. "Their hooves were not being taken care of."
The Humane Society pressed for their fair treatment. Over the years, that mission expanded, also focusing on the welfare of pigs, goats and pets. Eventually, as horses faded from prominence with the introduction of automobiles, Geraghty says, the Spokane Humane Society let other organizations that had cropped up advocate for the rights of farm animals, opting to focus on the care of dogs and cats.
In 2006, the organization made another big shift: The Humane Society stopped euthanizing animals due to space. In addition to 153 kennels at its northeast Spokane facility, the shelter can place up to 30 dogs and cats at its new adoption center at the Northpointe PetSmart.
"We've never been full," Geraghty says of her time since she started as director.
There are plenty of ways that fellow animal lovers can help out the Spokane Humane Society — many volunteers, she says, come to the shelter every day to help train the animals or walk the dogs. But the real need, she says, is money.
"My challenges are cash," she says. "We don't get any government funds like SCRAPS. I am solely relying on the generosity of the community."
She suggests either attending a fundraiser — there's a National Dog Day Celebration at RV Northwest on Saturday, Aug. 26 — or writing a check directly.
As for Geraghty? Lately she's been busy fostering another dog, this one named Snickers.
"He's a growler and a nipper," she says. "But he wants to be a good dog so bad." ♦