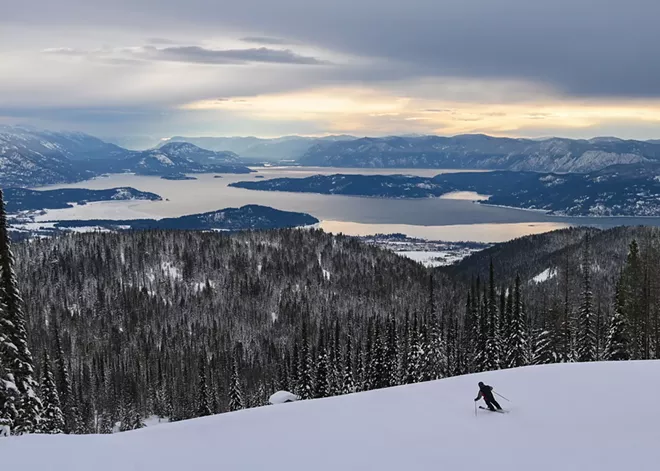 Schweitzer has made a name for itself among the premiere skiing destinations in the country. This season, it officially joined the big leagues. The largest ski destination in Washington and Idaho sold its resort assets to Alterra Mountain Company, the national ski resort conglomerate that offers the multi-resort Ikon Pass. That means Ikon Pass holders will now get unlimited access to Schweitzer Mountain with no blackout dates. And holders of the lower-priced Ikon Base Pass will still get five days of gorgeous tree skiing, Nordic trails and plenty of black diamonds at Schweitzer.

Despite the new collaboration, returning visitors won't notice any difference to the layout or amenities of the resort — except for the new Creekside Express lift, says Sean Mirus, the mountain's marketing and special events director. The high-speed, detachable quad chairlift starts running this season from the base Schweitzer Creek Village parking lot to the main village halfway up the mountain. It's fast, but it's also easier for beginners to navigate, making the mountain more accessible for every visitor.
"You get the efficiency of speed for everyone that's riding the chair to move them quickly up the mountain," Mirus says. "But it does make it much easier for everybody to load and unload the chair. There used to be some lines in the morning as lessons and beginners started lining up at the bottom along with all of the arriving guests. So we just think it's gonna be a better experience for all of our guests, whether you're a beginner or a seasoned veteran."
This is just one phase of the Schweitzer Creek Village project, which the resort plans to expand to meet the growing demand and population in the Northwest.
In the middle of last winter, Schweitzer opened its Cambium Spa. Named for the regenerative layer in plants, the high-tech wellness center makes elite recovery and rejuvenation techniques available for everyone on the mountain. Ditch your mani-pedi appointment for a session in the infrared sauna, or re-energize your blood flow with research-backed compression sleeves.
"A lot of these treatments may have originated in the athletic world, but they translate to just anyone," Mirus says. "I think all of the treatments that are offered can be beneficial for people that are just looking to take whatever their version of outdoor adventure is, whether that's simply a walk around the village or all the way up to people running a trail marathon."
NONSTOP SCHRALP
But no matter what you do, your resort experience is only as good as the people you're with. That's why Schweitzer is making it a priority to make life better for its employees, starting with the basics — housing.
"I think we all know that living in mountain towns is getting more and more difficult, especially as it comes to the increasing cost of living," Mirus says. "Without quality employees that come back and are happy both on and off duty, we just don't think we can provide the experience for our guests and our visitors that we want to. So providing quality housing for the folks that work here is key to both our existence and our growth for the future."
This year, some employees can start living in the Schralpenhaus, a convenient apartment complex in Ponderay for families or groups of roommates.
"To 'schralp' is a verb that means to ski or snowboard or have fun out on the mountains, similar to how you might use the word shred," says Mirus.
The new Schralpenhaus celebrates the shredders who make it possible for all of us to get out on some fresh powder and enjoy the ride. ♦
Q&A WITH ARLENE COOK
Do you have something that you love the most about Schweitzer?
The mountain itself. Just the outdoors — it's a beautiful mountain. It's an awesome place to ski and play.
Do you love it during all seasons or is winter your favorite?
I would say summer and winter. I work as the patrol director for our bike patrol in the summer as well. It's a very fun place to play. And I Nordic ski as well as downhill ski. In my spare time I love to go out and I love to go skate skiing.
Your job is to keep skiers safe. What's some good advice that you would give someone to keep themselves injury free?
I think paying attention to the skier responsibility code is probably one of the major things that you could do. Just know what the rules of the mountain are — kind of like the rules of the road if you go out to drive your car. And then, if you have any questions, take a lesson from an instructor that knows a bit more, so you're not getting yourself into something that the learning curve is too hard and you get disappointed.
Do you have a favorite run at Schweitzer?
I guess it all depends on the conditions. It changes as the weather changes and the snow changes on the slope.
What are your favorite conditions?
Powder skiing is obviously my favorite condition. A lot of times we like to ski the face and can ski it over and over and again because you can get a lot of runs in a short amount of time. So maybe that would be something that I would go for first thing in the morning if I had the chance.
Arlene Cook, Schweitzer's ski patrol director, is a Sandpoint native who's been working at Schweitzer for over four decades.