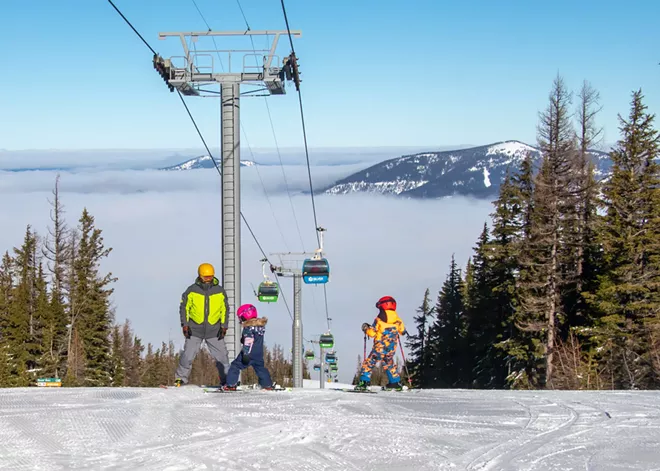 Drive east from Coeur d'Alene on I-90 for about 40 minutes and you'll arrive in Kellogg, home of Silver Mountain Resort. From there, rather than driving up winding mountain roads in treacherous winter weather, take a seat on one of the country's longest gondolas up to the resort's Mountain House.

Since opening in 1990, Silver Mountain has provided Kellogg and nearby locales in the famed Silver Valley with great slopes for winter recreation, as the mountain gets over 300 inches of snowfall annually.
"Even days after a storm passes by, you can still find fresh snow," says Gus Colburn, the resort's marketing coordinator.
Silver Mountain has 83 trails for skiers or snowboarders, all with varying expertise levels, from the Bunny Hill to routes perfect for more technical tree skiing. But the resort offers many other activities and experiences for families or those not wanting to hit the slopes.
"The water park is obviously the ultimate family destination. There's a surf simulator, there's a huge island for kids to play on, there's five different water slides," Colburn says of the part of the resort down in Kellogg. "We also have some of the best tubing in the region as well for snow tubing, so it's 640 feet of high-speed snow tubing."
After a long day in the snow and frigid air, hit up the Jackass Snack Shack — a reference to the story of Kellogg's discovery. When Noah Kellogg's donkey allegedly kicked over a rock, it revealed galena, a mineral that's an important source of silver — which led to decades of mining in the region.
This year, the resort added a square 40 foot by 40 foot wooden deck outside the shack, where skiers and snowboarders can take a break and grab some food before getting back out in the snow. Jackass Snack Shack is open Thursday through Sunday, but Colburn says the deck will be open to guests at any time.
"We're also making a lot of improvements in the Mountain House," Colburn says. "And our employees have been going hard this fall on mulching the ski runs to get them cleaned up so that we can open earlier with less snow and have better conditions."
ALL WELCOME
Silver Mountain focuses on creating an inclusive experience for all mountain visitors, so if you've never skied before, they have a Flex Five program where you can learn everything you need to know.
"It's designed to get people into snow sports that have never done skiing or snowboarding before," says Amy Miller, the ticket and season pass supervisor.
The mountain has seven lifts, including the 3.1-mile-long, 20-minute gondola ride that showcases picturesque views of the mountain and town. Connecting Kellogg to the Mountain House, the gondola runs 8:15 am-5 pm daily, with the last ride up the mountain at 3:30 pm. The other lifts run 9 am-3:30 pm Monday-Friday and 9 am-4 pm on weekends.
Those other six lifts take resort visitors to an array of slopes with different terrains, but there's one that Colburn says often goes unnoticed: Chair Four.
"Some people don't think about going over there, some people don't know how to get over there, but some of the best skiing on the whole mountain is over on the Chair Four side," he says of what might be the resort's best kept secret.
Colburn encourages people to attend the tree lighting ceremony on Nov. 25, the second day of Silver Mountain's 2023-24 season. There will be free cookies and hot cocoa, as well as visits with Santa and a firework display after the tree lighting. The resort will close out the night with a Warren Miller movie.
To Colburn, there's something for everyone at Silver Mountain.
"Everyone that comes and visits the resort feels like they belong, it feels like it's a good home mountain for them," he says. "You won't leave Silver Mountain without getting at least a few fist bumps and high fives throughout the day." ♦
Q&A WITH AMY MILLER
You spend a lot of time up at Silver Mountain working, so what do you love most about the resort?
A lot of people know about Silver and come here, but during the week it's pretty quiet, and you have the mountain to yourself almost and it's great because there's no lift line.
You must know Silver Mountain like the back of your hand at this point, so what's your favorite place to ski on the mountain?
I like anything in the Chair Four area. There's a lot of fresh powder, steep terrain and trees.
What are some things that people should know about the resort?
We also have some great learn to ski and snowboard programs. One of them is called the Flex Five, so it's designed to get people into snow sports that have never done skiing or snowboarding before. With it, you get five lift tickets, five rentals, and five beginner ski or snowboard lessons. After you complete your fifth lesson, you get to pick up a free season pass for the rest of the season and then you get half off the following year's season pass, so the 2024-25 pass.
Amy Miller skis, snowboards, mountain bikes, paddle boards and plays pickleball. Miller has worked at Silver for nine years, currently as the resort's ticketing and season pass supervisor.