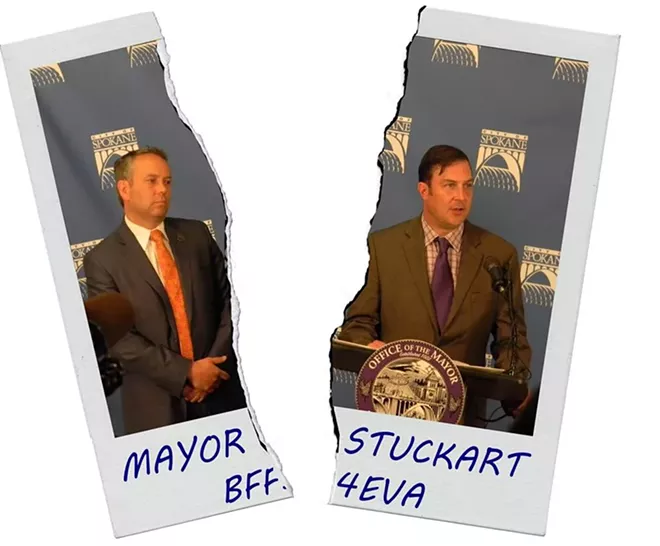 This story has been updated to include a recent fact-finding report detailing city staff complaints about the behavior of city council members.
T
o Spokane City Council President Ben Stuckart
, the way Mayor David Condon has responded to council ordinances this year represents "pretty much a failure of leadership."
That kind of condemnation isn't unprecedented for Stuckart: It pales in comparison to the fiery, public insult-laden council-mayor clashes during the depths of the
Frank Straub
scandal in 2016. But the conflict is real: Instead of salvos in the press, there have been behind-the-scenes struggles marked by delays, legislative maneuvering
and
emails percolating with irritation.
And council members have watched the mayor seem to ignore or delay implementing some of the City Council's most high profile laws the city passed. And that irritation has moved from a simmer to a boil.
"It's a pretty poor legacy he's leaving," says Stuckart. "It seems like he's spending more time ignoring the law, trying to thwart the law."
The pattern has gone like this: The City Council passes a big ordinance, the mayor vetoes it, the council overrides the veto, but then the mayor seemingly refuses to implement it, sending the council scrambling to try to find alternatives.
In Condon's view, he isn't being obstinate: He's being prudent
,
objecting to what he sees as
legally
flawed ordinances that contradict the city's strategic plan.
But in Stuckart's view?

"That's not for him to decide. He doesn't get to be the administrator and the arbiter of what's legal or not. That destroys the separation of powers," Stuckart says. "It feels like he's spending his last years in office fighting the things he doesn't like, when he's not the legislative branch. We are."

The conflict hasn't just impacted the mayor and councilmembers either. A recent independent report compiling city staff concerns quoted an anonymous city employee who
compared being trapped between the City Council and the Condon administration to "being a child caught in the middle of divorced parents."
HE'D PREFER NOT TO
I
n August
, the Spokane City Council took
dramatic action
: The red sun glowed behind them, choked by a curtain of forest-fire smoke. There were nearly four hours of testimony from citizens, pleading with the council to consider the impacts of climate change on the fish, the coral reefs, the skies
and
the future. There was a rapid-fire Ben Stuckart monologue castigating not only the arguments against the council's
proposal,
but the motivations and honesty of those bringing it.
For all that, the ordinance the council passed was relatively modest: It requires the city to create a sustainability committee to create a "Climate Action Plan" and to switch the city over to renewable energy by 2030.
Mayor David Condon vetoed the ordinance, but the council overrode the veto. Yet four months later, and Mayor David Condon hasn't appointed a single person to that committee.

— In October
, the Spokane City Council took
dramatic action
: There were nearly three hours of testimony from citizens. They read anonymous letters from unauthorized immigrants living in Spokane, describing the
fear they feel
. An activist tore up his citizenship papers. Pastors pointed to the sections of the Bible about welcoming foreigners and loving strangers.
The ordinance the council passed was ambitious: They would bar Border Patrol from entering the nonpublic areas of city property — in particular, the Greyhound Bus Depot where they had been conducting controversial searches — without either a warrant or permission from the mayor. And they put it in an emergency ordinance, so the mayor couldn't override the veto.
But two months later and Border Patrol is still conducting searches at the bus depot. The mayor has argued the ordinance is unenforceable. At the very least, Stuckart says, the mayor should have put up signs explaining that the bus depot was not a public space or sent a letter to Border Patrol outlining the city's law. Instead, he's done nothing.

— In November,
the
Spokane City Council
took dramatic action
. Last year, the council and the mayor had come together to support a strategic plan to
"improved integrated response to emergencies," but the regional attempt to combine 911 systems had longtime dispatchers worried.
So, after passionate testimony from dispatchers, firefighters, and law enforcement, the council unanimously voted to effectively kill the integrated 911 efforts, Spokane firefighters and police officers would only be allowed to work with dispatchers who were also employees of the city of Spokane.
Once again the mayor vetoed the ordinance, and once again the council overrode his veto. But the mayor has continued to pursue 911 integration.
"I don't think that that council has taken any action to say that they won't be part of the integrated system," says city spokeswoman Marlene Feist.
But to Stuckart, this was yet another frustrating example of the mayor ignoring the City Council. For months, Spokane City Council members claimed, they had asked the mayor for answers to questions about details of the plan, only to be met with either silence or unsatisfying answers. They still don't have those answers today.
"We have three different examples of him ignoring the laws that the Legislature have passed," Stuckart says. "It's disturbing that in his last years in office that he thinks he can ignore the law."
DEFIANCE
"H
e's being defiant,"
Councilwoman Karen Stratton says about the mayor. "Nobody is working anything out. Nobody has walked over here to talk about concerns."
That, however, isn't the way Condon sees it. In a phone interview with the
Inlander
, he argues that the City Council has been straying from the joint
plan
that the council and the mayor signed last year.
"We spent well over a year creating this strategic plan," Condon says. "What you're seeing is a deviation from the agreed-upon strategic plan, and the interest in going another way."
Stuckart scoffs at that argument.
"I think anytime you use the strategic plan as a reason not to do something you're undermining the whole purpose of the strategic plan," Stuckart says.
But Condon has other objections as well: With the Border Patrol ordinance, for example, he had fundamental disagreements with the way the council is interpreting federal law.
On the climate change ordinance, for example, he says that the ordinance is confusingly written, that it, for example, doesn't clearly do a good enough job of distinguishing between the aspirational goals and the legal requirements, and didn't take into account the financial impact the ordinance would have on the city. He wants the City Council to change the ordinance and provide clarifications.
But City Councilman Breean Beggs says that the city
already
took all of the Condon administration's suggestions for tweaking the sustainability ordinance before it was even passed.
"Every specific language request he had on the first draft of the sustainability ordinance, we put in," Beggs says. "Since then, he says he has more."
In a Nov. 16 email to Beggs, Condon laid out his request for a rewrite.
"I want to thank you for your commitment to ensuring that this ordinance is workable and consistent with our joint Strategic Plan," Condon wrote. "I am appreciative that you, Council Member Kinnear, and Council President Stuckart all conveyed a willingness to consider changes that would allow us to work together more effectively."
Beggs says he suspected it was a way to "sideline" the sustainability committee, but still expressed a willingness to work with Condon, asking him to send a revised version of the ordinance that would "tighten up the language sufficiently for you to start adding people to the committee."
Yet, more than a month has passed, and Beggs says he still hasn't received the revisions. Condon maintains they're coming.
"This is a vastly encompassing ordinance that will affect the city operations in many aspects," Condon says.
Yet, Condon has a reputation for moving quickly when he wants to. Why, the
Inlander
asked, was it taking so long to add members to the sustainability committee?
"I don't agree with the underlying law that they're supposed to affect," Condon explains. "And that's the work we need to do."


Condon says his conflicts with the council aren't necessarily new.
"When it comes to labor issues, these have always been issues with the City Council at large," he says.
In particular, he cites the fight over last year's budget, which council members delayed for weeks, in part because of their objections to a decision to shift some public works department clerks to
another department
.
To
Spokesman-Review
columnist Shawn Vestal — who generally sides with the council over the mayor — the delay looked like
nitpicking
or meddling.
"Is this molehill really such a mountain? Must the City Council manage the management of seven workers?" he wrote. "It's hard to imagine a reason, generally speaking, that Spokane's lawmaking body needs to wrestle with its executive over decisions of this scope."
The council was also worried about Condon eliminating garbage collector positions. So, ultimately, the council passed a budget — but specifically earmarked $550,000 for hiring five refuse collectors and four public works department clerk positions.
But here's the thing: While the council had the power to give the mayor money, they couldn't force him to spend it. The Condon administration simply refused to hire anyone for those new positions.
CAUGHT IN THE MIDDLE
I
t's not as if the defiance
has only gone one way: City Councilman Breean Beggs says that some council members have simply stopped attending meetings about the 911 integration process.
Stuckart and Councilwoman Karen Stratton resigned from the city's Public Infrastructure, Environment, & Sustainability Committee due to their anger over the demotion of longtime
solid waste director Scott Windsor
.
"I'm just tired of our employees being treated like shit," Stuckart said then. "I'm done."
However, several anonymous employees had the same complaint about how the council was treating them.
After council members Ben Stuckart, Karen Stratton, Candace Mumm
and
Kate Burke were sent letters from Human Resources earlier this year informing them they were being investigated for allegations of bullying city staff members, the council unanimously sent a letter telling the mayor his staff lacked the authority to investigate City Council members and demanded he "
immediately terminate the investigation
."
The fact-finding went ahead anyway. The final report conducted by Bellevue attorney Katherine Weber did not find any specific incidents of bullying.

But the seven employees interviewed did raise a number of complaints about how they'd been treated by city council over issues like homelessness, Elkfest, the "Hacking Washington" campaign and the 311 program.

They suggested they felt like collateral damage in the conflict between Condon and the city council.

"There was a general reflection that the City Council is frustrated with the mayor and city administrator, but, because these officials do not often 'appear' before council, some council members have increasingly taken their frustrations out on, and have 'lashed out' at, the city employees who are called before them," Weber writes.
Employees told Weber about feeling angst and apprehension about appearing before council members, even suggesting they'd experienced "physical symptoms" because of their anxiety.


They complained of council members taking over public meetings to "grandstand," "berate" or "chastise" employees. For example, employees said that Stuckart would make "belittling" or "dismissive" comments to staff like "that's stupid."
The report specifically calls out a budget presentation in 2017, where Stuckart allegedly "exploded" at one of the department directors, proclaimed "I can't do this," slammed his budget binder shut and "stormed" out of the City Council chambers.
"The reported concerns also implicate what is perceived to be a breakdown in communications and collaborations, and an increasing lack of civility, professionalism, respect and teamwork in the city's government," writes Weber.

But to several of the council members, the entire process was flawed. The city had spent $20,000 on this attorney, and she hadn't even interviewed the council members being accused.


"This is totally 100 percent politically motivated bullshit," Stuckart says. "It's not a fact-finding report if you don't interview everybody involved."
That time he stormed out of the budget meeting? Stuckart says that was because he had received incorrect information for three weeks in a row.
"I was taught that if you're not going to say something nice, then leave. I left," he says. "I should be allowed to ask tough questions. When your complaint is that I left the meeting instead of losing my shit? That's better than me losing my shit."
Stratton acknowledges that sometimes council members could get a little heated, especially because some departmental directors have banned their employees from responding to council members directly, making it difficult to get information. But she says the entire thing was a waste of money.

"
I think we could have served everybody better had we been able to sit down and talk about it," Stratton says about the employee complaints.

Like Stuckart, Stratton sees an ulterior political motive to the fact-finding report.

"
I think this was done to discredit Ben Stuckart and myself," she says. "I truly believe it, and nobody could convince me otherwise."
MOVES AND COUNTERMOVES
"T
here are moves and countermoves
," Beggs says, describing how the council has responded to the mayor's seeming unwillingness to implement council ordinances.
Condon refused to spend the $550,000 to hire refuse collectors and public works clerks? Well, the City Council reallocated that money this spring, so it could only be spent on sustainability initiatives.
and
Sustainability Committee, to at least get a head start on the work.
"Sustainability is just a huge issue for our community... We can't wait a year for a new mayor," Beggs says. "We have certain tools we can use and certain tools we can't use. We're using all the ones we can to advance the policy goals. I'm personally trying not to antagonize things more than is necessary to get things done."
Condon isn't bothered by the council creating its own sustainability subcommittee. And there have been incidents of successful council-mayor. Look at the city's partnership with the school district to share
libraries
, for example.
Yet in some instances, the mayor-council conflict — whether from 911 integration or
homeless shelter planning
— seems as much to come from lack of communication as differences in ideology. At various points this year, the mayor and the council members have accused each other of not involving each other in important discussions, of failing to respond to key questions.
Yet the City Council and the Mayor's Office are on the same floor. It's maybe a 15-second walk from Condon's office to Stuckart's cubicle. They regularly run into each other in the city elevator.

"When you see the letters going back and forth, I'm not sure that's not productive," says councilwoman Candace Mumm. "I'm more of a 'let's sit down and talk about this' kind of person."

Mumm predicts the next year will be challenging.
"We're seeing a lot of loss of key folks in the Condon administration," Mumm says. "It's difficult for him to backfill that when they know there's going to be an administrative change."
The dynamic is inherently a tricky one: On one side, you've got a conservative two-term mayor heading into his final year of office. He's not running for re-election and he hasn't yet thrown his political weight behind a chosen successor. On the other side, you've got an ambitious council president who wants to become mayor. The political incentives are wildly different for each.
And today, that current council president suspects that the current mayor is sabotaging him, leaving behind an awful mess for the next mayor to clean up.
"I think [Condon is] deliberately screwing things up to try to screw with the next election," Stuckart says. "If we fight more, the public is going to be sick of all of us. I think it's very political."