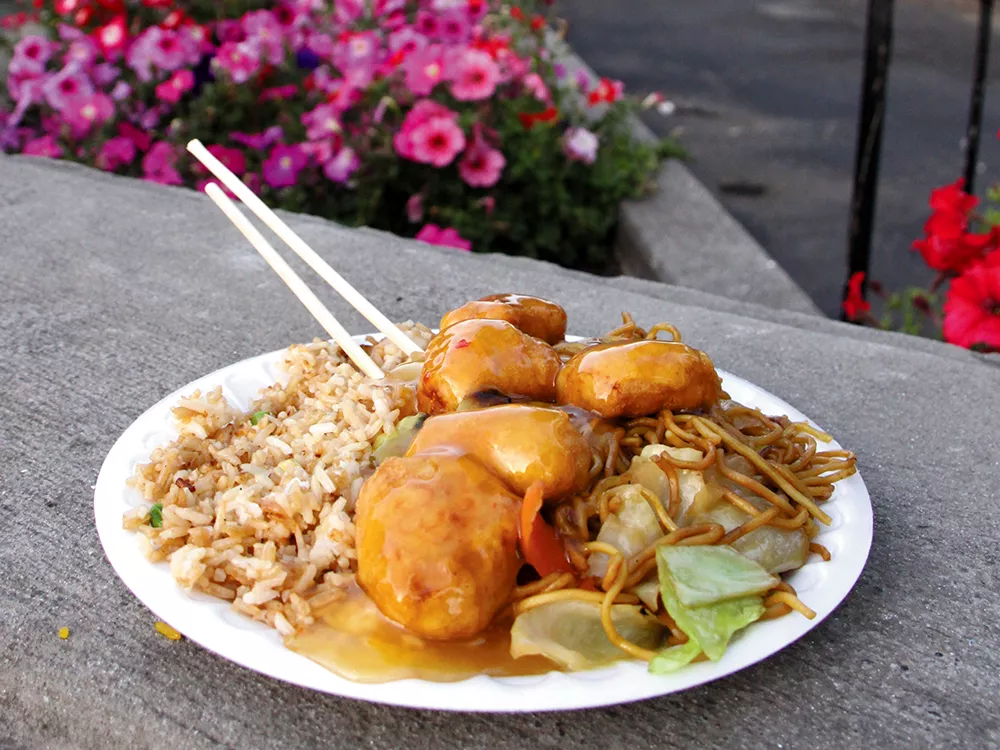 Summertime in the Inland Northwest sure tastes good. Outdoor dining opportunities abound during the three-ish months of the year's warm weather, from brew fests and county fairs to the always anticipated, stuff-your-face-for-six-days-event, Pig Out in the Park. Whether a seat under the endless blue sky is your preferred place to take in nourishment from June through August, or you simply enjoy a new culinary experience here and there, take a good look at this roundup of indulgently delicious eating events across the region.
Wallace Huckleberry Festival
Every summer up in the Inland Northwest's evergreen-treed mountains, a little purple berry grows. This berry is so loved and delicious no matter what form it's in — beer, ice cream, bread, jam, pancakes, chocolate — people go to almost any length to get their hands on some. Whether you go to this annual food-centric event to try every kind of huckleberry dish you can find, or to join the hordes of berry pickers searching for purple gold, your tastebuds are in for a sweet treat.
Aug. 16-17 • Downtown Wallace, Idaho • wallace-id.com
Other Huckleberry Fests: Schweitzer Huckleberry Festival (Aug. 4) includes a pancake breakfast, pie-eating contest and berry-picking opportunities. Schweitzer Mountain Resort, Sandpoint, Idaho. schweitzer.com
National Lentil Festival
On the Palouse, the lentil is king. So much so that this little legume has hosted its own national party each year in Pullman for the past quarter-century. Who knew lentils could be cooked into almost anything? Try some lentil chili — from the world's largest bowl of it, that is (Fri, 5-8 pm) — and lentil pancakes ($3-$7), as well as lentil-infused dishes sold by each of the festival's food vendors. Then wash down all those delicious legumes in the beer and wine garden, featuring local breweries and wineries.
Aug. 16-17, Fri from 6 pm-9 pm, Sat from noon-4 pm • Free admission • Reaney Park and downtown Pullman, Wash. • lentilfest.com
Pig Out in the Park
The anticipation Spokanites feel for this annual outdoor food free-for-all is akin to that of a child's to Christmas morning. This Labor Day Weekend festival has been running strong for more than three decades, boasting around 50 local food vendors, multiple beer gardens and almost nonstop live music to accompany the open-air dining experience. Pig Out boasts everything from greasy fairgrounds-style food to gourmet-inspired treats — chocolate-dipped cheesecake, anyone?
Aug. 28-Sept. 2, from 10 am-10 pm daily • Free admission, most menu items under $10 • Riverfront Park Gondola and Clocktower Meadows • spokanepigout.com
Spokane Oktoberfest
Just as summer foliage starts to fade from green to yellow and the seasonal beers of fall are being bottled and stocked on store shelves, Spokane's beer lovers flock to Riverfront Park for the increasingly popular Spokane Oktoberfest. Hosted by the Washington Beer Commission, this year's fourth annual brewfest is set to feature 24 Washington-based craft breweries pouring more than 50 different beers. Each year, the number of food options at the event has grown, and with the increasing number of local food trucks popping up, it's a safe bet there'll be plenty of delicious options to go with all that beer.
Sept. 27-28, Fri 4-8 pm, Sat noon-8 pm • $15-$20 • Ages 21+ • Riverfront Park Gondola Meadow • washingtonbeer.com
Other outdoor beer tasting events: Silver Mountain Brewsfest (Aug. 3 starting at 1 pm) features beers from local and regional breweries. Silver Mountain Resort, Kellogg, Idaho. silvermt.com.
Schweitzer Fall Fest (Aug. 31-Sept. 2) is all about beer, food and music on the mountain. Schweitzer Mountain Resort, Sandpoint, Idaho. schweitzer.com
Green Bluff Fruit Festivals
The bounty of the Inland Northwest is, for the most part, unending from July through September.
One indication of this is the string of fruit festivals at Green Bluff throughout the summer. For two weekends in July, Green Bluff's orchards are bursting with juicy red cherries, ready to be eaten off the stem or baked into pies, cobblers and all kinds of goodies.
From Aug. 17 through Sept. 2, Green Bluff is all about peaches: peach ice cream, peach cobbler, peach pies and any other dish you can think of that might taste better with peaches. Green Bluff vendors offer up more than peaches, but it's completely acceptable to just stuff your face with the juicy, sweet fruit.
Finally, at the end of the growing season, comes the fruit Washington does best: apples. The always popular Green Bluff Apple Festival takes place every weekend for about a month, from Sept. 21 through Oct. 27. Sample fresh apples baked and cooked into delicious homemade treats on site, then bring your own bushel home to enjoy.
Cherry Festival, July 20-21 and July 27-28 • Peach Festival, Aug. 17-Sept. 2 • Apple Festival, weekends from Sept. 21-Oct. 27 • greenbluffgrowers.com