Some things haven't gone as planned for Steve Gibbs, and yet The Art Spirit Gallery creator says he feels fortunate.
Gibbs never planned to transform Coeur d'Alene into an arts destination, for example, nor impact the Northwest arts community or even develop a gallery, much less one that has paid out more than $3.5 million to mostly local artists to date. He's done all that and more. Next year, in fact, he plans to celebrate the gallery's 20th anniversary.
But this year, Gibbs was diagnosed with amyotrophic lateral sclerosis (ALS), an incurable neurological disease. Gibbs was used to putting in 65-hour weeks, but now he's down to about 20 hours at the gallery punctuated by doctor's visits, spending time with loved ones and preparing for the future, whatever that may be.
"It's hard to say there's a good side. It gives you that time to put things into place," says Gibbs. "I do not have a deep pocket in terms of financial wealth, but I do feel wealthy in other ways," he says.
Gibbs relocated to Coeur d'Alene in the mid-'90s to pursue fine art, leaving California and a successful graphic design career behind. He met artist John Thamm, took classes from him, and in 1997 developed Thamm's studio-gallery space into The Art Spirit Gallery.
"Steve worked hard and has several qualities needed to run a gallery that is successful and sustainable," says Thamm, adding that Gibbs has a discriminating eye when selecting artists' work and marketing savvy, designing promotional materials that appeal to general audiences and potential art collectors alike.
The downside, if there was one: developing the gallery meant forsaking his own artwork. "There just wasn't time to do both," says Gibbs.
To keep visitors interested, he developed a unique exhibition strategy of new work every month. It meant stripping, patching and painting walls; repacking and storing past artwork; unpacking new art; customizing the layout; making title cards and accompanying materials; cleaning, and getting ready for the opening.
"That's his art," says former gallery assistant Janet Torline, who helped Gibbs relocate the gallery in 2003 to its current location at 415 Sherman Ave.
Gibbs also recognized that expanding awareness of the arts in Coeur d'Alene — visual arts, but also music, theater and dance — was a win-win. He approached the Coeur d'Alene Chamber of Commerce with an idea toward creating an umbrella arts organization.
"It really transformed downtown," says former chamber president Jonathan Coe. Gibbs, he says, had a shared vision of arts as an economic driver, helping create what would eventually become Coeur d'Alene's nonprofit Arts & Culture Alliance, which helps promote the arts and network with arts organizations.
"Steve is all about community through the arts," says Torline, who met Gibbs through Pamela Carlson and her husband, George, whose work Gibbs has exhibited since 2001.
"I always felt it was a mutual, trusting friendship," says Carlson, a highly collected, internationally acclaimed painter and sculptor. "I just realized he had a real sincerity about his commitment to standards. And he had this awareness about what art is through diversity of styles."
"There isn't a particular area or type I won't show," says Gibbs, "they just have to be pushing and growing."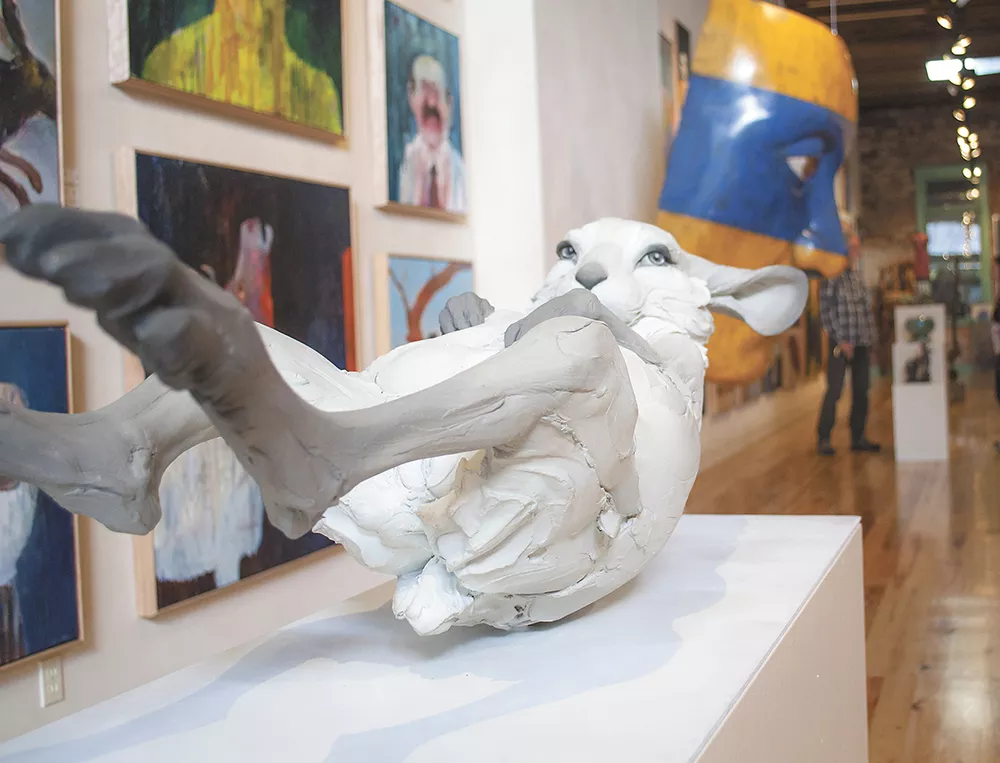 Many of the 76 artists he represents, along with friends, family, and local businesses and nonprofits like Team Gleason, have come forward to help Gibbs. An October benefit concert sold out quickly, while the November benefit exhibition features works from Gibbs' art collection and artist-donated works. The University of Idaho has accelerated discussions that Gibbs initiated prior to his diagnosis about forming a nonprofit partnership, says Charles Buck, the associate vice president and center executive officer for the university's North Idaho campuses.
Although some of the structure and priorities have yet to be worked out, says Buck, "the point of agreement is that everyone wants the gallery to continue to be the cultural asset it has been."
"We have a very good crew in here that has been showing how well it can run with me stepping away," says Gibbs, acknowledging the herculean efforts of gallery assistants Blair Williams, Kasey Davis and Teresa Runge and assistant curator Mason Miles.
Idaho Commission on the Arts Executive Director Michael Faison says Gibbs inspires him personally and professionally. Faison, who met Gibbs in 2007 after he was appointed to the ICA Board — Gibbs has been reappointed twice since then — admires Gibbs' art advocacy and leadership, and even how he's dealt with ALS so openly and directly.
"He's one of these eternal optimists, and he always approaches everything and everybody in the work with a sense of optimism and goodwill."
Gibbs says that the outpouring of support has been appreciated, even if at times it's been overwhelming.
"It's hard to be down when everywhere you go, people want to hug you," says Gibbs. ♦