People have been mixing a little of this and a pinch of that in a shaker or a mixing glass since the early 1800s, creating the beloved alcoholic concoctions we call cocktails.
In the early days, it was novel to mix booze with bitters, a little sugar and a whisper of orange, which we now call an old fashioned. As soon as classics like this caught on, bartenders began changing them up. It kept things fresh for patrons who wanted to branch out, and it allowed bartenders to showcase their creativity.
That's still the case. It's tough to find an original drink that doesn't have roots in one that came before, with some inspired by two or even three recipes.
"They are blueprints that work," says Shawn Heale, bartender/owner of Garageland. "They are classics for a reason. A lot of classics are just twists on classics. That's how it started out, everything was kind of a riff on each other, and it's just grown from there."
We asked four local bartenders to share one of their own riffs on a classic.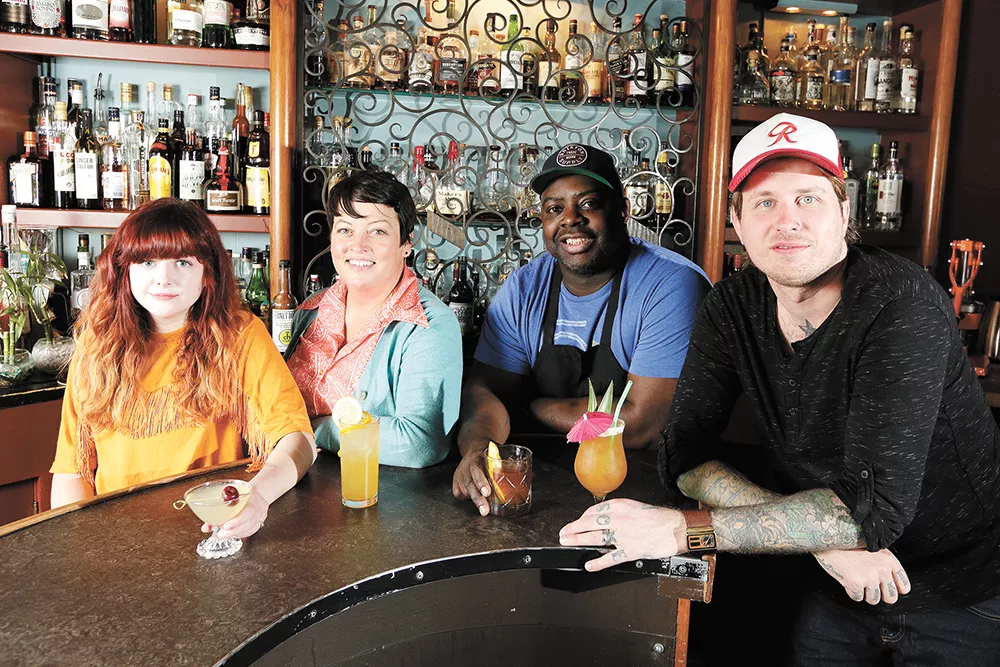 AVANT GRANT, Boots Bakery & Lounge
Havana Hangover, riffing on the old fashioned
"I focused on the old fashioned because so many people do it wrong," says Grant.
He has a particular fondness for its balanced simplicity, originally developed in the 1880s in Kentucky. Inspiration for this riff came from Cuba, where so many delicious drinks first appeared.
"When you think of Cuba, you think of cigars and rum," says Grant. "I wanted to create a drink that evoked all of that."
The first step was dialing in his house-made tobacco tincture, made with a cigar.
"I wanted enough in there to get the flavor, but not too much because, you know, nicotine," says Grant.
The tincture takes about a week and a half to make, and Grant doesn't completely replace angostura bitters with the tincture; it's about half and half, enough to create a totally new flavor.
Next, Grant swapped bourbon for high proof rum. The result is a drink that goes down even more smoothly than the original.
"It's not like my drink is the 'new fashioned,'" says Grant. "It's an homage to the old fashioned."
PATTY TULLY, Baby Bar
Baby Tea, riffing on the Long Island iced tea
You probably know the Long Island as a one-way ticket to drunkenness. There is some controversy about where it first appeared; the drink most of us know is claimed by a bartender named "Rosebud" Butt as an entry into a 1972 contest to create drinks with triple sec. Tully is not a fan.
"I outlawed the Long Island iced tea at the Baby Bar years ago because I wanted people to drink things for the taste rather than the quick effect," says Tully.
One look at the ingredients might tell you why: equal parts tequila, vodka, white rum, gin and triple sec (traditionally 1.5 ounces each) mixed with 2.5 ounces of lemon juice, 3 ounces of simple syrup and a dash of cola. As Tully says, it's "a large glass of sugar and alcohol."
Tully is breaking her moratorium for her new creation: Baby Tea. She's keeping the vodka, gin, tequila and rum, but taking them down to 1 ounce each. Along with lemon, she's adding orange juice and a little tamarind syrup, derived from a fruit traditionally associated with India, which adds a sweet and sour component. Instead of cola, she's adding soda water.
"With this new version, the taste is very summery, and a tall Collins glass looks a little classier than a pint glass," says Tully.
Far from being an alcohol bomb, Tully's new version is tart and refreshing, but still packs a punch.
SHAWN HEALE, Garageland
Server on Acid, riffing on the Surfer on Acid
Maybe you haven't heard of Heale's original inspiration. It's part of the collection of "club drinks that bartenders scoff at," he says.
This one was invented by Eric Tecosky in the early '90s, yes, at a club. Its original creator calls it "the most lowbrow drink," featuring Jägermeister, coconut rum and pineapple juice.
For his new version, Heale replaced Jägermeister with Fernet Branca, widely known as the bartender's handshake, to take things from surfer to server. He kept the coconut rum and the pineapple, but added BG Reynolds passionfruit syrup and Bittermens Tiki bitters.
"The Fernet is a lot more astringent so I threw in some passionfruit syrup; then it was a little too sweet, so I added the bitters," says Heale.
Why remix a club drink?
"There's no bad drinks, only bad bartenders," he says.
CABBY BARNARD, Bon Bon
Rosebud, riffing on the Last Word
"What I like about the Last Word is that even though it's a classic and maybe has some intimidating-sounding liqueurs in it, the taste is really approachable," says Barnard.
The Last Word originally came onto the scene in the 1930s, created in speakeasies. It's simple: equal parts gin, Luxardo maraschino liqueur (an Italian liqueur that tastes nothing like red maraschino cherries), Green Chartreuse (a French herbal liqueur) and fresh lime juice.
Barnard's riff's cleverness starts with the name. "Rosebud" is the last word in Citizen Kane, perfect for a bar nestled next to a movie theater. She doesn't change much: instead of gin, Barnard uses citrus-infused aquavit. The drink starts with a rosewater rinse.
"It's somewhere between a botanical gin and a Yellow Chartreuse," she says. "It gives it that extra herbal punch, marrying the flavors in a similar way, but bringing them out a little more."
The drink is usually garnished with a lime wedge, wheel, or twist, but Barnard uses a house-preserved, locally grown Bing cherry.
Barnard knows it can be hard to try something new.
"You think, 'I don't know what two of these things are, I'm not going to order that,'" she says.
Now that you know mixology's secret, you may be able to trace the origins of other cocktail riffs at local bars and restaurants. Don't be afraid to ask the bartender where the inspiration began — you never know what new favorite they might create next.♦