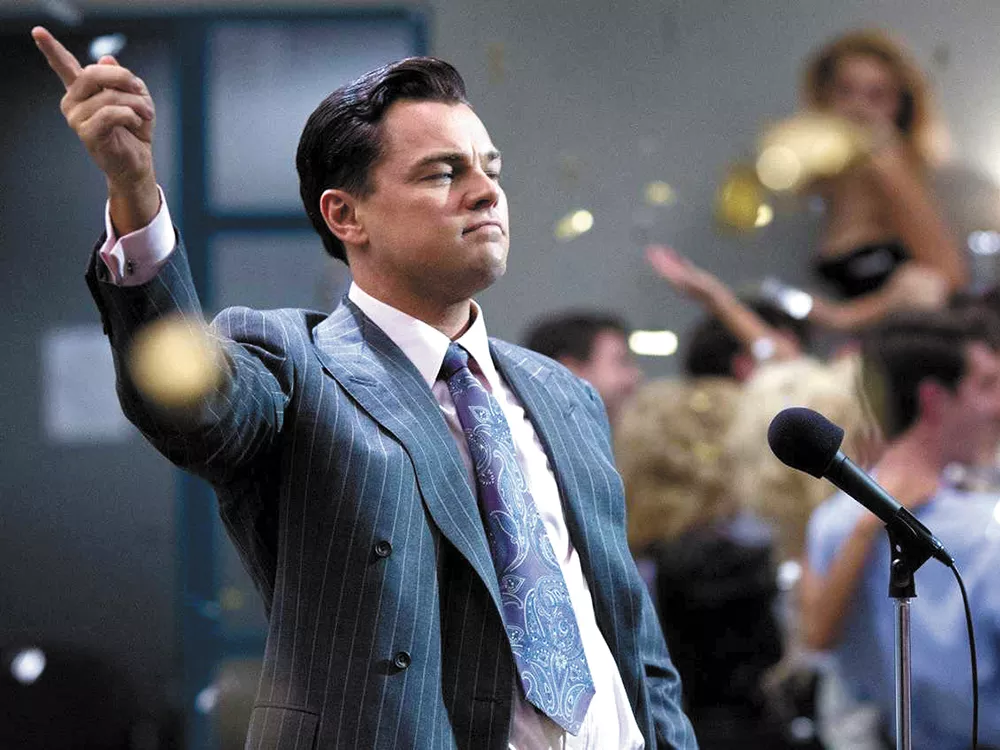 "Crazy? This is obscene."
With those four short words, Rob Reiner (as Max Belfort) delivers the perfect summation of The Wolf of Wall Street. Martin Scorsese's satirical adaptation of a memoir by Jordan Belfort, who rose from Long Island penny-stock swindler to shady Wall Street power player with his brokerage firm Stratton Oakmont, is so over the top, it risks becoming what it sets out to mock. But it's a spectacle of opulence that demands to be seen.
The Wolf of Wall Street is all about Jordan Belfort's (Leonardo DiCaprio) pursuit of more: More money, more stocks, more vulgarity, more power, more excess, more sex and more drugs. It's the warping of the American dream into pure basal depravity. The thrill of more becomes Belfort's addiction, and damned if he's going to slow down for the FBI, SEC or anyone else. "I want you to deal with your problems by becoming rich," proclaims Belfort during one of his many monologues in front of Stratton Oakmont employees, who eat up his every word with the fervor of cult members. Even in the film's voice-over narration, Belfort breaks the fourth wall and attempts to sell the audience his perspective.
The role of Belfort seems tailor-made for DiCaprio, who struts into every scene with a sleek intensity that feels absolutely effortless. But for as well as he plays the part, Belfort ultimately lacks any real depth. He seems less a real human being than a walking personification of an unquenchable appetite for excess. It's actually Jonah Hill who turns in The Wolf of Wall Street's best performance, as Belfort's nebbish oddball sidekick Donnie Azoff.
The main fault of The Wolf of Wall Street? It's doomed to be misinterpreted by all the wrong people. The satire doesn't cut sharp; it's broad and overarching. It's three hours of mainlined testosterone fantasy, and at some points it's hard to tell if it's mocking the insanity of excess or is merely one more of its byproducts. This being the case, there'll be a generation of meatheads who see Belfort's story as the success of the new American dream, rather than a declaration of how twisted and obscene it all really is (similar to Wall Street in the '80s). But while The Wolf of Wall Street could've used a little more bite, it's still a majestic beast to behold. ♦