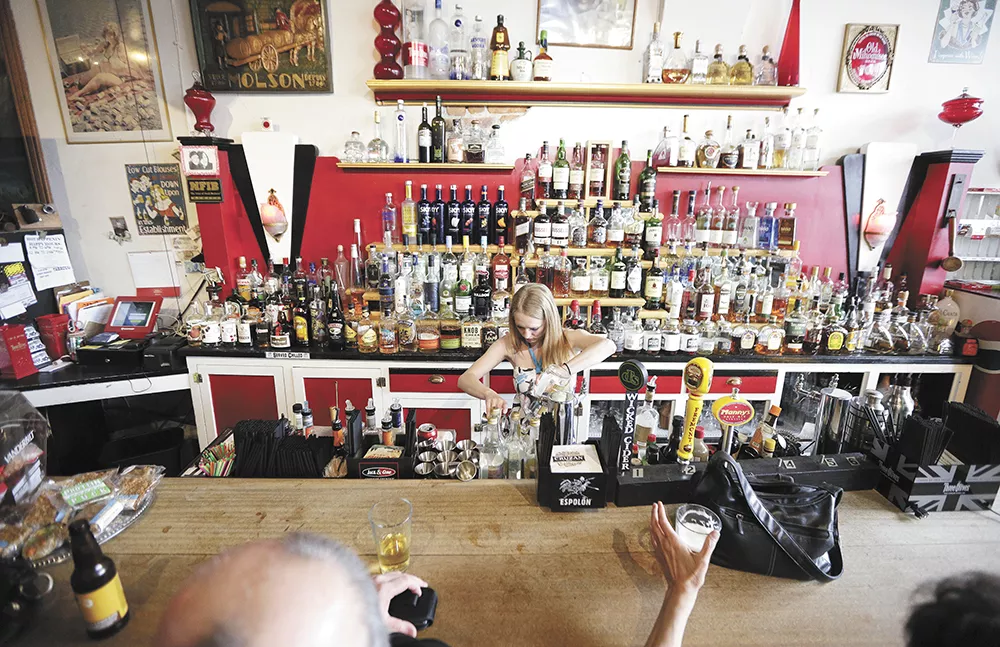 Visiting the Checkerboard Bar on a sunny and hot Tuesday afternoon, there are a few indications of the place's history.
There's the building, for one, a cool brick structure on East Sprague that's been home to a bar of one kind or another basically since Prohibition ended more than 80 years ago. The former Checkerboard Tavern has been open since 1933, and became the Checkerboard Bar just a couple of years ago, adding liquor to its existing beer lineup.
Inside, the long, wood-topped bar and back-bar cupboards are the sort you only find in old gems like this. The walls above the bar are dotted with some weathered advertisements for Old Milwaukee and Molson. Hanging from a peg is a wooden mallet that in the old days helped tap kegs; now it's more of a jokey threat to anyone thinking about getting obnoxious.
That can happen at any bar, even one that has the everyman appeal of the Checkerboard, but all is mellow and congenial this afternoon. The clientele today includes a biker playing pinball, a couple of chatting conspiracy theorists sharing thoughts on NASA over a pint, and some construction workers just off work, stopping for a game of pool.
Happy hour happens twice daily here, during a pretty typical 4 to 6 pm window, and again at midnight 'til closing time. If you're lucky, you might catch a band playing the stage tucked in the window, and segue straight into late-night deals.
Bartender Brandy Miller has been working at the Checkerboard for 18 months, mostly during daylight hours. People tend to focus on shots during happy hour, she says, particularly Sinfire and the "more syrup-y" Fireball.
I opt for the $1-off-microbrews deal and enjoy a pale ale from nearby Bennedito's Brewpub. Just a few doors down the block, it's a good post-happy hour food option, but you might just want to delve into the food at the Checkerboard. The happy hour "Fried Food Platter" comes with two jalapeño poppers, five onion rings and half an order of fries.
The Checkerboard has everything you need in a happy hour. Beyond the drink and food deals, there's the pool table and two pinball machines — you can choose being watched over by Hugh Hefner on the Playboy machine, or Elvira, Mistress of the Dark on the other. The music bounced from Wilco to Talking Heads to Bonnie Raitt while I was there, so no complaints from me. A jukebox means a constant roll of the dice, depending on who's in charge.
A vast backyard has tables where you can soak in the sun or stay covered from daunting rays or rain. Today, one TV inside plays a Pauly Shore movie, the sound thankfully muted, while another shows a slide show of beloved past parties and favorite customers. The booze collection is excellent, including a wide array of whiskeys and bourbons (my personal favorites) as well as local distilleries' products and some high-end tequilas. The move to be more than a tavern was clearly taken seriously. ♦
---
Happy Hour
Mon-Tue and Thu-Fri, 4-6 pm, $3 shots of Hot Donkey, Patron Incendio, Sinfire and Fireball, $1 off draft microbrews, $5 fried food platter (jalapeño poppers, onion rings, fries), Wed, $1 select beer all day