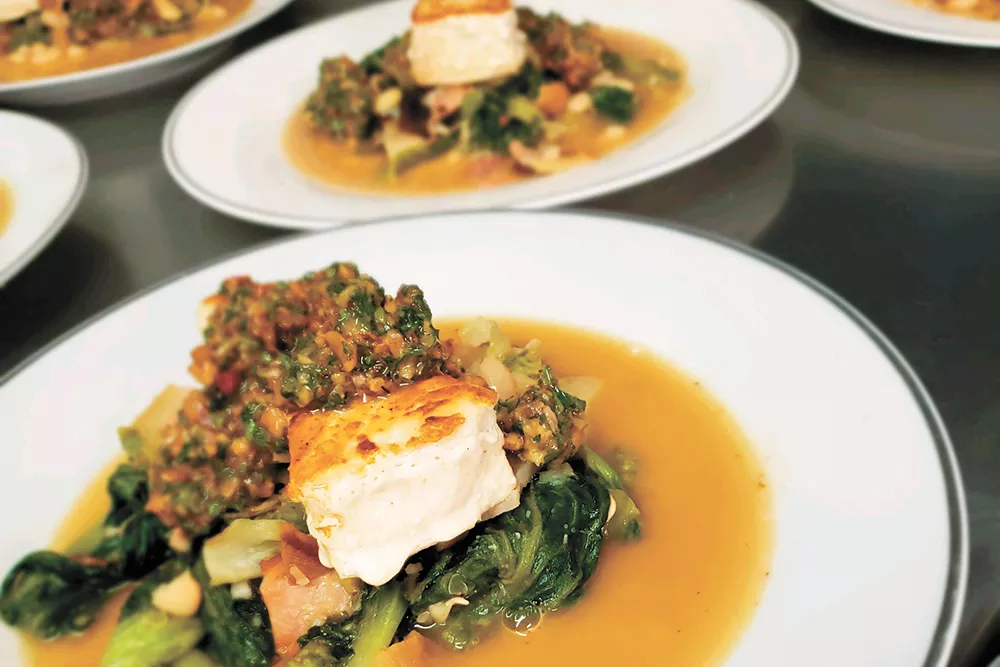 Four feet of snow and temperatures below freezing but you're hankering for prime rib?
No problem, says the Pack River Store's new owner, Alex Jacobsen, a California Culinary Academy grad who uses Friday's extra prime rib for shaved prime rib sandwiches ($11) on Saturday.
Jacobsen's can-do mindset and sense of culinary adventure have transformed the out-of-the-way Sandpoint locale popular with river-goers in the summer and locals year-round. It's the kind of place where you can fuel up both your car and your tummy — fresh-baked cinnamon rolls, anyone? — stock up on party supplies, do your laundry and grab a pack of smokes.
"We think the store is its own crazy, weird, funky ambiance," says Jacobsen, who relocated from Santa Cruz, California, as a high school freshman when his mother Arlene Dardine purchased the store in 2000 from the people who built it in 1975.
After a stint at Sandpoint's Spud's Waterfront Grill, Jacobsen returned to California to attend CCA and pursue cooking professionally, working throughout the Bay Area under a number of highly esteemed chefs. At the now-closed Eccolo in Berkeley, for example, he worked under Chris Lee, formerly of Chez Panisse, the Alice Waters restaurant credited with helping launch the local, sustainable, seasonal and organic food movement.
Jacobsen credits Lee with instilling in him a love of curing meat.
"It's a dying art," says Jacobsen, who worked for Jeremy Hansen at Santé Restaurant & Charcuterie in downtown Spokane after relocating back to Idaho.
Try Jacobsen's pork loin cured with fennel and called by its Spanish name lomo, similar to Italian lonza. Also available by the pound in the store's deli case: smoked chicken, Nova Scotia lox, pastrami and Canadian bacon, as well as the weekly featured "take-and-bake" specials like manicotti or beef stroganoff ($12 each). Don't forget dessert, like home-baked pies.
In addition to take-out items, Pack River Store serves up breakfast, like huevos rancheros ($11), biscuits and gravy ($8) and benedicts too big to eat in one sitting ($13).
Once a month the Pack River Store hosts five-course meals featuring foods diners might expect in a white-tablecloth establishment. Here's where Jacobsen really shines, with dishes like a pan-roasted swordfish topped with salsa agresto, made with green grapes, walnuts and almonds, or a chocolate and butterscotch torte with nutmeg crème anglaise and huckleberry compote (dinners are $75/person).
Jacobsen wants people to know what the "new" Pack River Store is capable of.
"Hey, we're not just hot sandwiches, cigarettes and beer." ♦
Pack River Store • 1587 Rapid Lightning Rd., Sandpoint • Open Mon-Fri 6 am-7 pm, Sat 7 am-7 pm, Sun 7 am-5 pm • packriverstore.com • 208-263-2409