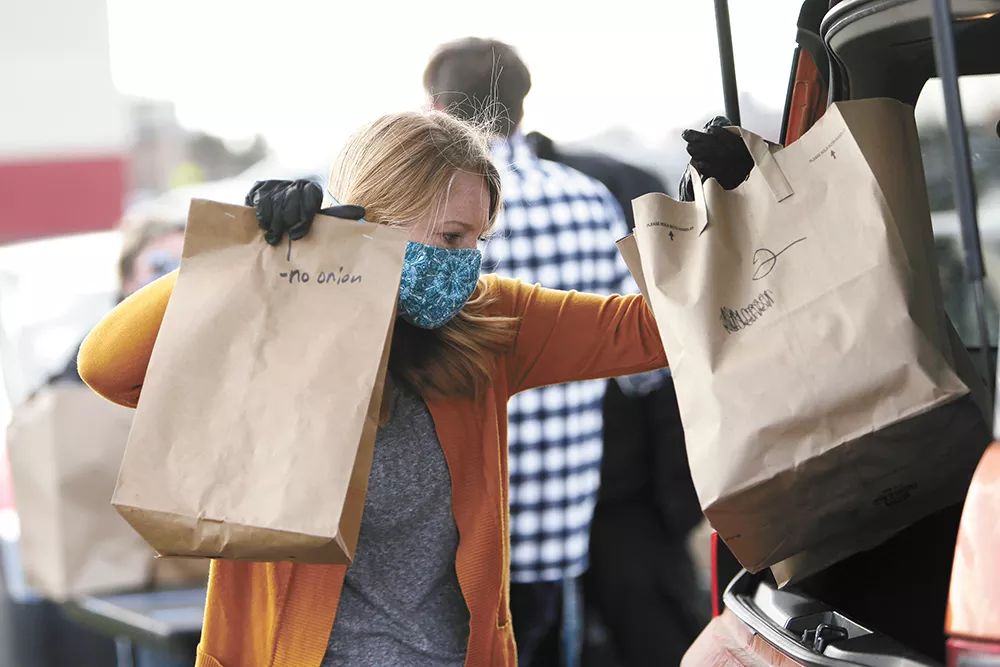 As soon as state Rep. Marcus Riccelli returned home from Olympia, he jumpstarted a community-wide effort to feed Spokane constituents deeply affected by the COVID-19 crisis.
In its first two weeks, Riccelli's project Spokane Food Fighters served nearly 4,000 emergency meals to residents struggling with food insecurity as the pandemic stretches local resources thin.
"I really felt pressure of what we were going to do to address immediate needs," Riccelli recalls. "We were kicking around ideas about the restaurant shutdown, and newly food-insecure people and those who struggle with that regularly."
The small team behind Spokane Food Fighters brought the idea live in just a week, with a website and logistical management by local developers Robbi Katherine Anthony and Patrick McHugh, and financial management by the Smith-Barbieri Progressive Fund.
The project is partnering with local restaurants and catering services, including chef Adam Hegsted's Eat Good Group, to prepare meals delivered daily by volunteers. Second Harvest is also on board, providing 15-pound "emergency food boxes" that can be requested through Spokane Food Fighters' website, spokanefoodfighters.org.
Donors can contribute directly online, where volunteers can also sign up for delivery routes.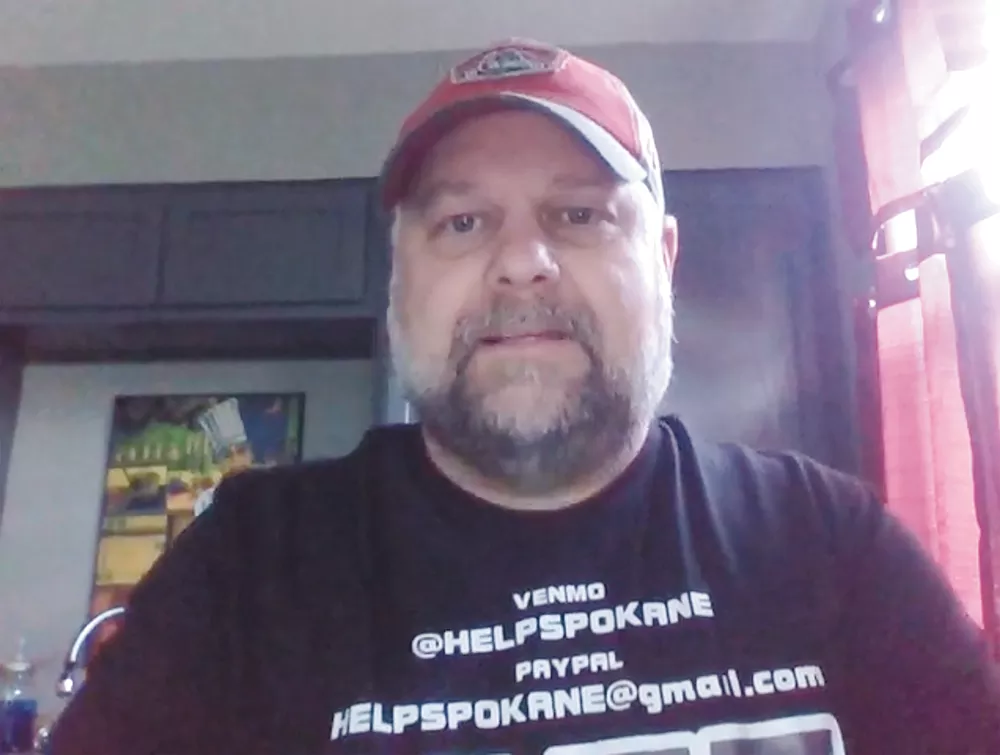 Families and individuals in need can request reheatable, ready-to-eat meals once a week, as the service was designed to supplement existing services from food banks, schools, Meals on Wheels and others, Riccelli explains. Each meal includes a resource sheet to connect those who may need more help with appropriate services. Currently, Spokane Food Fighters is only available within Spokane city limits.
"We pride ourselves for being grassroots and nimble," Riccelli says. "Someone wrote to us today about being immunocompromised and who used to go to the food bank and can't now. Whether we're providing one meal to get them by, or connecting them to a sustaining resource, we're excited to help out."
In addition to feeding those in need, Spokane Food Fighters is bringing some business to locally owned restaurants struggling to keep the lights on and staff employed since having to make the overnight switch to take-out-only service.
Restaurants that have provided donation-funded meals so far include Cascadia Public House, the Boiler Room, Remedy and No-Li Brewhouse.
"To have that connection with the service industry is great," Riccelli says. "Some have been asking if they could cut down meals in cost, but we find a price range and we want to pay them so they are able to keep their workforce hopefully somewhat intact."
Each evening at 5 pm, Rick Clark logs on to Facebook and starts asking people for money.
The cash isn't for him, but to provide fresh, hot meals from a local restaurant's kitchen to feed the homeless and other at-risk populations. As the founder of the local nonprofit Giving Back Packs, which supports people experiencing homelessness, Clark knows the impact a hot meal can have.
During the first 13 evenings of these nearly nightly livestreams, the local philanthropist raised more than $13,000 that's been spent at area restaurants including Borracho Tacos & Tequileria, TT's Old Iron Brewery & Barbecue, Charlie P's, Mac Daddy's Pub & Grill and Mary Lou's Milk Bottle.
Clark is online for just 15 minutes a night, and says each session so far has averaged about $1,000.
"It's a win-win for everyone," Clark says. "We're dumping money into buying full-price items from restaurants. We have 20 delivery drivers and they go pick up the food and bring it to a local shelter."
Recent beneficiaries include Truth Ministries, Crosswalk Youth Shelter, Meals on Wheels, City Gate and others.
The online hub for Clark's efforts is the Facebook group "Live at 5 With Rick Clark," which hosts the donation stream Monday through Saturday at 5 pm. Donations of any amount — several nightly watchers drop in to give around $10 — can be made through Paypal, Venmo and the Cash App, as Clark updates the total raised and thanks each donor on-stream.
In the coming weeks, Clark plans to work through a long list of area restaurants, ranging from fast-casual to fine dining, that he'll purchase meals from to donate to a group or nonprofit in need.
"We say that we only have one rule: You don't get a discount," Clark says. "We want to pay full price and want to pretend that 100 people came in and bought 100 meals. Restaurants don't know how to react, and the community loves that we do that."
Last Tuesday, Live at 5 asked for donations to spend at Wiley's Downtown Bistro to serve clients of Revive Re-entry, a nonprofit that helps former felons transition into housing and jobs.
Chef-owner Michael Wiley got the order for 50 meals the following day and decided to use some extra chicken he'd ordered to go alongside mashed potatoes and fresh sauteed veggies. It was the fifth such meal for at-risk groups, purchased through donations, that Wiley's cooked in the last three weeks.
He says the influx of cash from big orders like these helps right now, even if it's not enough for him to bring any of his employees back to work.
"We're like every other restaurant out there. Complaining about it is not going to do any good," Wiley says. "We're going to do what we do and pull up our bootstraps tighter and adjust."
Efforts to feed people while supporting local businesses are not limited to the Spokane Food Fighters and one-man donation drives.
Spokane restaurateur Matt Goodwin began his "Help a Restaurant, Help a Hero" GoFundMe campaign last month to keep his employees working while aiding the community. The effort has since raised more than $12,700 to provide meals to first responders in health care and emergency services. The campaign's goal is to serve 100 meals a day for 20 consecutive days.
"We've been able to get hours for eight hourly employees and one salaried manager," Goodwin notes. "We thought it was a great way that the general public could help a restaurant and help our health care workers, and could do so while sitting at home, social distancing and quarantining."
SNAP Spokane recently launched the Cuisine for Clients program to purchase restaurant meals for residents of its affordable housing complexes. In the program's first week, nearly $600 was raised to purchase meals from featured restaurant and SNAP small business client Cochinito Taqueria. The meals fed 45 people at two of SNAP's apartment complexes.
"We know the restaurant industry is hit hard, and the goal was also to help clients who were laid off, or have lower income and had their hours cut," says SNAP spokeswoman Nicole Bishop. "We thought, let's combine those efforts and start a fundraiser to support SNAP-supported businesses and give back to some of our clients."
Local spots benefiting next are Alpine Deli and Sweetbox Bakery. Supporters can make a donation through SNAP's website.
"SNAP has an 80 percent success rate for businesses remaining open after five years, which is really the inverse of the national average," Bishop says. "We know this is a storm the restaurants have to weather together, and as much support as we can provide is essential to us. We build relationships with these restaurants and are invested emotionally. We want to see them succeed." ♦
Support the Cause
Spokane Food Fighters, spokanefoodfighters.com
SNAP Cuisine for Clients, snapwa.org/together
Live at 5 With Rick Clark, bit.ly/LiveAt5WithRickClark
Help a Restaurant, Help a Hero, gofundme.com/f/help-a-restaurant-help-a-hero