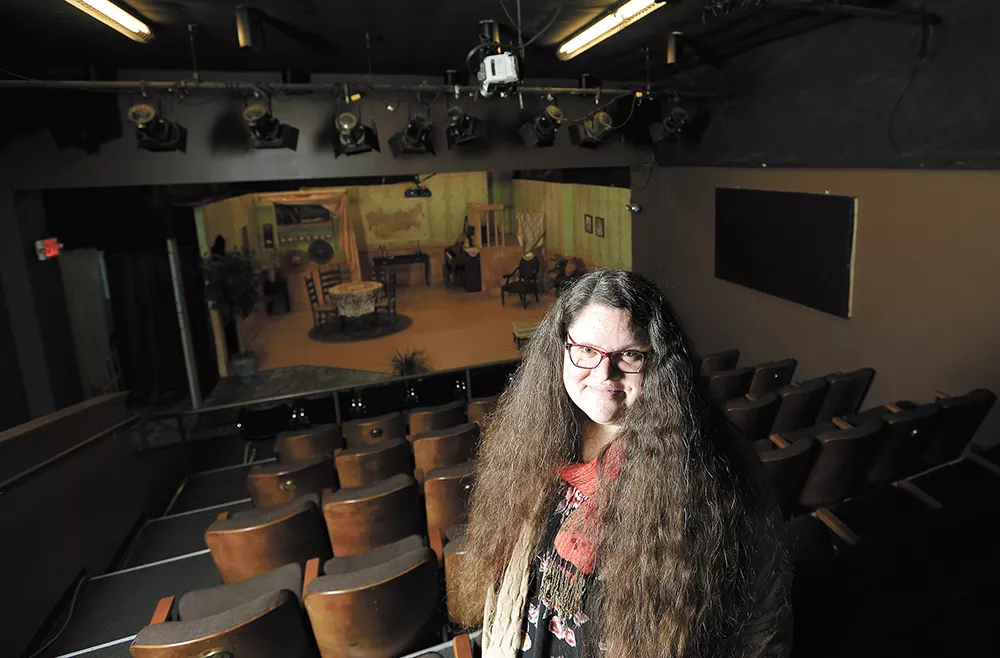 In the six years since its inception, Spokane's Stage Left Theater has made a point of performing the kinds of lesser known and experimental plays that might not be commercially viable to larger venues but have some intrinsic social, intellectual or artistic merit worth highlighting. The theater's current season, for instance, kicked off with Michael Hollinger's recent translation of Cyrano de Bergerac before moving on to works like Yussef El Guindi's post-9/11 drama Back of the Throat and the Native American historical play At the Sweet Gum Bridge.
Amid longer runs of full-length plays, Stage Left's 2017–18 calendar has also continued or introduced a variety of short-run festivals. These have the slightly different but parallel role of presenting new or noteworthy work by a variety of playwrights while also giving green actors and directors the opportunity to produce them.
The theater's Fast and Furious festival took place at the start of February. Now in its fifth year and under the primary supervision of local actress and director Rebecca Cook, Fast and Furious, true to its name, is a rapid-fire showcase of single-page, roughly two-minute plays from writers around the globe.
"I always say in the curtain speech that no other festival is going to give you this much variety. It tends to lean just a little heavily toward comedy, but I think there was a really good mix this year of drama and comedy. Dark comedy, actually," says Cook.
"We decided to add more plays this year, so we had 39 plays [out of] 89 submissions from all over the world: New Zealand, England, one from Norway. We do try and give a little bit of favoritism to local playwrights because it's nice to have them in the audience."
This year the festival featured seven local writers, a trio of directors and a combined cast of 27 in plays such as Immortal Combat and The Bigfoot Sighting. One in particular, Mark Harvey Levine's I'm on a Train, was the play that "everybody talked about every night," she says.
"It's a drama, but it's a particularly poignant piece where you've got two actors sitting opposite, looking away from one another onstage. One is talking about how he's imagining she's on a voyage on a train, and she's describing the things she's seeing. It's very sweet. And then in the end you realize she has passed away, and this is how he's trying to hold on to her memory. It gets you in the gut."
As a whole, Fast and Furious 5 was "really well received," Cook says. "We had full houses every night. It's become such a popular festival and such a fun night."
This weekend (March 16 to 18) brings The Long Form, which sets itself apart from Fast and Furious by spotlighting a handful of 30-minute plays solely from regional playwrights. There's Dilemmas, written by Blake King Krueger and directed by Adam C. Sharp; A Sprig of Mistletoe Up in That One Little Corner of the Jail by Matthew Weaver and directed by Jennie Oliver; and The Cosmological Constant by Ron Ford, directed by Jerry Sciarrio.
"One is definitely a comedy, one is definitely a drama and one is a kind of a nice holiday mix of the two. I would call it a dramedy set at Christmastime. It references O. Henry and has an O. Henry kind-of-flavor to it. It's not a take on Gift of the Magi, but if you've read his stories, it takes you on a weird journey and leaves you feeling good," says Cook.
At the very end of March comes the fifth installment of yet another festival, Leftovers.
"It's a 24-hour festival where we get a team of directors and actors together," explains Stage Left Managing Director Tia Wooley. "They draw the playwright's name [at random], and we give them a prop. Then they have to write a show that night around the prop, rehearse it the next day, and we perform it that same evening."
The framework might be straightforward, but the results are consistently unpredictable.
"You have no idea what you're going to get until you show up," says Cook with a laugh. "We don't even know what they're going to be until we get the plays that morning. And there's always a variation in how successful the plays are, but the stamina of these actors, directors and playwrights is what makes it so magical. It's one of the most unique festivals we have in town."
Along with The Long Form, Wooley's other brainchild is Kids Korner, scheduled for May 11 to 14. First-graders from Evergreen Elementary in the Mead School District write plays that are then transposed to the stage with the help of the theater department at Spokane Falls Community College.
Cook calls the results "beautifully insane."
"It's hilarious," Wooley says. "Kids write about whatever their passion is, whether it's cats or oranges or princesses or fish or leprechauns. And the stories don't necessarily make sense, but my thought is to help the kids see how their thoughts can be words on paper, which can then be translated into something that an entire room full of people gets to watch and enjoy."
Kids Korner has been such a hit with both students and audiences that it's been "fully embraced" by the Evergreen curriculum. Wooley is also creating a workshop that's designed to help the festival expand to other area elementary schools.
Like its counterparts, Kids Korner is meant to align with the theater's mission "to provide a venue for people who want to increase their level of experience to have a place to perform, direct or write something to be directed," Wooley says.
"What's beautiful about the Stage Left festivals is that there's something for everyone between them — young or old, experienced or inexperienced," Cook adds. "While they're a wonderful playground for us to cultivate new talent, it's also a wonderful place for our community to experience new forms of theater that we wouldn't see on a lot of fully produced stages." ♦
The Long Form • March 16-18 • Fri-Sat, 7:30 pm; Sun, 2 pm • $10 • Stage Left • 108 W. Third • spokanestageleft.org • 838-9727