The buzz about an impending ski season starts early in mountain country, typically well before summer turns to fall. Casual skiers start musing on the year ahead around the first frost if not before, and the chatter is pretty much year-round among hard-core powderhounds and backcountry recreationists.
Eli Coski, the store manager at Wintersport, has noticed a considerable uptick in customers browsing at the shop, even as temperatures remain in the 70s in early October.
"There's definitely a lot of people who are excited," Coski says. "We have a good amount of people coming in and looking around already at the new gear. With that long summer that we've been having, people are like, 'OK, I had a great summer. I'm ready for winter now.'"
The question, then, is how ready are you for hitting the slopes this season? To help you answer, Snowlander hit up local gear shops to find the latest products to help you navigate the mountains easily and safely — and look good doing it. We break it down, from head to toe.
Protect that noggin (a)
Micah Genteman, manager at Sports Creel, notes the importance of having a quality helmet, no matter your preferred mountain sport. The problem in the past, he says, is that "if you take a shot to the head in a hard shell, that helmet is pretty much lost." Enter the era of the "soft" helmet like the Giro Combyn, which offers a bit of give and takes more punishment than many of the traditional hardhats.
When it comes to goggles, more than one of the folks we talked to praised the Smith I/O7 for advancing quick-change lens technology to a whole new level. Genteman points out the twist dial on top of the goggles that makes for an easy switch, making sure you have the best vision possible, whether it's cloudy and foggy or glaringly bright on the slopes.
Likewise, Burton's goggle company Anon has a quick-change system, the Anon M2, that uses magnets, and Rhen Lyden, shop manager at Hayden Lake's Ski Shack, is a fan of the ease of simply twisting the goggle frame to pop out the lens. "They're also doing one called the Anon Mig that comes with a facemask you can magnet-snap to the bottom of the goggles," Lyden says. "When you don't want it, you just tug it right off."
Style and substance in outerwear (b)
Does it seem like you've seen a lot of neon on the mountain lately? Did you think you were having a flashback to Hot Dog... The Movie? Don't worry, it's just another example of everything old eventually becoming new again.
"It seems like everybody likes the colors from the '80s," Lyden says. "They're coming back full circle, those bright neon colors. Younger kids are wearing those bright colors again."
Another big look? Camouflage. "Trends-wise, camouflage is definitely back in," Coski says. "Camouflage is everything." Sports Creel's Genteman concurs, noting that Armada just signed a three-year deal with Realtree to put some of that company's familiar camouflage on Armada's pullovers, jackets and bibs.
Carla Geiser, clothing manager at Tri-State Outfitters in Coeur d'Alene, has noticed a distinct trend, too. "Vests, especially down and synthetic vests, have been hitting really hard," she said, noting both the North Face ThermoBall and Patagonia Nano Puff are particularly popular among the vested. "It's nice," Geiser says. "It's lightweight, you can dress it up or dress it down. They're not big and bulky. They're making them in really nice styles and cuts."
Finding great-fitting outerwear that keeps you warm and dry can be a challenge for many skiers, but Genteman says Volkl has a new line that makes it easier for people to find some great gear. The Volkl Perfect Fit system, he says, "has really cool sizing options. We've had customers who have struggled for decades trying to find something that fits and is comfortable and keeps them warm and dry. This suddenly became a very easy option" because Volkl's Perfect Fit gear covers everyone from a 30-inch to 69-inch waist and 28-to-38-inch inseam for men, and a similar range for women.
Travis Nichols, merchandise planner for Mountain Gear, says "the most important trend that we're seeing right now, and we've supported and encouraged it, is people getting into the backcountry for skiing. A lot of people watch the latest Warren Miller, and they want to get to that fresh powder." Part of hitting the backcountry is educating yourself on the dangers, and making sure you have an avalanche airbag in a backpack like those made by ABS.
Fit for feet (c)
There was a common theme when we asked about ski and snowboard trends — there's not a lot new under the sun, but there's something for everyone, at every level of expertise, to make a day on the mountain easier to enjoy.
Both Coski and Nichols mentioned the growing emergence of splitboards that snowboarders are using to access the backcountry — the Rome Whiteroom and Burton Family Tree Landlord being two examples.
For downhill skis, the longtime trend of the ever-widening ski might finally be abating, according to Alpine Haus owner Brian Ellsworth.
"Obviously everything's gotten wider for the last five to 10 years," Ellsworth said. "What we've seen in the last year or two is the trend coming back. We're never going to get as narrow as we used to be, but if people want a true one-size-fits-all ski to go out and have a fun time in all the conditions we can get around here, we've seen a trend of moving back to something a little narrower."
For skiing strictly groomers, Nordica's Hell & Back and Steadfast could work just fine. For skiers who like to combine some groomers with some powder days, slightly wider skis like the Salomon Q-98 or Blizzard Kabookie do the trick. More advanced skiers looking for powder in the trees might go a little wider with the Dynastar Cham 107 or Nordica El Capo. Both Ellsworth and Lyden noted Rossignol's efforts to lighten the tip and tail of the Rossignol Soul 7, Super 7 and Squad 7 skis via its Air Tip technology, making it easier to bounce through trees and bumps.
Boots have become remarkably customizable in recent years, thanks to heat-moldable foam in the liners. Even the hard outer shell is now able to be fitted to the skier's individual foot. Ellsworth encourages people to focus on their feet first, since a quality boot and good fit can make all the difference on the mountain.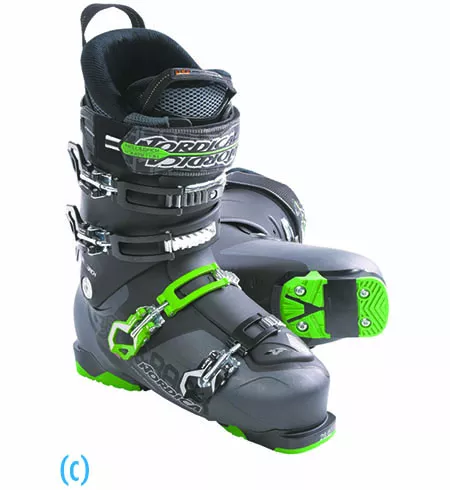 "If you have a budget, always take $100 more for boots and take that $100 out of the skis," Ellsworth says. "The boots are that important. You can be on a mediocre ski, and if you have a good boot that fits well, you're going to have a good day."
To add the comfort, you might want to consider a Hotronic FootWarmer, battery-powered heat pumping into your boots all day. Sure beats those little plastic packets. ♦