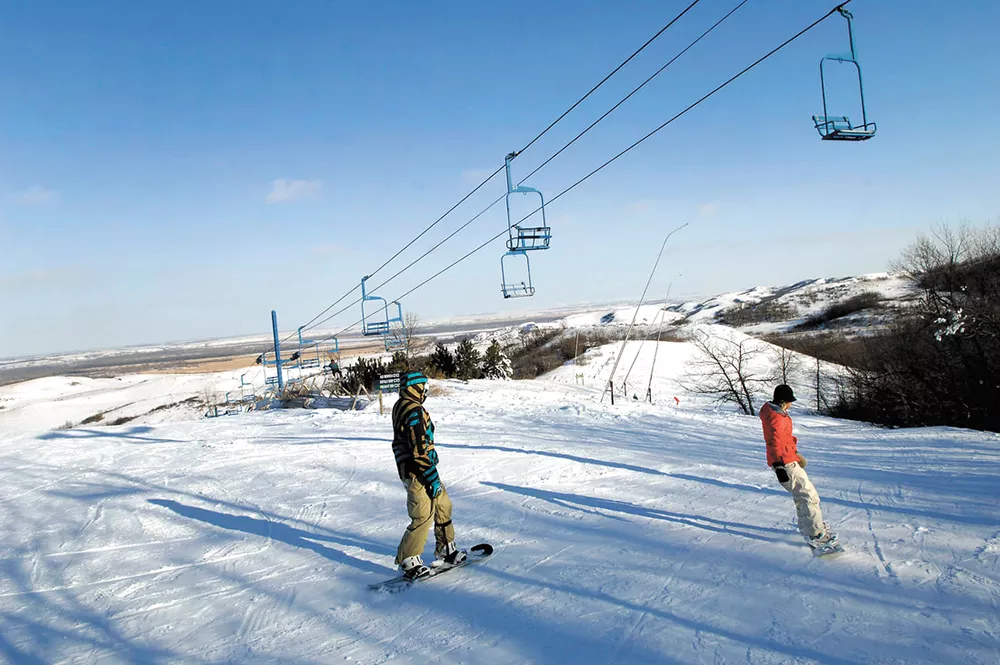 The first black diamond I ever skied was an open ribbon of snow called Rattlesnake, off the main chair at Huff Hills Ski Area south of my hometown of Bismarck, North Dakota. Taking that first shaky, uncertain turn felt like dropping off the edge of the Earth. Seasons later, a friend and I would fearlessly plunge down the steep fall line along the trees to skier's left, our descent a hot-dogging series of quick parallel turns. As I grew older and my skis longer, I began to gravitate toward skier's right, carving long and fast on the shallower pitch before popping into the air off a roll halfway down the slope.
To this day, I can still close my eyes and see every angle and curve of Rattlesnake, every glistening crystal of North Dakota snow. I know it like I know so many other runs. Red Lodge's famed Lazy M. Kodiak off the backside of Whitefish. Sacajawea on Lost Trail's Chair 4. These runs have become like old friends. And though we may not see each other every single season, it's as though no time has passed when we do. We pick up right where we left off.
Skiers and snowboarders are, by nature, adventurous. We crave the unknown in the same manner as David Livingstone, Roald Amundsen, Amelia Earhart and so many other famous explorers. Winter is the blank spot on our map, the untouched void where dragons be, into which we hurl ourselves in the hope of discovering something fresh and awe-inspiring. Maybe that something is as simple as a new line through old glades. Maybe it's as life-changing as the swell of confidence that comes from successfully shredding your first black diamond.
But every adventurer must, at some point, return to the familiar. We all have them, our favorite runs. That first cruiser we bombed dowwn as kids. The tree run that proved Mom right about always wearing a helmet. They're part of who we are, part of how we became the thrill-seeking riders we are today. To revisit them is to remind ourselves why we started strapping planks to our feet in the first place.
As a new season begins and I start hatching grand plans in the name of powder, there's still one run I look forward to making turns down the most. It may not be the steepest or the deepest, but you better believe it's the best. Hang tight, Rattlesnake. I'm coming for you. ♦