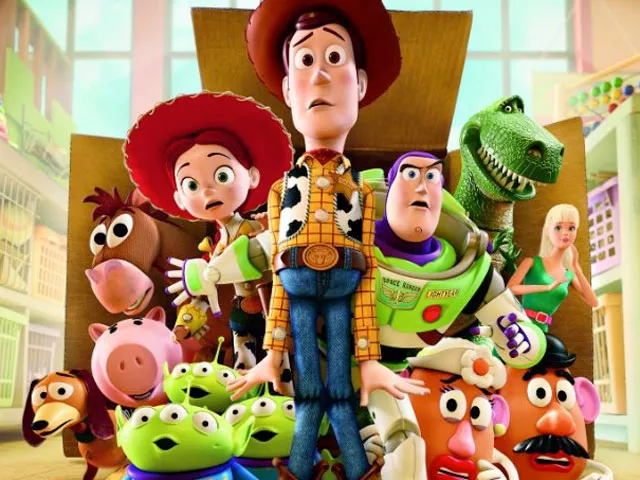 Toy Story 3
The third installment of this trend-setting classic about toys, their shenanigans, and unfailing loyalty picks up when owner Andy is 18.
Andy is legal now. He's grown into that massive head the graphics artists gave him. And he's going to college. 
College?!? 
Once again, the certainty of the toys' fate is as nebulous as the advice of the Magic 8 Ball that Woody the Cowboy (Tom Hanks) tries to consult in the original.
Sequels are doomed if they fail to do their beloved predecessors justice. Remember that great arcade scene in the first Toy Story?  A bunch of green rubber aliens chant at Woody that the Claw has chosen him. He must accept his destiny and go!
To which Woody replies, "Stop it, you zealots!"
Obviously, an 8-year-old doesn't know what a zealot is.
You're welcome, grownups.
It's that knowing adult humor, combined with cultural references to older toys that baby boomers identify with nostalgically — like Slinky Dog — that's largely responsible for the success of the Toy Story franchise.
The fact that computer-animated IMAX 3-D is like crack cocaine for moviegoers right now doesn't hurt its chances, either.
Casting is consistent, too. No one can replace the unshaven gruffness emulating from Tim Allen's diaphragm, or the exasperated man-whines of Tom Hanks. Why do you think the second Aladdin was such a flop? Once Robin Williams lent his vocals to Genie, dammit, it sucked with anyone else.
The infusion of new characters (Bonnie Hunt as Dolly, for example) is strategic: They keep the constant flow of Mr. Potato Head jokes and the goofy novelty of T-Rex's little arms from having to carry the film's comic expectations. 
I, for one, would love to see a marijuana spoof — one of the voice-actors here is Cheech Marin. But that may be asking too much. — BLAIR TELLERS
Marmaduke
We know it's easier to make money from a brand
than it is from a single movie.
But some brands are stinkers
and no matter how much one tinkers
with the story, it can end up quite bland.

It's fine to take pride in reinvention,
but this dog nearly predates Eisenhower.
That's not a reboot, that's a complete resurrection.
Owen Wilson doesn't have that much star power.
— Luke Baumgarten
Dir: Tom Dey • Starring: Owen Wilson, Emma Stone • June 4 • PG
The A-Team
B.A. Baracus is not Mr. T —
there isn't much else to say.
Except Liam Neeson looks good in grey hair.
That man's getting hotter each day.
— Luke Baumgarten
Dir: Joe Carnahan • Starring: Neeson, Bradley Cooper • June 11 • Not Yet Rated
Karate Kid
Could Will Smith's son in a Karate Kid
Reboot be the best thing studios ever did?
Absolutely. And Jackie Chan as Miyagi?
Priceless. I'm thinking midnight show, homey.
— Luke Baumgarten

Dir: Harold Zwart • Starring: Jaden Smith, Jackie Chan • June 11 • PG
Knight and Day
So sexy: thread a moped through twin rushing trains,
So sexy when you straddle me, shoot guns, blow out brains.
Cruise & Cameron commingle — his brawn, her curls —
In a slick action doll, fun for both boys and girls:
TomCam.
— Michael Bowen
Dir.: James Mangold • Starring tom Cruise, Cameron Diaz • June 25 • Not Yet Rated

---
Also in June
Shotgun wedding leads to contract-killing high jinks in KILLERS (action comedy • 6/4)
ONDINE features Colin Farrell in a Neil Jordan-directed mermaid movie. What could go wrong? (drama/fantasy • 6/4)
Adrien Brody and Sarah Polley play God in SPLICE (sci-fi • 6/4)
There's a lot of unrequited early 20th-century sexiness in COCO CHANEL & IGOR STRAVINSKI (drama • 6/11)
JOAN RIVERS: A PIECE OF WORK chronicles the long career and many scalpel cuts of the comedienne (documentary • 6/11)
ROSENCRANTZ AND GUILDENSTERN ARE UNDEAD takes Tom Stoppard's great meditation on Shakespeare and turns it into a kitschy vampire flick (comedy • 6/11)
Tilda Swinton and Flavio Parenti watch their idyllic world fall apart in near modern-day Milan in I AM LOVE (drama • 6/18)
Josh Brolin tries to make a supernatural Western work in JONAH HEX (comic book action • 6/18)
Casey Affleck could continue his improbable run to leading-man status in Michael Winterbottom's THE KILLER INSIDE ME (thriller • 6/18)
Adam Sandler and a half-dozen people you've seen in Adam Sandler movies before get together to make yet another film by Adam Sandler: GROWN UPS ("comedy" • 6/25)
Oliver Stone directs this road-trip doc that explores misperceptions of South America in SOUTH OF THE BORDER — including interviews with Cuba's Raul Castro, Venezuela's Hugo Chavez and Bolivia's Evo Morales (documentary • 6/25)
A French woman loses her wallet, a Frenchman picks it up — worlds intertwine a la Amélie in WILD GRASS  (romance • 6/25). — LUKE BAUMGARTEN