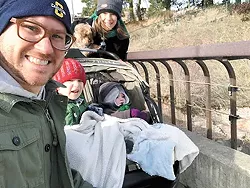 The stress during the coronavirus crisis can come from myriad directions. For South Hill couple Drew Ayers and Karen Petruska, those stresses are generational, parental and occupational.
Both are professors at local universities, she in communications at Gonzaga and he in the Department of Theatre & Film at Eastern Washington University. Both schools' decisions to take all classes online have the couple scrambling to quickly turn classroom lessons into internet instructions, and they both worry about how that will work, and how they can help assuage their students' anxiety and stress.
"I'm an introvert already, so this doesn't really bother me," Ayers says of working from home. "The lack of routine does, though. I do like going to campus in the morning."
The couple also has to figure out the best way to care for their two kids — 4-year-old Henry and 18-month-old Margaret — who had their preschool and day care close. The couple has a babysitter a couple days a week, Ayers says, "but part of this is financial. We pay tuition for preschool and day care, we can't pay for a babysitter every day, too."
Petruska figured some of her Gonzaga peers could share child care, but then the advice to social distance came down. So instead, she and Ayers juggle work and parenthood to a whole new degree.
"We try to divide up the day," Petruska says. "One works in the morning, one in afternoon, so the other can be with the kids while the other one works."
There just aren't a lot of options, Ayers says, "if we're both going to teach like we're supposed to."
The couple also has to consider when they'll get to see their families in the Midwest again. She's considering buying plane tickets for Memorial Day, just to have something to look forward to. He's worried about his 95-year-old grandmother who lives in an Iowa nursing home.
"Her time is coming sooner than later," Ayers says. "They won't let anyone visit. What if she dies? If she does, can I even go? Can there even be a funeral?"
"I have a sister who's a scientist in Seattle," Petruska adds. "She's like, 'Drew can't go. He could bring [coronavirus] to his parents, or he could bring it home [from the funeral].'"
It's a lot to consider, something they do between work, taking care of the kids and family walks and playtime in the backyard.